I have compiled a list with some of my favorites and what I think are the best things to do in Paris. Every time I head to there, I look for new and different things to do since I have been here so many times. Sometimes, you just must do the tried and true items that this amazing city has to offer. You can choose what you want to do the next time you head to the City of Lights.
1. Louvre
---
They put together a 500th celebration of the death of Leonardo da Vinci which will include more than 160 paintings and drawings from collections all over the world like Bill Gates and 2 dozen Queen Elizabeth lent from the Royal Collection. Even the Vitruvian Man was allowed to travel from Italy, previously banned from leaving Italy due to its fragile state, for this event for 8 weeks.
They are even offering a virtual reality experience to allow visitors to see details in the painting's unseen by the human eye. Even da Vinci would have loved this!
If you want to see this exhibition, make sure to book your ticket ahead of time. The Louvre is expecting record numbers of visitors between now and when it closes on February 24, 2020. Tickets will be sold in 30-minute timed intervals to control crowds.
Even if you don't make it to see this exhibition, there are many other great work of art at the Louvre which makes it one of the best things to do in Paris.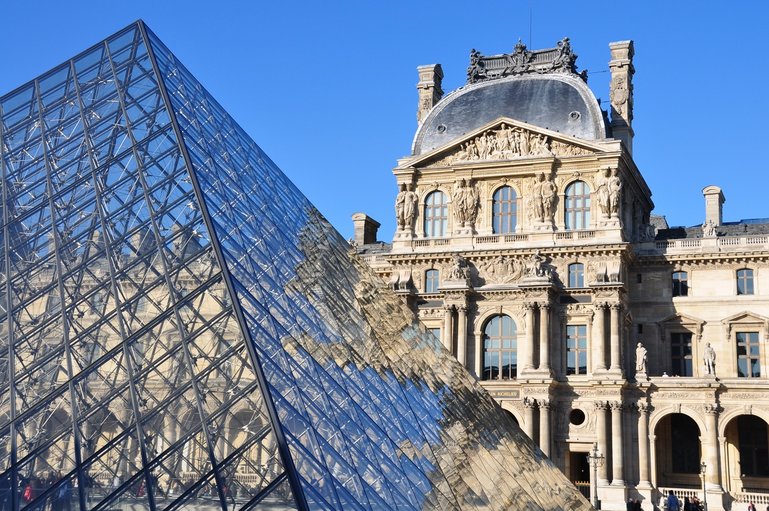 The Louvre
2. Notre Dame
---
Right now, it is under construction from the fire that occurred in April 2019 and you can't get anywhere near it, I'm talking a city block. But if you walk over to the Seine, you can catch a glimpse of what is going on and how the construction is moving along. Apparently, they are still in the process of securing everything before they can move onto assessing what needs to be done and then do the actual restoration which is currently targeted to begin in 2021.
Once the restoration is complete, make sure to hike up to hang out with the gargoyles. This was always one of our favorite things to do in Paris. The views from here on a clear day were among the best.
It is still worth going to see this beauty and getting pictures of it and the magazine stands (bouquinstes) along River Seine.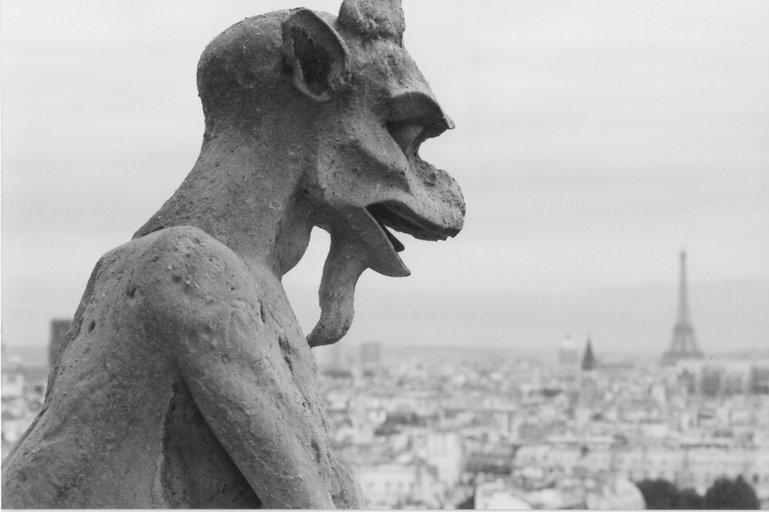 Notre Dame gargoyle
3. Eiffel Tower
---
This is one of my favorite things to do in Paris and I do it every night when I am here. My husband and I stay in in Marais area and we always walk over here, and back. I am always looking for new and different views of it. With all the options below, and there are oh so many more, you are surely to find one that you will like:
Place du Trocadero
Face it no matter the time of year, this is the most popular and crowded location to get pictures of the Eiffel Tower, but you have to do it at least once. The views are amazing and to get pictures with the Warsaw fountains and the tower in it are priceless.
On / Under / Directly around the Eiffel Tower
With all the security concerns, you need to have a ticket to do this. You will have to go through a check point, have any bags checked and depending on the time of year you are probably better off getting tickets online ahead of time or you will have to wait in a long queue.
Champ de Mars
While there may be many people here, this is a large space so spread, find your angle and wait for sunset.
The Peace Wall
Whether you want to take pictures here at sunset or not, this is a great place to get pictures of the Eiffel Tower.
(Check out my upcoming blog on 1/20/20 on the 10 Best Spots for THE Perfect Eiffel Tower Shot.)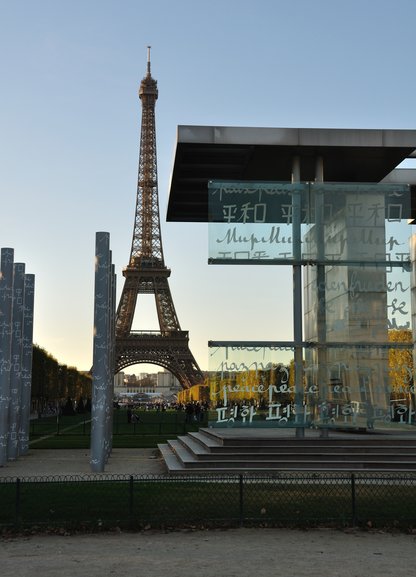 The Eiffel Tower from the Peace Wall
4. Visit one of the amazing parks
---
When I am in a big city for a couple of days, I always have the desire to head to a park for a little peace and quiet. Parisians enjoy these amazing parks on sunny days as well which is why this tops the best things to do in Paris list.
Promenade Plantée
Similar to NYC's High Line Park, except this was an abandoned viaduct, this above ground green space begins at the Bastille and snakes throughout the 12th arrondissement for a couple of miles.
Jardin des Tuileries
Located in the heart of Paris along the Seine, this is my husband's favorite park. These formal French gardens was filled by the Royals but became a public park after the French Revolution. It is filled with beautiful statues, 2 ponds and plenty of benches to sit and relax. This is a great place to enjoy a sunny Parisian afternoon. It is so much fun to head to one of the ponds and watch the little boats sailing around.
Jardin du Luxembourg
This is my personal favorite park which is located on the border of Saint-Germain-des-Prés and the Latin Quarter. It is a mixture of English and French inspired gardens and was a creation of Queen Marie de Medici based on Boboli Gardens in Florence, Italy. If you make it here, make sure to check out the Medici fountain.
5. Churches
---
There are so many great churches in Paris, but these are my 2 favorites.
Eglise Saint Eustache (2 Impasse Saint-Eustache)
This is my favorite church anywhere! The gothic church itself is nice but I love the statue, L'Écoute by Henri de Miller in front as well.
Église St Augustin (8 Avenue César Caire)
A mix between Romanesque and Gothic. Make sure to check out the organ; it is one of the earliest electric ones in the world.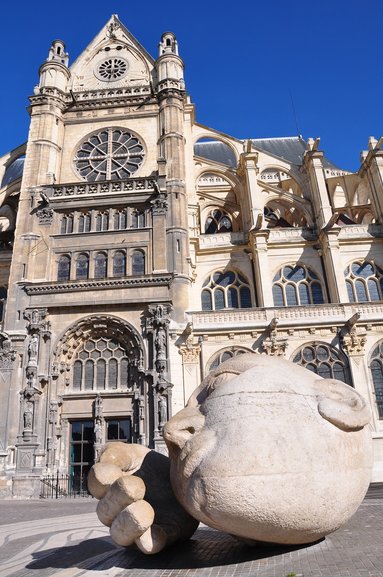 Eglise Saint Euctache
6. Covered Passageways
---
Whether you like to shop or not, these are worth checking out for the architecture, especially the ceilings and many have beautiful floors. These shopping arcades were built in the early part of the 19th century with over 150 in Paris with only a couple dozen remaining today. While many of these are located in the heart of Paris, and do not take long to explore, they are one of the things to do in Paris.
Galerie Vivienne (5 Rue de la Banque)
If nothing else, you should go to see the ornate mosaic floor. It is filled with luxury shops. There is a metro shop close by, but it is an easy walk to/from Eglise Saint Euctache and Les Halles.
Passage Choiseul (40 rue des Petits Champs)
Located only about a 5-minute walk from Galerie Vivienne and is one of the more upscale covered passages around. It is filled with trendy restaurants, boutiques, and art galleries.
Passage Jouffroy (10-12 Boulevard Montmartre)
This is one of the most popular covered passages. It was quite busy when we were there and had to wait for the crowds to clear to get pictures. The front part of it has amazing tile work but my favorite part of it was the back half with the amazing woodwork displays. As you can tell from the picture, the tile is not currently down in this whole section (peeking through from the cardboard on the left). If you make it here keep going to…
Passage Verdeau
Just walk thru the above and you will end up here. Nothing like a 2 for 1 experience! This is filled with antique dealers. The ceiling is absolutely amazing with the iron work.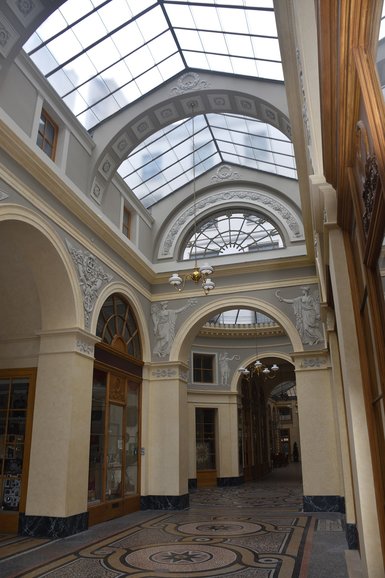 Galerie Vivienne
---
Let's face it this has always been known as one of the best places to shop, especially when it comes for fashion and why it is one of the best things to do in Paris.
Galeries Lafayette and Printemps
These 2 enormous department stores dominate Boulevard Haussmann. You can spend a whole day in one of these alone.
Champs Elysées
Many designer stores located here.
Rue de Rivoli
Major chain stores can be found here.
St.Germain-des-Pres
Boutique shops are located here.
Covered Passageways
A couple of them are listed in the previous section.
8. Wander the streets
---
The best way to get to know and love this city (or any city) is just to wander aimlessly. Based on the amount of people you see walking around the streets of Paris, this isn't just one of my favorite things to do in Paris but many others as well. If you don't feel comfortable take your phone with GPS loaded to get you back to your hotel.
Cafés
This is Paris more than anything else you will see or do. This is the center of their social and culinary life and has been since the 17th century. You must make sure to sit down, slow down and enjoy this part of Parisian life. Once you do, let me know if this is one of your favorite things to do in Paris.
Fountains
There are amazing fountains all over the city. A couple of my favorites are Paris Fountaine des Innocents, La Fontaine du Palmier and the Stravinsky fountain.
Architecture
One of my favorite places to wander and look at this is along St.Germain-des-Pres.
Bridges
There are 37 bridges span the Seine. Pont Alexander III is my favorite. After you wander, I am sure you will find yours as well.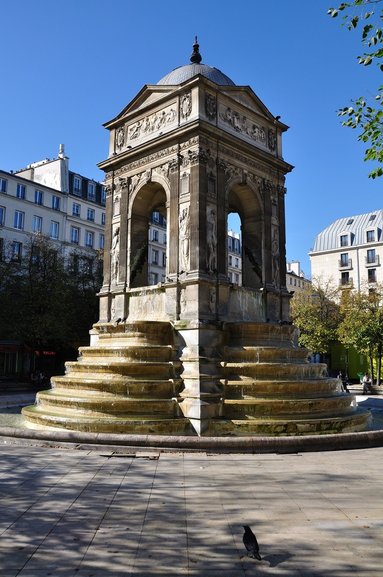 Fountaine des Innocents
9. Musee Carnavalet (16 Rue des Francs Bourgeois)
---
Located in the Marais district is my favorite museum which I think most people either don't know exist or totally overlooked by many. If you want to see the history of Paris, this is the place to come. It will show it to you through paintings, photos, coins, sculptures, furniture, reliefs, etc. The reason I come here is to see the gardens, while they are small, they are amazing, and the gift shop. They have some of the best, unique and most reasonably prices souvenirs in town. Unfortunately, this museum is closed right now until early 2020.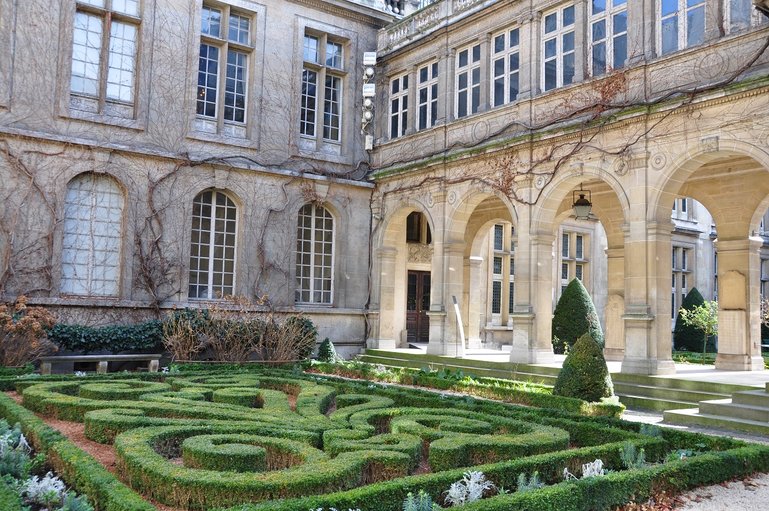 Musee Carnavalet gardens
10. Street art
---
Would it be a blog from me without me including street art?
Invader
I went to Paris with locations of many Space Invaders to see. This is not needed. Just look as you walk around the city and you will see them since they are located everywhere. Most of them are around the 2nd story.
Butte-aux-Cailles
Filled with local street art.
59 Rivoli
A former artist squat now artist studios space that you can tour.
Statues, artsy Metro stops, etc. are located everywhere you just need to look around.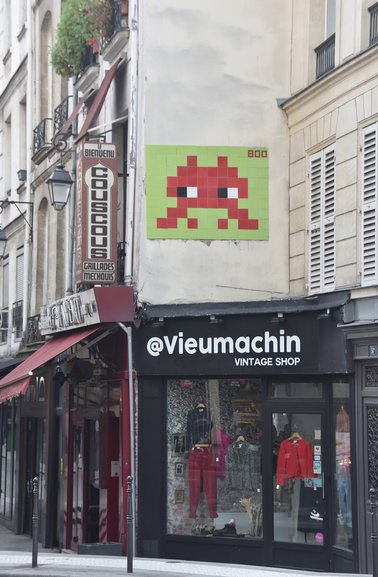 A Space Invader found on the streets of Paris
Bonus section, places to eat
---
Les Deux Magots (6 pl. St.Germain-des-Pres)
Hands down the best omelets in town and one of the best things to do in Paris! Grab a seat under the green awning, order hot chocolate and people watch.
Angelina (226 rue de Rivoli, across from the Tuileries)
The most famous tea shop in Paris. Because this is very popular place the later in the day you go, the selection is usually not as great. Our favorite thing to do is, if the weather is nice, we place our order at the counter to the right and take our goodies across the street to Jardin des Tuileries. I highly recommend chocolat africain which is hot chocolate topped with whipped cream. Better yet get a bag or canister of the mix to take home. This is not only a great reminder for you during the winter months but also a great present to bring home for loved ones! Once you try it, it will become one of your favorite things to do in Paris.
The Frog bars, especially The Frog & Princess (9, rue Princesse)
There are several of these bars around town, but the Princess is our favorite. They have great burgers and a nice selection of beers.
L'As du Fallafel (34 rue des Rosiers)
Located in the Marias, this is a great place to grab a falafel. If this is not your thing, grab a lemonade.
Note: they are closed Saturday!
Hopefully, you were able to find some things on this list that were helpful to you in your next journey to Paris.
I hope you enjoyed the short View Thru My Lenz.
Nina Zee
© 2019 Nina Zee