This is a lovely British countryside walk for all abilities along the Lon Gwyrfai Trail in Snowdonia, Wales. You travel through a range of eco systems from forests to open fields and running streams. Perfect for families visiting the Snowdonia National Park to take in the beauty it has to offer and also enjoy a train or bus ride to get back if you are taking the shorter version of the walk.
You leave from the picturesque village of Beddgelert at the car park by Beddgelert Train Station that the Welsh Highland Railway run from, a lovely tourist attraction if you get time to visit. There are quite a few spaces in the car park and it cost from £2 for 4 hours. You then set off along the walking path that goes underneath the railway and upstream along a country lane to the first open section of the walk.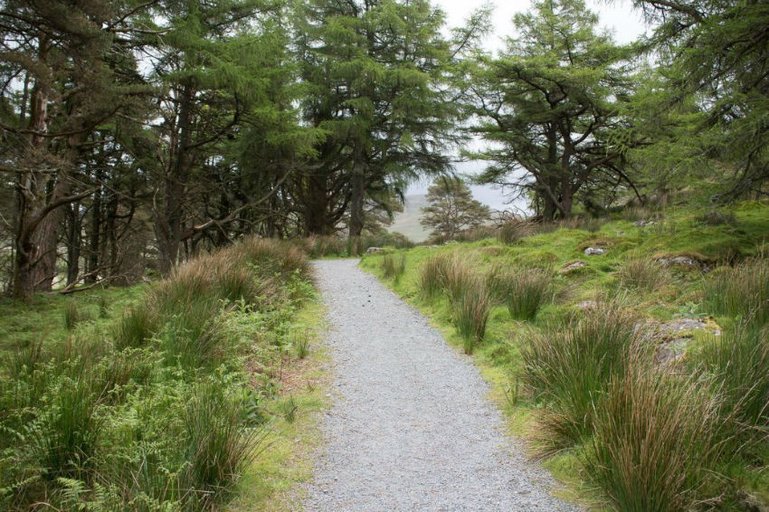 Snowdon Trail Walk
Once at the top of the lane you reach a right turn through a gate to follow the trail. You will then come across a stream and bridge which you can either walk across or use the footbridge. Once in the beautiful Beddgelert Forest the paths widen and you start making your way down to Meillionen Station Halt next to Beddgelert Camping & Caravan site, from here you then hear the sound of another running stream which you follow on your right uphill and then cross to keep following the Lon Gwyrfai trail through Beddgelert Forest crossing lots of beautiful streams and in the cover of the trees.
At the end of the walk you'll arrive in Rhyd Ddu where you can relax at the local pub The Cwellyn Arms. It has a range of cask ales on tap and once inside you'll notice the jumble of bygone artifacts and can relax by the log fire before catching a train back to the start, make sure you check the train times before though! If you arrive between 09.30 and 17.30 and not on a Tuesday why not try popping into the Ty Mawr Tea Rooms with a range of coffees, breakfasts, sandwiches and snacks.To return to Beddgelert you can walk along the A4085 but be warned it doesn't have any footpath along the side so isn't recommended with smaller children, if that's the case check the local bus and train times before to get yourself back to the start.
Bus Times to Beddgelert - No Service Sunday
Train Times to Beddgelert