Colombia was such a colorful destination! We went for a quick weekend trip from Ft. Lauderdale which was about a two hour flight. We stayed for 3 nights in an Air BNB at Morros city condo and it was a very pleasant stay. This was our first time vacationing in an Air BNB and I would definitely do it again as it was nice to have the amenities of a home during our stay and the host was very accommodating. We had an amazing view over the ocean and watched the sunset every night.
When we first arrived it was a little nerve racking trying to get to our condo since people speak very little English but we made it work! We learned about 5 phrases and we were good. "Quanto - How much?", "Quanto tiempo - How long?", "Donde esta - Where is?", "Me llamo - My name is", & "Soy de - I am from"... We also had to quickly understand the conversion of our money since the locals don't like to take American money. There was an awesome conversion rate when we were there. Our money was worth ~3x the money in Cartegena so we did a lot with what we took with us.
The Air BNB we had came with an awesome deal to take a boat ride to a private island for the day for ~$30 per person. We ate and drank really good and partied at the pool on the island with other vacationers. We went to old town during the sunset hour at Cafe Del Mar. It was so beautiful but also really packed so you have to get there early or make reservations ahead of time. We walked around in old town at night. It was so lively and so much to do. We literally could not see it all although we stayed up all night walking around. You definitely need at least a week to get around to see everything and that's just in old town. During the day old town is really beautiful and there are photo opps everywhere. This place is seriously like candyland for your eyes. The locals were very friendly but also you could tell the people there have to hustle daily to get by because a lot of locals will try to sell you just about anything.
We had to learn "No Gracias" quickly but you can't knock their hustle. The locals there don't beg for money but they do take a lot of pride in selling you whatever it is that they have to sell. Also a few times we connected with the locals they would say to us "you're black like me". It was such a term of endearment as they were very happy to see us and we shared a moment of pride as we recognized our similarities even though we couldn't communicate via the language. It was all LOVE. We didn't stay long enough that's for sure but we did stay long enough to know we have to go back.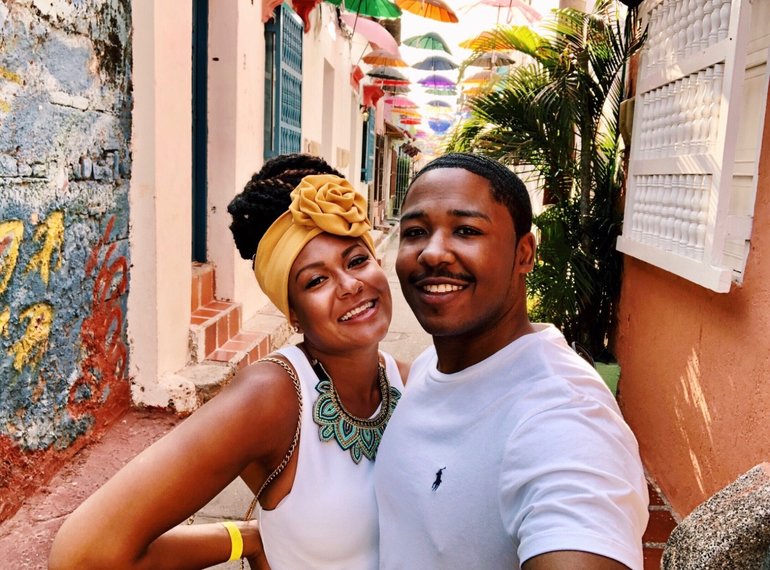 Old Town Cartagena!