It's always fun to get outdoorsy when you're visiting a new country —especially when your daily regime consists of a 9-5 desk job. But when it comes to booking a stellar hiking adventure, there are many things you need to consider before you step foot off the plane. Whether you're a novice hiker or a seasoned die-hard, these four tips will help you crush your next trail.
Start Training Early with your Pack
---
Don't skimp here on the workout. It's suggested that you train hard a minimum of one month prior to your scheduled hike but six months before is ideal. This will help condition your body for endurance and make your body stronger for when you're tackling the real deal. So what's the secret work-out regime? Classic aerobic exercises (think elliptical, step master, treadmill) and resistance training (think lunges and squats).
The key is to start out slow hitting the gym every other day until you are going most days. And once you are comfortable with that, the next integral part of your workout is going to be doing these exercises with a pack on your back. This pack simulates what you will be carrying on the actual trail and you will start to get used to the extra weight.
Experts suggest starting out with an empty pack and then slowly filling it with all the items you plan on taking with you on your hike so that you'll be used to the baggage. You'll also get bonus points if you actually do mini hikes before your big planned one as it's impossible to match hiking conditions exactly at the gym alone.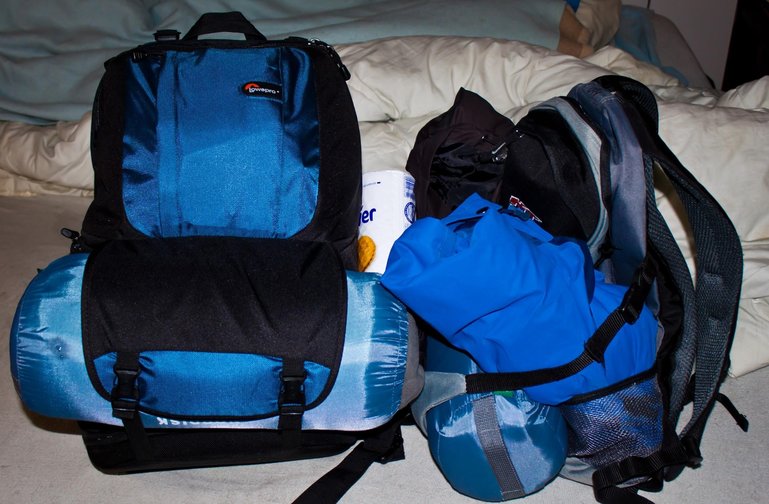 A pair of hiking packs by Gerwin Sturm via Creative Commons
Break in your Boots and Wear UPF Clothing
---
That modal top or cotton T-shirt might be in vogue but when it comes to hike couture, you'll end up being sweaty, looking silly and feeling miserable under the hot rays of the sun. Enter UPF clothing or UV Protection Factor clothing. As a quick rule of thumb, the tighter the weave on a fabric, the higher the UPF; the looser the weave (ie: see-through), the lower the UPF.
So why does this matter on a hike? First of all, wearing these proper garments which come in a variety of styles, colours and brands will not only keep you sunburn-free, but it will also wick away sweat and keep you drier on your hike.
And once you've picked out your UPF duds and a UPF hat to match, grab a pair of good hiking boots from an official outdoors/hiking store. Best to buy these in-person because if you get too small of a size, blisters will definitely be in your future; if you get too big of a size, you could stub your toes and not have a good grip during your trek. Also, various brands have different footbeds and what works for one person may not necessarily work for you so in-person boot-buying is best.
Now, once you have your boots, just like any other shoes, you'll need to break them in. Break them in while walking your dog. Break them in while doing your pack endurance training at the gym. But regardless of the method, just like a fresh pair of ice skates on competition day, these boots should not be worn for the first time during your hike.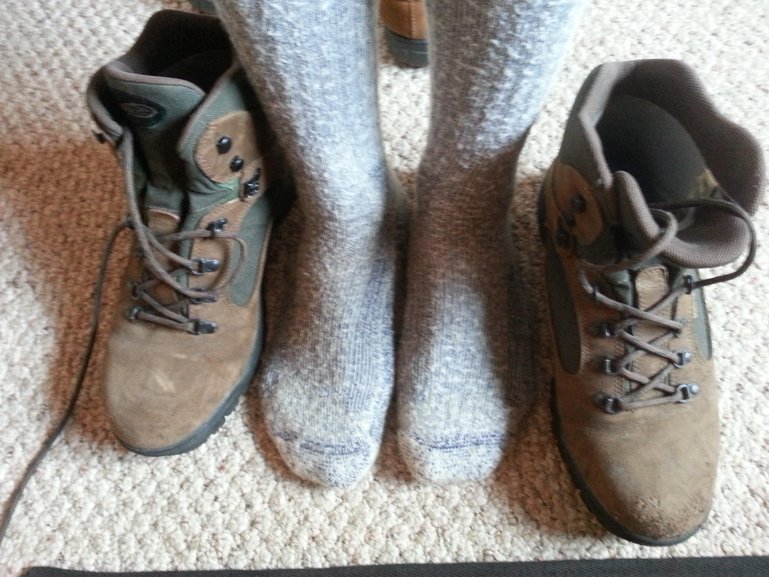 Hiking boots by Preston Rhea via Creative Commons
Yoga and Inner Peace
---
Many novice hikers always discount the training necessary for mental endurance but in many ways, this is often the most important training needed prior to day one on the trails. Imagine hiking under a thunderstorm and you're soaking wet, feeling miserable, cold and hungry. This is the time you're going to want to turn back and call it quits. But this is also the time that you will need to push through and persevere. And the only way you'll be able to persuade yourself to keep going is to find your inner peace or inner cheerleader, whatever your flavour happens to be.
One way you can practice inner peace is through yoga, meditation and general designated quiet time. The point is to learn how to connect to your inner self and unlock your willpower so that you can access this reserve when you're on the trail facing nature's wrath.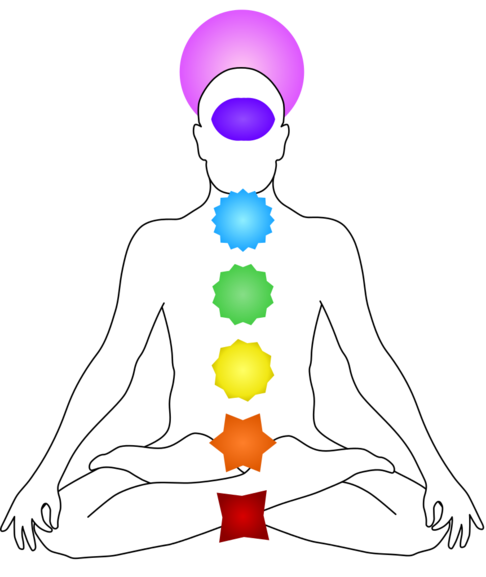 Chakras by mpan [CC0], from Wikimedia Commons
Let's Go!
---
So now that you have the endurance, purchased your kit and achieved your inner Yoda and zen, you're finally ready to succeed on your Colombian hiking adventure. Make sure to choose a hike at the right skill level because you want to be challenged as well as have fun; you don't want to be exhausted, grumpy and achy because you bit off more than you can chew. Reach out to a travel expert and he or she will help you make the correct booking that will get you experiencing success on the trails.