The Golden Circle is one of Iceland's biggest tourist attractions. You can self-drive the Golden Circle in one day if your hotel is in the Reykjavik area. Or, you can join other tourists on a guided tour. Self-driving is easy as there are only few roads and those roads are in great shape and, because you are reading this guide.
Here is an overview of the destinations for your Golden Circle tour:
1. Thingvellir National Park
---
Start our one-day Golden Circle trip in the morning with a rental car and a full tank of gas. Your first destination will be Þingvellir (Thingvellir) National Park.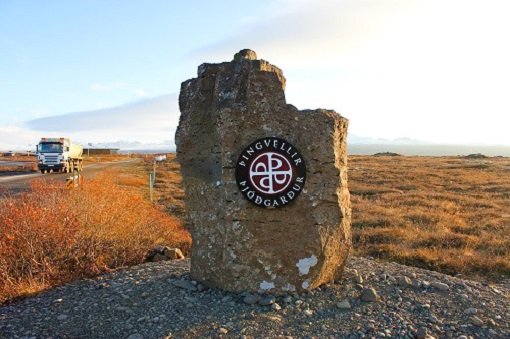 Þingvellir (Thingvellir) National Park
This park is a UNESCO World Heritage site. It is associated with the Althing (the ancient national parliament of Iceland), which was established here in 930AD. The Althing is considered the oldest surviving parliament in the world, because is back in existence today.
The word Þingvellir comes from an old Norse word and means "assembly fields".
Park your car in the parking lot near the interpretive center and walk to the overview where you will have a beautiful view of the valley, the Flosagjá fault and the Öxará (Axe) river. If you like, then you can hike down towards the church. Alternatively, you can drive to the church later on this trip.
The cracks in the earth that you can see in Þingvellir National Park are results of the continental drift between the North American and Eurasian tectonic plates. These plates keep moving and result in Iceland growing by about 0.8in (2cm) per year. As you can probably imagine, this movement causes small earthquakes every now and then.
2. Lake Þingvallavatn
---
Get back to your car and head east towards Geysir. After a few minutes you will see beautiful lake Þingvallavatn.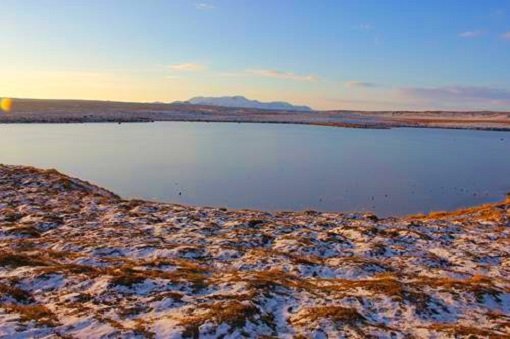 Lake Þingvallavatn
Keep driving and turn onto route 365 to Geysir and later merge on routes 37 and then 35. Don't worry, it is not complicated at all. Signs directing you where to go are plentiful and highly visible.
3. The Great Geysir and Stokkur
---
The Haukadalur geothermal area has Iceland's most famous geyser: Strokkur (="churn"). Here you will find the Great Geysir and other geothermal features like mud pots, hot springs, and fumaroles.
The Haukadalur geothermal area is geologically active for about 10,000 years. Hot springs were, however, only reported after a series of earthquakes in 1294.
Historical sources mention the word "Geysir" for the first time in the 18th century. The word "Geysir" comes from the Old Norse verb "geysa" = "to gush".
Nearby Stokkur is much more active and erupts every 5–10min while The Great Geysir rarely erupts anymore, because people kept messing with it.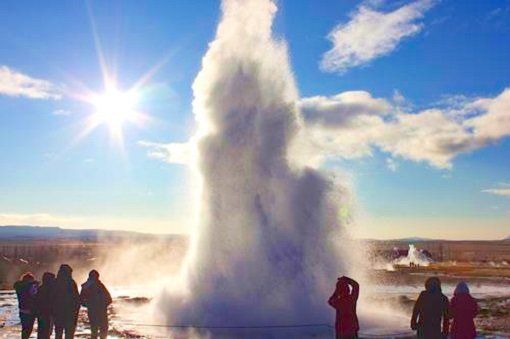 Stokkur
Strokkur is actually much younger geyser than The Great Geysir. It was created by an earthquake in 1789 and it is said that its eruptions in 1815 reached 200ft (60m), which is 3 times higher than the height of its current eruptions.
4. Gullfoss Waterfall
---
Consider yourself lucky that you can see this waterfall in all its natural beauty today. This is because in the early 20th century there were plans to use Gullfoss to generate electricity and that would have destroyed the natural beauty of this impressive waterfall. Fortunately, those plans fell through and the waterfall was eventually sold to the Icelandic government which then turned it into a protected area.
You may hear or read a different story about the protection of the waterfall mentioning Sigríður Tómasdóttir, the daughter of Tómas Tómasson. This story is likely not true.
In summer, the average amount of water going over the falls is approx. 4,900ft3 (140m3) per second. The volume in winter to estimated to be about 2,800ft3 (80m3) per second.
There is an upper and a lower viewpoint that you can visit. The views from the upper viewpoint are amazing. If you feel like getting closer and wet, then take the path to the lower viewpoint.
5. Skálholt Medieval Church (Skálholt Cathedral, Skálholtskirkja)
---
From 1056 to 1785, Skálholt Cathedral was one of Iceland's two episcopal sees (dioceses). That made it an important center of religion, learning, culture and political power. In 1075, Adam of Bremen wrote that Skálholt was Iceland's "largest city".
The cathedral that you currently see is not the original church. It was built from 1956–1963 for the millennial celebrations of the episcopal see and actually is the 10th church that was built here. All its predecessors were destroyed.
6. Kerid Crater (Kerið)
---
Kerið Crater is probably a cone volcano which erupted and then collapsed into its empty magma reserve. The lake at the bottom is caused by groundwater and not rainwater, as it is at the same level as the underground water table in this area.
The Crater is about 3,000 years old and that makes it only half the age of the other volcanic features in this area.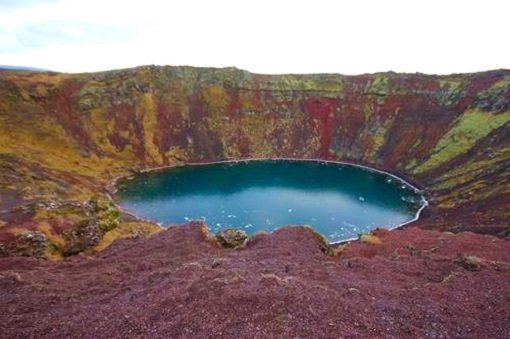 Kerid Crater (Kerið)
In case that you want to hike down to the lake: it can be done as one of the walls is less steep than the others.
There is an admission to visit the crater.
7. Nesjavellir Geothermal Power Station
---
If you have time, you can consider a detour to the Nesjavellir Geothermal Power Station (NGPS), which is the second-largest geothermal power station of Iceland.
Exploration of this area for geothermal power goes back to 1947. Construction of the plant, however, only started in 1987. NGPS went online in September 1990. It produces approx. 120MW of electricity and about 290 gallons (1,100 liters) of 82–85°C (180–185°F) hot water per second. This hot water is pumped to the Reykjavik area.
8. Raufarhoelshellir Lava Tube
---
Raufarhólshellir is the 4th longest lava tube in Iceland; it formed approx. 5,600 years ago from a lava flow about 6 miles (10 km) uphill of the cave.
Sadly, visitors had destroyed most the fragile lava straws and left lots of trash. This caused the closure of the cave to the public in 2016 and parts of 2017 when it was attempted to repair the damage and and a walkway and lighting were installed. The cave is now open only for guided tours.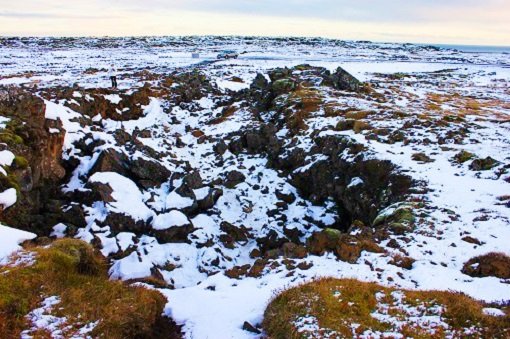 Raufarhoelshellir Lava Tube
9. Fjoerbordid Restaurant
---
Since we were in the area, we decided to end our perfect day with a dinner at the highly recommended Fjoerbordid Seafood Restaurant in the tiny village of Stokkseyri. First, however, we took a quick walk on the levee right next to the restaurant, to enjoy the beach and a gorgeous sunset.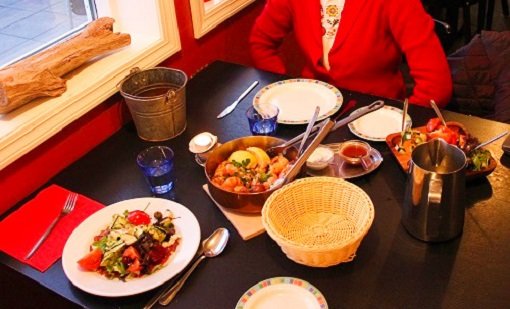 Fjoerbordid Restaurant
After a wonderful dinner, we drove back to our hotel in the dark.