For winter travel in Reykjavik, 5 days total.
Day 1 — Travel Day
---
Grab your puffer coat, order an Icelandic beer, and board your overnight flight to Reyjkavik (if you're coming from North or South America. )
Day 2 — Landing & Blue Lagoon
---
Good morning! Well, you probably can't tell that it's morning because in the winter Iceland is dark the majority of the day. Don't let this deter you from coming — when there is light, it's absolutely breathtaking golden hour light.
When you land at Keflavík airport, the best and most cost-efficient option to getting downtown is boarding their shuttle. It's a bit pricey ($30 USD one way), but it's convenient and cheaper than a private car. I purchased my roundtrip bus ticket on the airplane from an Iceland Air flight attendant. This was a nice solution because the ticket had instructions of where to go upon completing customs and made getting to our Airbnb nice and easy. However, one thing I would do differently is going straight from the airport to the Blue Lagoon, and then downtown Reykjavik.
The famous Blue Lagoon spa is located in-between Keflavik airport and the Reykjavik city center. From a financial standpoint, it makes sense to purchase the bus ticket that includes this stop from the airport (it's just a few dollars more). Otherwise, you'll need to purchase a separate round-trip ticket from Reykjavik to the Blue Lagoon.
The Blue Lagoon has mixed reviews from travelers, but I do recommend it. We went to the Lagoon the same day we arrived, and it was the perfect way to destress and relax after a long travel day (made longer by not going there straight from the airport!). We chose the Comfort package, which was $47 USD. This included an alcoholic beverage at the swim-up bar, a silica mud mask, a towel, and the entrance fee. We spent about three hours at the Lagoon, but I certainly could have lounged longer. I went in November, so it was less crowded than the summer season.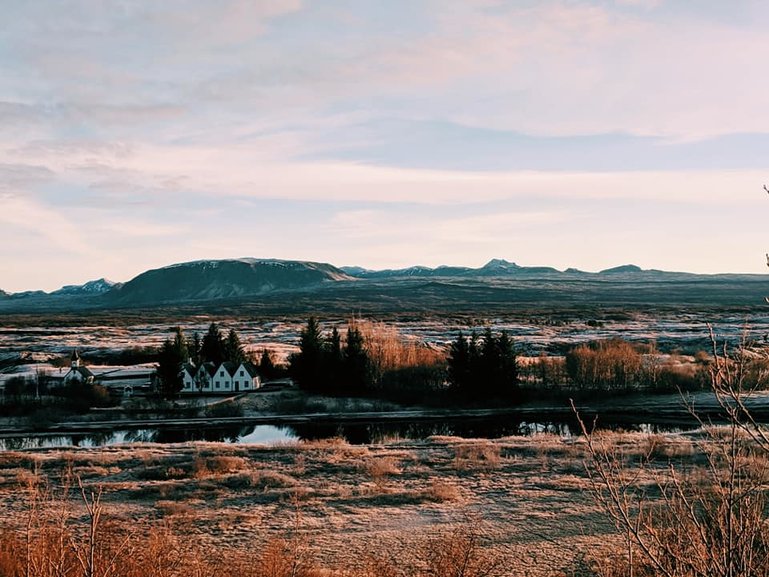 Day 3 — Breakfast, Downtown, & Northern Lights Tour
---
After a well-deserved night of shut-eye, it's time to kick off your second day in the land of fire and ice! Head over to the local Icelandic haunt called Kaffivagninn. Here you'll feel as if you've been transported in time. Every morning, Icelandic men head over to this diner with their newspapers and catch-up on the local news and gossip. While me and my travel companions were the only women in the restaurant, we felt incredibly welcome! Most Icelanders speak excellent English, so they're usually very happy to chat, give you tips, and just enjoy some company!
We booked an evening tour to chase the Northern Lights with Reykjavik Excursions so we had the afternoon to explore the city. Kolaportið, Iceland's only flee market, was an absolute delight. Be sure to visit the iconic Hallgrimskirkja church in the city center. It's an impressive structure, and included in almost every image of Reykjavik! There's plenty to fill your time, depending on your interest! Their art museum, Viking museum, penis museum (yes that's a thing — no I didn't go), drag bars, shops, the Christmas Cat (in November-December), whale watching, and so much more!
After a day of exploring, we met up at the central bus terminal to catch our Northern Lights excursion. We ventured into the remote Iceland wilderness and met up with other light hunters. Now, I'll say we were not fortunate enough to catch the Northern Lights on our journey. I recommend booking your Northern Lights excursion as early in your trip as possible. If you are unable to see the Northern Lights on your tour, Reykjavik Excursion allows you to re-use your ticket for up to a year until you are on a tour that does catch the lights. That being said, this experience was still one of the greatest of my life. While sitting on a snowy hill, a tiny car selling warm waffles and hot cocoa pulled up. We grabbed a whole bunch and enjoyed trying to find the lights in this fairy-tale winter wonderland.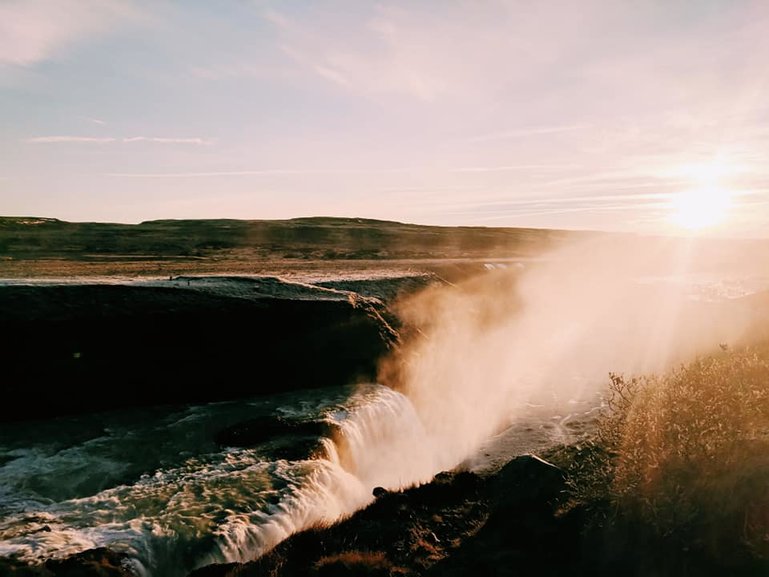 Day 4 — Golden Circle Tour
---
While you need more than three days to see all of Iceland, Reykjavik Excursion's Golden Circle does a superb job of getting you to all the major sites in a timely, comfortable, and fun manner.
On this tour, you'll get to walk between two tectonic plates. Yes, that's right — stand in-between North America and Europe! In the summer, you can even snorkel in-between them! You'll also visit the geothermal area (if you've ever been to Mammoth Springs in Yellowstone, think along those lines), the magnificent Gullfoss Waterfall, and Thingvellir National Park.
This eight-hour excursion will fill up much of your last day in Iceland. When you return, head over to Caruso Ristorante for some stellar comfort food. Okay — you may see Italian in that name but do not fret. The restaurant is set inside a beautifully restored home and has the best darn goat-cheese pizza you can find. It's well-worth a visit. After dinner, enjoy some final shopping and perhaps head to one of the seven thermal pools to relax before your travel day. On our last evening, we befriended some locals at the thermal pool, and enjoyed drinks at a local pub. Thermal pools are a large part of Icelandic culture in place of happy hours, and bars, etc.
Day 5 — Head Home
---
Time to board your bus back to the airport, and bid your goodbyes to this magical country — until next time. Perhaps in the summer?