Early Hotel Check-in
---
If your flight arrives early, check to see if your hotel will let you have an early check in. After arriving at Frankfurt, Germany and going through customs, it was about 8 AM. My travel companion and I figured we'd try to see if we could get an early check in. There was a little extra charge (be prepared for extra expenses). However, after a 7 hour flight, the extra charge was well worth it! I was able to settle in my room and take a short nap. After my nap, I was refreshed and ready to hit the local sites.
Prepare for Weather
---
Be prepared for different types of weather!! If you have a small lightweight umbrella, you might want to consider bringing it. I have also found that bringing a couple of ponchos was a game changer. I found the plastic ponchos at my local dollar store- Dollar Tree. Amazon sells them too in disposable packs of 5 or 10. A poncho is lightweight, easy to pack, and disposable. Several times while traveling in England, Poland, and Germany it rained. I definitely was not going to let some rain ruin my time seeing the city. Sure, local stores or souvenir shops might carry them, but you will be paying a lot more for the plastic covering. Ponchos definitely come in handy!!
In keeping with preparing for different weather while traveling, it is also wise to bring sunscreen (if traveling during the summer or hot months). No one likes getting a bad burn! Also, if traveling during the summer, a lightweight sweatshirt or jacket is always good to have on hand. Sometimes, if I am visiting sites early in the morning and it is chilly, I like to bring a lightweight cardigan or sweatshirt and then throw it in my bag when it gets warmer during the day.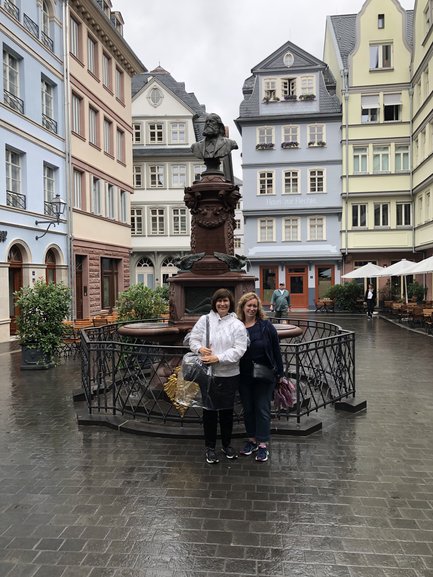 Umbrella & Poncho!
Learn a Few Key Words/Phrases of the Local Language
---
You will gain more respect from the locals if you can at least say hello/goodbye, thank you, please, and sorry. While many countries do speak English, it still shows respect to learn a few key words. There are several translation apps that can be downloaded on a smartphone or tablet. Check out what the Apple and Android App stores offer. Plus, it can be fun to try and practice with the locals.
Bring Several Debit and Credit Cards With You
---
Sometimes your bank will block your card, sometimes your card won't work in an ATM, and sometimes you could even lose it or have it stolen. Bring at least two-three debit/credit cards with you. Also, make copies of the cards (or take a picture on your phone) in case the card is lost or stolen. Typically your bank toll free number will be on the card if you need the information.
Also, make sure you have contacted your bank or credit card company that you will be away and traveling. For me, I contacted my bank. I gave the bank the dates I will be away and what countries I will be in. This saves a lot of time and headaches to plan ahead. It's no fun to have your debit or credit card blocked while away. I definitely know first hand!