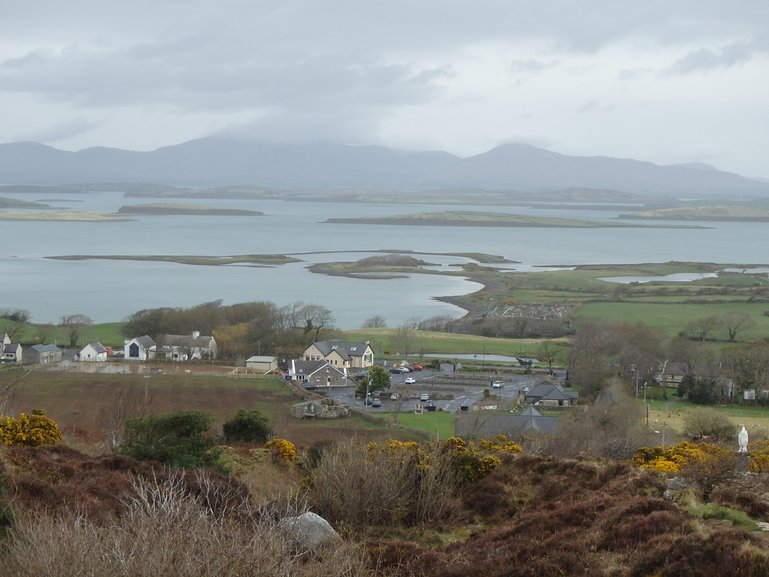 View from Croagh Patrick, Westport
I returned for the third time to the land of tea, toasties and talent. Everyone's heard of River Dance but perhaps never tried the Liver Dance Tour in Ireland. When one of my travel mates suggested a trip goal to visit 25 pubs in a week, the tour became aptly named The Liver Dance. Now, let me assure you that Ireland is about much more than its drink, Guinness and award-winning whiskey. The pubs are the cultural center, a gathering spot to tell a short story made long, a place to warm by the peat fire after a rainy hike, it's a café that serves steaming puréed vegetable soup alongside a thick slice of brown bread with a pat of Kerry Gold butter, but mostly the pubs are where you meet new friends and listen to spontaneous sessions of traditional Irish tunes.
So, for me and friends from Michigan Irish Music Festival, (Chris, Kris, Debbie, Joe, Keri, Tom and Mary) the Liver Dance became a research mission alongside a day of work at MIMI, the Michigan Irish Music Initiative. The festival sponsored the contest in Dundalk, an Irish battle of the bands for young, aspiring musicians ready to take their gig to the US and tour. We dedicated an evening to ten hopefuls then promptly headed north for an aggressive driving tour around the northern part of the country. Our goal: Cultural immersion and to take back what we learned to our festival comrades.
Unfortunately, we fell short of our pub goal but felt that 20 of 25 or 80% was a respectable showing. From Dublin and back again, we went counterclockwise sightseeing and pub-hopping to Dundalk, to Belfast, past Ballycastle and Bushmills and then to Donegal ending in Westport.
Stop in and share a story at these wonderful establishments:
1. Temple Bar, Dublin
2. Brazen Head, Dublin (the oldest pub in Dublin)
3. Teeling Whiskey Distillery, Dublin (the tour is quite educational)
4. Guinness Gravity Bar, Dublin (top floor of the Storehouse experience)
5. Peters Pub, Dublin
6. Harry's, Dublin (please note this turns into a dance club after 9 pm)
7. Cobblestone, Dublin (local musicians and sessions)
8. Spirit Store, Dundalk (the site of the MIMI band contest)
9. Titanic Hotel Bar, Belfast (classy bar overlooking the Titanic shipyard)
10. Kelly's Cellars, Belfast (where Seamus Kennedy grew up and had his first beer)
11. The Crowne, Belfast
12. Robinsons Bar & Restaurant, Belfast (have dinner and drinks here)
13. Old Bushmills Distillery, Bushmills
14. Olde Castle Bar, Donegal (order the fish-n-chips with an Atlantic Amber)
15. The Reel Inn, Donegal
16. Matt Malloys, Westport (Chieftains owned)
17. McCarthy's Bar, Westport (named after our two McCarthy girls, Deb and Chris)
18. Porter House, Westport (local musicians and sessions most every night)
19. Campbell's Pub, Murrisk (I drank a Guinness here after climbing Croagh Patrick)
20. Cinnabar at the Crowne Plaza, Dublin
The week seemed like a month considering the number of pubs and sights visited. We arrived on a red eye in a sleepy haze at 5:30 a.m. giving us a convenient five hours before we could check into our apartment! We vagabonded in a hotel lobby for a while until their restaurant opened. Just before that, the hotelier at Camden Court thought I was homeless when he caught me sleeping on a sofa in the lobby! He approached with equal parts concern and disdain, "Are you ok?" I pulled myself together and joined my team in the restaurant for stout coffees and our first of many Irish breakfasts.
Besides its pubs, we encountered a slew of towns that begin with Bally and drove through them all. Ballycastle, Ballygally and Ballybofey to name a few. Also during our time driving on the wrong side of the road (thanks to Chris for volunteering) we discovered ancient Ireland and two UNESCO World Heritage Sites. The history meter was high especially at New Grange and Dowth, ancient Neolithic burial mounds that are older than the pyramids! Of note, the layered stone roof has not leaked in more than 4000 years for those thinking our ancestors were primitive builders.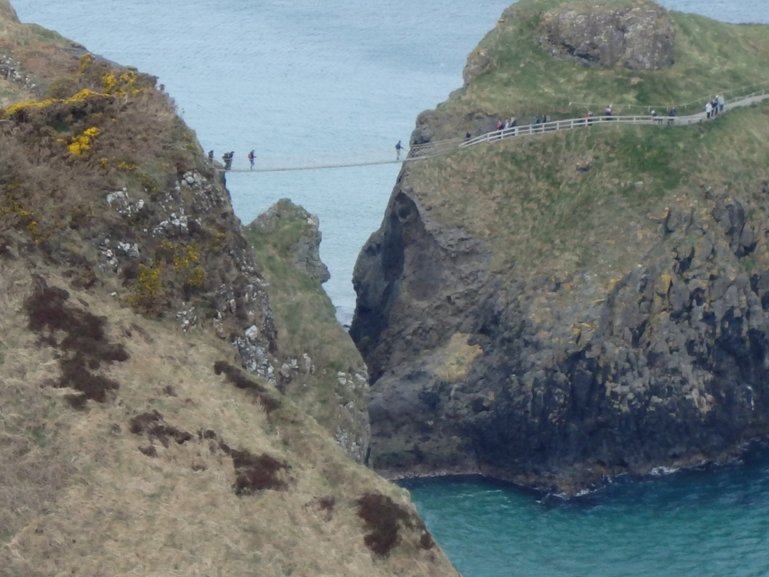 Carrick-a-Rede Rope Bridge
More amazing sights awaited in Northern Ireland, past the Antrim Coast at Carrick-a-Rede Rope Bridge and Giant's Causeway all along the Wild Atlantic Way. The volcanic stones of the causeway intersect in striking conical patterns forming steps for the legendary giants of Scotland and Ireland to battle. Thrill seekers, walk the 1 KM to the rope bridge suspended between two cliffs and hold on tight when the Atlantic gives a good burst of breeze!
With our limited time we made express stops along our driving route. I insisted we stop at the world's oldest whiskey distillery, Old Bushmills for some bottles to sneak home. And, Kris, our Game of Thrones fan in the group, asked to stop at the now famous row of beech trees, the Dark Hedges. Pushing on, we landed exhausted in Donegal for another much needed plate of fish-n-chips with pints.
We moved on to Westport and stayed at a charming B & B, The Adare House. We ate breakfast overlooking a misty view of Croagh Patrick. Chris and Debbie dropped me off and I began walking late morning determined to fit the iconic hike in. The wind was a real bugger about 3/4 of the way up, about the same time the fog moved in to obscure the ocean views. I was damp but the blue poncho saved me from total drenching. The last section of loose rocks was steep and intense in the billowing fog. Befitting Ireland's foul weather temperament, the view at the top was a bowl of pea soup, but the pilgrims in the chapel offered me tea and a biscuit. Inside and out of the wind, I bowed to St. Patrick and lit a candle for our two fallen festival comrades, Jen and Kathy that we'd lost to cancer.
As you plan your trip here are some odd things you'll notice traveling in Ireland:
* Pepper is so finely ground it comes out like a brown mist
* Chips not fries (Fast-food joints in Ireland are called Chippers)
* Hellmann's ketchup in the packets is not good
* Washcloths are not provided in any hotel room (only towels)
* Shower apparatus: It may include pulling a cord, pushing a button or turning a dial for temp control or water flow! Beware not to scald your breasts and stand in the shower while adjusting.
* Signage says toilets not restrooms
* Crisps, not chips (The cheese and onion flavor are particularly wonderful)
* Quay is pronounced Key
* Tipping not required but leave a coin behind for good measure
* Car park not parking lot
* There are no top sheets on Ireland bedding
As they say in Ireland, Well I guess that's it then!