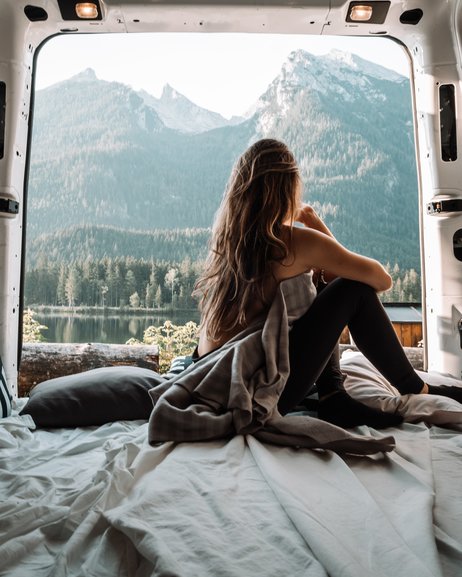 Traversing the Van Life
Traversing the Van Life: 10 Reasons Why Van Life is the Best Way to Travel the World
There are still folks who associate van living with the free-spirited, shallow-rooted hippies of the 1960s. Some may have frowned upon this way of life back then, but things have changed.
Nowadays, living in a kitted-out vehicle is not only acceptable, but it's incredibly trendy too. Some of social media's biggest influencers have found fame sharing their van-based travels while redefining what owning a mobile home entails.
Make no mistake, living in a van can take some getting used to. There are numerous challenges to overcome, including learning how to sleep, work, cook, play, and store your belongings in a limited and mobile space. However, these activities get easier over time, and most seasoned van dwellers will agree that it's one of the best ways to travel the world.
That being said, here are 10 great reasons why their sentiments are on point!
1. Van Life Offers Incredible Freedom
---
This might be the top reason to sell your apartment or home and invest in a mobile home instead. Van life grants you the freedom to move, sleep, and travel practically anywhere you can think of, provided that the place you want to go to has roads.
Could you imagine spending a few nights on the coast, overlooking a beautiful canyon, or nestled in a forest somewhere? Owning a mobile home opens up those opportunities, allowing you to live an unhindered nomadic lifestyle. You can choose where you stay and how long you stay, and you'll be free to roam as far as your fuel tank will take you.
2. The Views are Outstanding
---
Sleeping in the back of a camper van might not be as luxurious as staying in a 5-star hotel, but it does have its perks. One of these is the breathtaking views you can enjoy, both while on the road and upon waking up in your vehicle. Many van dwellers find that they sleep and rise with the sun, which means that you'll enjoy stunning sunrises, sunsets and, starscape views.
3. It's Kind to the Planet
---
"Wait a minute," you might be thinking. "Surely the fuel consumption of a van negatively impacts the environment?" While that's true to an extent, van life can be very eco-friendly under the right circumstances. Vans don't have complex indoor plumbing and grid electricity requirements. This means that van dwellers tend to have an inherently lower carbon footprint.
Small homes also have slim carbon footprints to match, especially when compared to regular-sized homes. If you purchase an older van, it might require more gas than a newer model. But chances are your lower electricity consumption would offset these emissions, anyway.
4. Van Travel is a Great Way to Meet People
---
Campsites can be remote places, but they can also be fabulous spots to socialize in. Better still, you'll always have at least one thing in common with other van dwellers! Whether you're on the road full time or simply looking to get away during the weekends, you're sure to find like-minded folks eager to share an evening of reminiscing around a campfire.
5. It Encourages You to Dig Deeper
---
Van life encourages you to disconnect from the overwhelming world of bills, celeb gossip, and social media, and instead, reflect on your own life, goals, and values. Without other sources of distraction, you'll find solace in the beauty of nature, meditation, and connecting with people you meet along the way.
6. It's a Budget-Friendly Way to Travel
---
Traveling can be expensive—but it doesn't need to be. Many travelers are moving towards van lifestyles because they're looking for an economical way to see the world on a tight budget.
While the prices of housing continue to rise year on year, the cost of mobile homes remains stable. Besides, van life is appealing to those who prefer experiences over static personal space. Your largest expenses while living in a van will likely be fuel and the occasional trips to the mechanic.
7. You Get to Live Minimally
---
The science is clear: clutter is bad for your mental health. Owning too much stuff can affect your concentration and induce anxiety. Minimalism is a viable solution, and van life allows you to live minimally in a practical way.
There are only so many items that can fit inside a camper van. This will encourage you to own less and truly appreciate what you do already have. Plus, if you're looking for ways to fund your new lifestyle, selling your old jewelry, appliances, furniture, and clothes can bring in the money you need to hit the road.
8. Van Living is a Major Trend
---
Van life isn't just a lifestyle. It's a global movement and a trendy one at that. Millennials, in particular, are interested in scaling down their possessions and setting off in pursuit of a life filled with freedom, meaning, and adventure.
If you're a social butterfly or even a social media influencer, living the van life is a sure-fire way to impress your peers and ensure you're never short of epic stories.
9. It Reconnects You with Nature
---
Countless studies have proven the stress-busting effects of being in nature. Just a simple walk in the forest can reduce your blood pressure and your cortisol levels. Van life allows you to live in such anxiety-reducing environments, even while traveling in unfamiliar places.
If you're keen to reconnect with nature and explore its majesty on a more intimate level, traveling in a van might be just the ticket.
10. It'll Inspire Your Traveling Spirit
---
Once you start traveling in a van, chances are you won't be able to stop. Being on the road will ignite your taste for adventure. Soon enough, you'll be planning your next excursion into the lush forests of South America, the wild plains of Africa, the hills and valleys of Europe, or somewhere closer to home. Van living promotes heartened exploration and the acceptance of new cultures and diverse ways of life.
Hit The Road & See The World
Van life is an exciting and immersive way to travel, whether you plan on exploring your own region or any other in the world.
It might take some getting used to, but once you've had a taste of van living, your adventurer's spirit will surely be hungry for more. Bon voyage!