We've noticed there is nothing people like to do more than sticky-beak into your van when you are travelling around. People love to watch your every move and are interested in every single thing you do.
We suppose it's because you have nothing else to do but people watch when your camping. And let us be the first to confess we are guilty of having a good gander at our neighbour's set-ups.
Anyway, we thought we would let you all in on some of the essentials within our van. That way you don't have to pretend like you weren't looking (because we know you were).
Of course, all this fun and excitement depend on choosing the right location, such as the Hahndorf Resort Tourist Park and other scenic camping sites. It's a good idea to choose an area near that isn't too far from a central business district but still offers beautiful national parks, exciting walking trails, and family-friendly attractions. Once you've decided on an ideal camping site, you can start thinking about other essentials.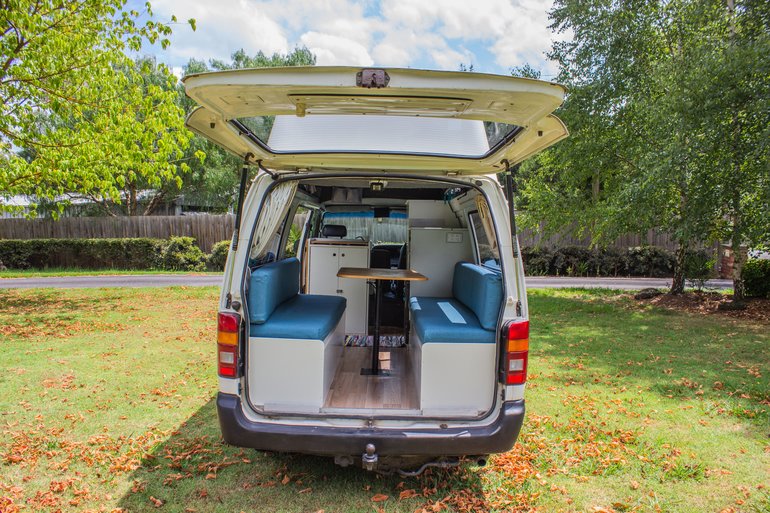 Solar Panel, Battery and Inverter
---
We found this was the most daunting task to complete before leaving on our trip. Organising solar for our van when neither of us knew anything about it or electrical circuits in general.
We asked as many people we knew who had solar, studied videos from YouTube and read many tutorials online. Lyndon calculated our usage in watts/volts and we began making our plans. We spoke to two different auto electricians before finally purchasing the gear we needed online.
We bought a 100W solar panel which is mounted on the roof, this runs into a 135 Amp Deep Cycle AGM battery and connects to our pure sine 1500 watt inverter.
Our inverter has two 240V power points as well as one USB point. We seem to be able to charge all of our devices off this system without any problems (most days). If it's a cloudy day and we are both using our laptops, we can struggle to make enough power.
If you use electrical equipment (laptops, mobiles, internet dongle) fairly frequently then we would suggest perhaps a larger solar panel and battery, even two batteries. You can never have enough power!
Internet
---
Internet is a basic service almost all people use nowadays to get connected to family and friends throughout the world. Our 'vanlife' wouldn't be complete without having reliable internet connectivity. We love taking selfies and groupies that are social-media worthy. So, it's only natural that we make sure we can post them online.
We have an internet dongle with 200GB per month. Around Australia, it seems to have pretty good reception most places. This allows us to stream movies, download music and work on our blog. Lyndon can also watch AFL live every weekend which is a necessity. It's perfect.
We also have our phones running off Telstra, so usually if we are in an area where one company doesn't get reception, the other typically does.
Camera's/Tripod
---
We have a variety of camera gear travelling with us and it is equipment we use every single day.
A tripod is an essential photography tool when traveling in a van or camper. With a tripod, you can take great photos and videos stress-free. In addition, you can include everyone in the shot. This means that you won't be missing anyone because they have to hold the camera and take the picture.
We have a Canon EOS 600D with the standard kit lenses which we use for the majority of our photos. A basic camera for some basic photographers. Hopefully one day we will know what we are doing. Our next purchase on the wish list is a 50mm lense - we've heard they're the one of best lenses to get when starting out!
With that, we also have one large and one small tripod. We try to remember to take this gear with us everywhere we go. This is a lesson we are still learning 7 months on. If we don't take the camera with us somewhere, there is bound to be something amazing that we will want to capture. It's just the laws of life.
Next, we have the DJI Spark (drone). This is our new favourite toy and after a few months of flying it, Amy no longer suffers from 'drone anxiety'. This is an item we get a TON of questions about.
We opted for the Spark, purely based on what we were using it for and the price range. We bought this drone in a 'Fly More Combo' from Harvey Norman (JB Hi-Fi also sell them). It comes with the drone, two batteries, a carry bag (which might look super lame when you are carrying it but it is GREAT for storing the drone), a remote controller, propeller guards (which we have never used) and all the charging equipment.
If you are a beginner like us and travelling around also like us, we couldn't recommend it highly enough. It is easy to fly, charges up super quick and is so small and compact you can take it anywhere!
If you can afford it, the Mavic models are a step up and are about double the price. The quality of the images and videos on this model are of a lot higher standard. However, if you are just wanting it for things like Instagram, YouTube videos and small prints, then the Spark is perfect.
We also have a GoPro as well but we hardly ever use it. It's normally only used if we are going in the water.
Fridge
---
If there's one appliance you shouldn't miss forget while living a great 'vanlife,' it's a fridge where you can store your food and cool your drinks. We love ice cold beverages and cooking. So, we invested in a fridge to make our food preparation more convenient. In addition, we collect fridge magnets as travel souvenirs and arrange them in our small refrigerator.
When we were searching for a van, one of the most important things we were looking at was the fridge. We have lived mid-European summer on a boat without one before so we knew how important this was going to be.
Ours is about the size of a small bar fridge you find in hotels. We wish ours was stocked with minibar items like those tiny little spirit bottles and chocolates, but the reality is that it's full of dairy, veggies, a tiny amount of meat, and maybe a couple of beers.
It does have a small freezer section too but it's not very efficient at freezing things. It does keep frozen items cold enough to stay frozen though.
Portable Fan
---
A portable fan is crucial for comfort. It's a good thing that portable fans are cheap and easy to install.
We bought a small 12V Coleman camping fan that we can attach to the ceiling above our bed. It definitely helps with ventilation at night, especially if we leave the windows open too. Australia can get HOT so we wanted to be prepared. It's pretty lux.
The battery is not very good on it though so only lasts about 2-3 hours. More than long enough for us to get to sleep.
---
Very important. We use this way more than we thought we would. It holds all sorts of tools, tapes and odd things. We've also learnt to make it very accessible because, as mentioned, we use it a lot.
Water Tank/Water Bottle
---
Our van came with a 30L water tank mounted underneath which is connected to the sink inside. We also 'borrowed' Amy's brothers 22L water jerry can which has honestly been a lifesaver.
Water seems to be the most challenging item to try and get. We are slowly figuring out where we can fill up and are starting to care less about people watching us.
Football ovals and parks/BBQ areas are normally a pretty good source. If you are buying petrol, you can ask the petrol station if you can fill your water up there. Make sure you ask when you are paying for your petrol so they know you have already spent some money. Most of the time, they couldn't care less. If you are living the high life and staying in a caravan park, you will be able to top up there.
Australia is really good for water. You will always know if it's NOT safe for drinking because there will be a sign saying so. If there's no sign, your usually good to go. Otherwise buy a filter.
One rule we have made for ourselves is to never pass up free water. We will fill up our tanks every single time, even if they are already chock-a-block. You will always need water and who bloody knows when you'll see another tap!
Block-out Curtains
---
Amy made the curtains for our van when we gave her a makeover. We chose a full block-out material and have never looked back. This is one of the only forms of privacy you have from the outside world and an absolute necessity if you plan on sleeping in any built-up areas. Ours keep out about 90% of the light and do a pretty good job at insulating the van too.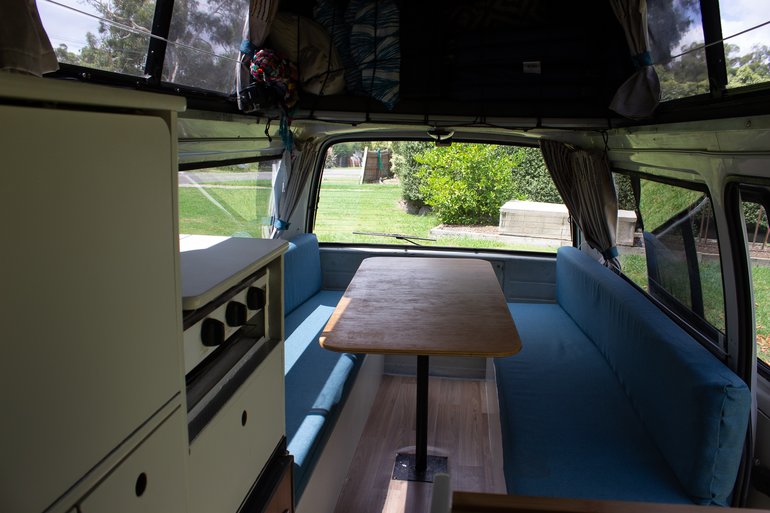 Spiky Massage Ball
---
We didn't realise how much we would use this massage ball. When you drive for hours then continue sitting in your van when you arrive, your neck/back can get pretty cooked (medical terms). We use this spiky ball to release any knots/tension we may have.
A tennis ball works pretty well too if you don't have a spiky ball.
Board Games/Cards
---
It can get pretty boring once the sun disappears and you're confined to your van for the evening, so we decided to grab a few games.
Cards are an obvious one, although we only know about three two-player friendly games… and we also bought Scrabble. Lyndon is on top in the head-to-head with about 40 games under his belt to Amy's 10 (Amy is winning a lot more frequently now though so watch out Lyndon).
'Kittens In The Blender' is another card game we have, courtesy of Amy's brother. We both get really sad when our kittens get 'blended' though so we don't play often. You have to be in the right mood to play this. Like a real evil mood.
Dustpan
---
You can't even imagine how dirty our floor gets. Sometimes we will clean it and within ten minutes it's filthy again, especially if we are anywhere near a beach or sand.
We have already had to replace one – that's how much we use this thing!
Shovel/Spade
---
Sometimes you don't have access to a toilet. We think you all know where we are going with this.
If you are not prepared to dig a hole for yourself, then you shouldn't be camping. Or at least find a campsite that has a toilet nearby. We have seen so many places ruined by inconsiderate people who have left all sorts behind.
Respect the site and other campers. Bury your poop, take your rubbish and leave no trace.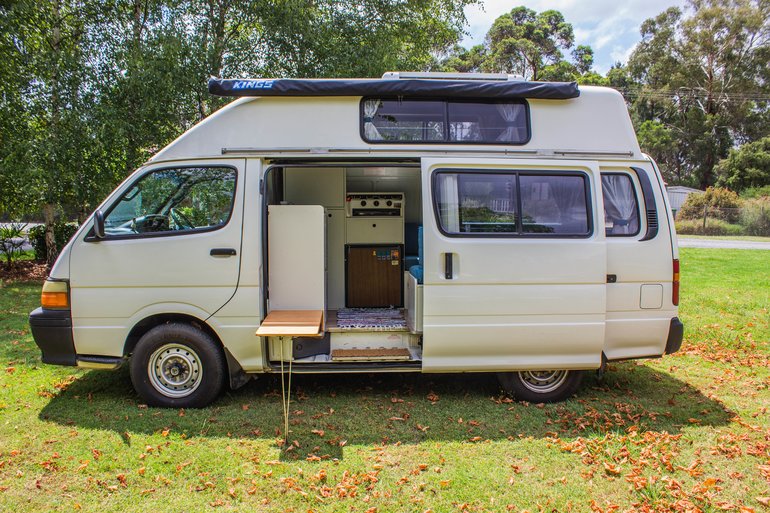 If you want to know any specifics about our van or the equipment we use, hit us up.
We would be more than happy to answer any of your questions!
Amy & Lyndon