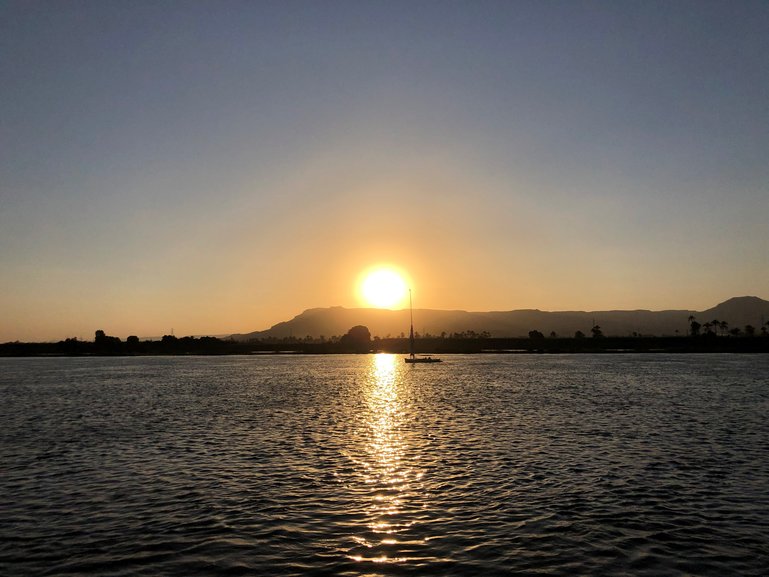 Sunset on The Nile
The post title says it all. Two days in Luxor was not enough. I knew that there was a lot to see and do, but once on the ground, the volume of sites totally blew my mind.
In doing the research for our time in Luxor, the first thing we needed to do was to sort out accommodation. Not having been to Egypt before, let alone Luxor we were contemplating where to stay and it ended up being a choice between the Hilton Resort and Spa or the Soffitel. In the end we chose the Hilton Resort and Spa and opted for a garden view room. As we checked in about 10:00pm, we did not realise how good our room was until the morning when we opened our balcony door to be greated by The Nile. It was a great surprise.
The hotel itself was a great choice. The service in general was amazing especially Hani at the front desk and there were enough food options to keep us sustained as well. The rooms were what I would call old but they were clean and well presented. At the end of the day, you are not there to stay inside the resort and not leave. So you can not ask for more really. Just to be on the safer side, I had arranged twin beds though given the number of LGBTQ+ patrons at the hotel, it probably was not required to do so.
With our flight times back to Cairo (11pm), the Hilton were amazing in giving us the option to check out (very) late at 9pm. They charges us USD50 for keeping the room from 2pm to 9pm which was much more affordable than booking another night. As it was low season, not sure that this would be possible in high season, but it was well worth asking the question that is for sure.
Based on our limited time in Luxor, and the multiple tour company options that are available, I took the path of least resistance and booked our private tours through Nasco Tours which is based in the hotel. They rent a small office space. We booked 3 tours with them. Tour 1, 2 and 3 from their offered tours. These were private with car, driver an guide included for USD120 per person for the 2 days where were there. Victor, our guide was great and seemed to know / enjoy his job. Please remember that there is a tipping culture in Egypt so a gratuity of 20% is roughly standard.
One thing to remember is to make sure that you have additional Egyptian Pounds on you.
Our tours took us to some amazing sites. The scale of the construction really blows my mind. The ancient Egyptians really knew how to build on a massive scale. Especially when you think that these sites were built some 3,500 years ago... I mean really, what else is there to say.
We were lucky enough to spend time in The Valley of the Kings (including see King Tut Ankh Amun), Valley of the Nobles, stopped past the Colossi of Memnon, walked the Luxor Temple, Temple of Karnak, Temple & Palace of Medinet Habu and Temple of Hatshepsut. This also did include seeing the Avenue of Sphinx between Luxor Temple and Temple of Karnak. Check out the post on taking additional cash with you. It is really important.
Another thing to note is that the guards at the sites will offer to take photos for you, which is really nice when you want "that" shot, though they will expect some money for this. Not a lot by a long shot, but remember to take some tipping cash with you.
As we were there for only 2 days, it was a little information overload that is for sure and trying to keep track of the detailed information given by our guide did push the boundaries, though he did do a great job.
I will definitely be going back to Luxor to cover off on what we missed out in seeing and probably taking a Nile cruise to Ashwan further down The Nile.
If you only have a short period of time to visit Egypt, my recommendation would be splitting your time between Cairo and taking the quick flight to Luxor to see what it has to offer. It is well worth it.