In a country that ranges in altitude from 12,533 feet to sea level, and where some regions get 7 meters of rain per year, you can expect a lot of fast water flowing down steep hillsides.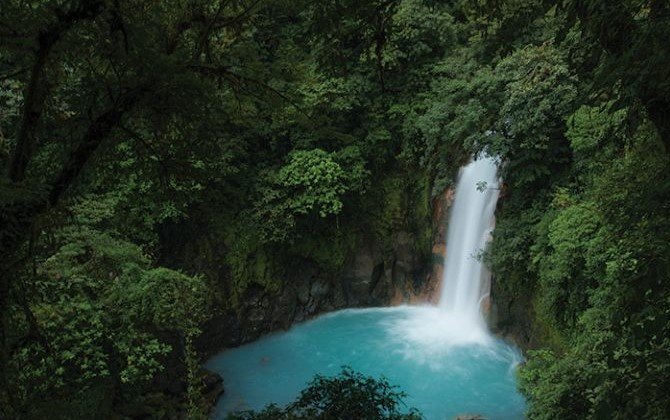 Costa Rica was created by tectonic uplift and volcanic activity, so it's full of craggy mountains and towering bluffs. And it's besieged by tropical rainstorms from two oceans that dump prodigious amounts of water, all of which has to go somewhere.
So when down-rushing water meets sheer cliff, what happens next? Some of the most spectacular waterfalls in the world.
Visitors to Costa Rica can choose from a huge variety of stunning places to see, ranging from golden beaches to cloud-shrouded volcanoes to dense rainforest trails. But it's worth taking the time to visit at least one of the country's great waterfalls.
This is no secret to Ticos, who will often pack a picnic and make a day out of a visit to a catarata, especially those with swimming holes at the bottom. The water is cool and refreshing, the view is awe-inspiring, and in places you're treated to the spectacle of local daredevils leaping from dizzying heights.
In addition, just getting to some of these waterfalls is a worthwhile adventure in its own right. Access to some falls involves an invigorating hike through the jungle, and in places you can get two adventures in one by riding to the waterfall on a horse or an ATV.
Have fun but be careful
---
Be aware of the potential dangers of cliff-jumping, or even of trying to swim in the turbulent pool directly underneath a big waterfall. A long jump that ends in a belly flop can be fatal, as can a slip-and-fall while trying to climb up the side.
And at some falls, the power of the water creates a maelstrom at the base that can suck you underwater and spin you around like a sock in a washing machine until you drown.
Yet for jumpers, the pools at the base of most big waterfalls have a built-in safety feature, thanks to centuries of erosion: The power of the pounding water usually carves out a deep, obstruction-free pool where they don't have to worry about hitting underwater rocks or a shallow bottom. Watch where the experienced locals jump, and ask lifeguards or tour guides about potential dangers.
Here — in no particular order -— are our picks for the 10 greatest waterfalls in Costa Rica.
1. Llanos de Cortés
---
Located near Bagaces, just off the freway between Liberia and Cañas, Llanos de Cortés is a big, broad waterfall that would have pride of place in any beauty contest among cataratas in Costa Rica. The broad pool at the bottom is swimmable and popular with locals and visitors alike, and there are rugged trails that lead to the top.
2. Nauyaca
---
This two-tiered wonder near Dominical has an upper fall measuring 45 meters and a lower fall of 25 meters, with a total height of about 230 feet. The real action is at the bottom, where the water cascades beautifully over a broad cliff face, and where cliff-jumping into a deep, swimmable pool is allowed, but it's best to have a guide. Access is by a 2.5-mile trail from the highway, which you can do on foot or (highly recommended) on horseback.
3. Finca Bellavista
---
Finca Bellavista is an engineering marvel near Golfito renowned for its luxury treehouses, some of which are accessible only by hanging bridges. But just descend from your treehouse, take a walk along the nature trails, and you'll find waterfall marvels like this one.
4. La Llorona
---
Named after a terrifying ghost of local lore, La Llorona ("The Weeper") plunges from a cliff in Corcovado National Park straight into the Pacific Ocean. Said to be 100 feet tall, it represents the end of the Las Marias Trail from park headquarters in Sirena. Understandably, it's usually viewed by boat.
5. Rio Pacuare
---
This vista will be familiar to anyone who has floated down Costa Rica's best whitewater rafting river, the Pacuare. Yes, you will paddle like hell through the fastest rapids, and you will probably fall into the water at some point, but during tranquil moments you will admire cliffside vistas like this one.
6. La Fortuna
---
Just a few miles from La Fortuna in Arenal, this stunning 230-foot waterfall is visited by up to 100,000 people a year. You have to walk down about 500 steps to get to the bottom (and then you have to walk back up), but with its swimmable pool and the cool mist from the powerful torrent, it's worth it. No cliff-jumping, please, and swimming too close to the base of this fall can be dangerous.
7. Río Celeste
---
Río Celeste ("Sky-Blue River") is famous for its bright blue color, which is caused by aluminosilicate particles suspended in the water that reflect sunlight only in blue. This spectacular waterfall is the centerpiece of Tenorio Volcano National Park (between Arenal and Rincón de la Vieja). Park visitors are not allowed to get wet here, though locals sometimes hike in from downriver.
8. Montezuma
---
This waterfall is not just something to do while visiting Montezuma, it's a reason to go there. An easy walk from town, the swimmable pool at the bottom is always full of tourists and locals, including daredevils who scale the cliffs and jump from dizzying heights. The lower fall is 98 feet, and it's almost impossible to jump from the very top and live. But higher up, there's a 39-foot jump that even New England Patriots quarterback Tom Brady has survived.
9. La Paz
---
La Paz Waterfall Gardens is famous for a lot of things, including a nature reserve with jaguars and the luxurious accommodations at the Peace Lodge. But as the name implies, it boasts five great waterfalls along 2.2 miles of hiking trails. And at just 19 miles from Alajuela, it makes a great day trip from the Central Valley.
10. La Cangreja
---
You'll need your hiking boots for the three-mile trek to this little-known beauty in Rincón de la Vieja Volcano National Park. Plummeting upwards of 130 feet, La Cangreja ("The Crab") takes about four hours round-trip to visit, but as you can see, it's worth the exertion.
This is just a sampling of some of the hundreds of beautiful waterfalls in Costa Rica, so feel free to find your own! Whether you're looking on from afar, soaking in the cool mist or screwing up your courage to take a daring leap, you won't be disappointed.
Photos & Text by Karl Kahler.