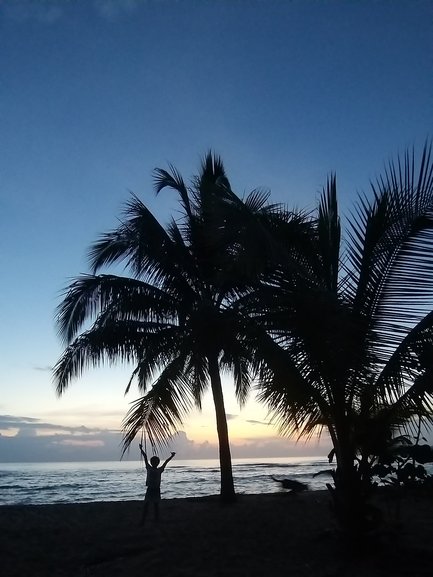 Sunrise, Puerto Viejo South Caribbean, Costa Rica
Welcome to Wolaba, Old Harbour or Puerto Viejo, a small coastal town in the Limón Province in southeastern Costa Rica. The town was originally called Old Harbour until the Costa Rican government institutionalized Spanish as the national language and changed the names of the towns and landmarks.
Nowadays over 60 nationalities are represented in this unbeatable green paradise and gives you possibilities to explore this beautiful location for days. Our recommendation will be to watch the sunrise and dip into the ocean, go snorkeling or visit the beautiful beaches, Wildlife refuges, National Park Cahuita or hike to the Lookout point at the Biological Reserve Gandoca-Manzanillo. You should also experience the healthy lifestyle that draws many people here and join Yoga, Surfing, hiking or dancing. Experience culinary highlights like nowhere else in the country as well as a diverse culture, live music and art ... take your time to explore.
Don't miss out to try traditional Caribbean food such as Rice and Beans with patacones and a grilled red snapper or Rondon, the delicious sea food stew. We show you the best places to try the freshest food, where to have an afternoon cocktail with life music or join us to spot Caribbean sunrise and swim in the warm Caribbean sea. We also encourage you to visit us in August to see and dance along with the drums at the colorful fun Wolaba parade the Afro-Cultural Festival to celebrate the historical significance of a remarkable community and its contribution to the construction of the national identity and development of Costa Rica and its diversity.
Explore the area on a bike as it is part of the local culture and let your soul soak in the beautiful nature that surrounds us, listening to the howler monkeys or toucans, spotting a sloth or walking along the beautiful Caribbean beaches.