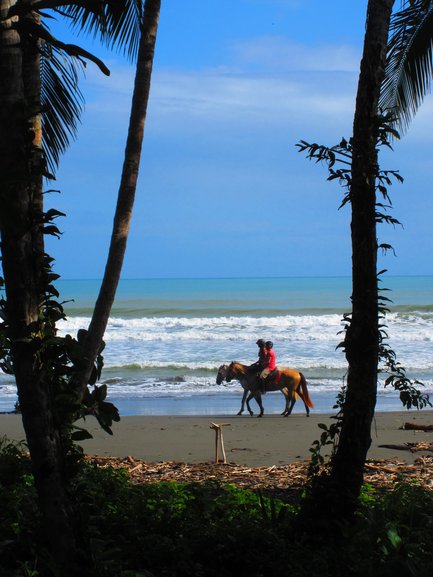 Cahuita, a small ramshackle town on Costa Rica's Caribbean coat, is easy to fall in love with. In fact, for those who shun the glitz of luxury resorts and Cancun-style concrete jungles, Cahuita is the perfect antidote. The beaches are wild and unspoilt and crowds non-existent. The locals are friendly and there's a heavy Rasta influence which is evident in the street art and painted buildings. The downtown area consists of a few Caribbean restaurants and a couple of small supermarkets. What's more - the entrance to a stunning national park full of sloths, monkeys and toucans is a mere few footsteps away.
Cahuita National Park
---
The park covers over 57,500 acres of land and sea, including 600 acres of living coral reef. A 5.6 mile trail hugs the beach, with lush rainforest on one side and lovely views of the ocean on the other. Giant electric blue morpho butterflies flutter past and monkeys swing overhead. If your luck is in, you may even spot a sloth hanging about in a tree.
Indeed, the park is a wildlife wonderland and even the sandy trail is flat and easy. There are also plenty of opportunities to take a refreshing dip in the ocean en route. The snorkelling is superb, but because it's a protected area, it's necessary to hire and guide and boat.
The Tree of Life Wildlife Rescue Center and Botanical Gardens
---
In addition to the national park, the Tree of Life Wildlife Rescue Center and Botanical Gardens are well worth a visit. The sanctuary protects and rehabilitates a variety of animals including sloths, monkeys, coatis, iguanas and deer. When we visited, they even had a resident jaguarundi. The staff are knowledgeable and clearly passionate about the work that they do. As well as an abundance of cute animal to look at, there is a vast array of plant life in the botanical gardens, much of which is indigenous to the region.
La Piscina Natural
---
We stayed at the fabulous 'La Piscina Natural' arranged via Booking.com. Although fairly basic, it was set right on the beach in beautiful gardens with its own natural pool. Located about a mile's walk from town along a beachside dirt track, it was a great budget option. We spent much of our time searching for wildlife in the gardens (we found tree frogs!) and watching the waves crashing against the shore.
Our Kind of Place
---
Cahuita is definitely our kind of place and we loved the week that we spent there. In fact, we even talked about it as being somewhere we might like to live one day. It's the perfect place to escape and connect with nature in all its forms. As expected, Costa Rica captured our hearts. The fact that Cahuita was our favourite place in the country, says it all.