If your travelling to the beautiful island of Trinidad, make sure you take a trip over to Tobago and visit Pigeon Point beach! The flight is only 10-20 minutes and the beach is absolutely breathtaking. You will not regret it!
We booked a really nice apartment on our trip to Tobago, the place we booked is called Crooks Apartments which is located just a 3 minute walk away from Store Bay Beach. Instead of taking a cab we decided to walk to Pigeon Point beach. On the walk to the beach you will definitely be lured to a food stall by the aromatics or want to have a look in the colourful souvenir shops. When arriving at the beach you won't want to leave, we spent the whole day relaxing, swimming/snorkelling, drinking cocktails and taking pictures. Feeling hungry? don't you worry about it, the beach boasts some of the best seafood restaurants Tobago has to offer and of course we took advantage of this. We scoffed down one massive whole lobster with a whole tray of fries and washed that all down with some more cocktails, a couple of cold beers and SHOTS!
Seriously this place is heaven.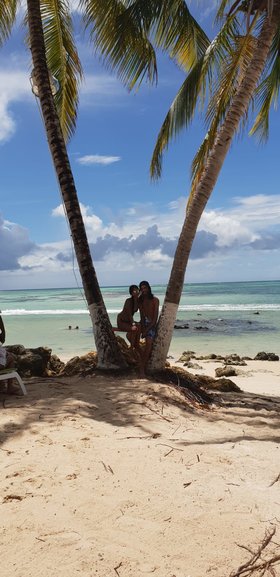 Pigeon Point beach