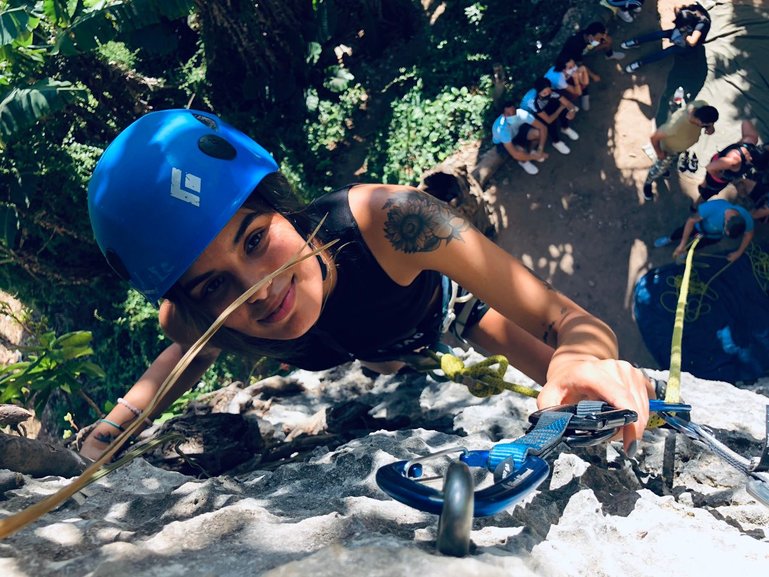 Climbing Top-Rope in Bulder Habana
Cuba not only offers beautiful beaches and a rich culture and history, it also has an exuberant nature full of plant and animal life that is an ideal setting for climbing.
There are other sectors in the west of Cuba such as Viñales, Jibacoa and Canasi where you can climb in a natural environment, but there Is only one in the heart of Havana and this is the Havana Búlder.
Havana Búlder is a limestone-type rock formation about 8 m high, located on the banks of the Almendares River, place known before as the Havana Forest, today it's known as Havana Metropolitan Park.
Where is Havana Búlder located?
---
Havana Búlder is located in Playa municipality, in Miramar, Havana, a few meters from Calle 49, better known as Calle del Bosque, which passes under the huge bridge at the end of street 23. You can access Bosque street of Habana from 23rd Avenue and 14th or 18th Street or from 7th Ave in Miramar, from Nuevo Vedado through 30th Street and also through the Zoo Avenue.
Havana bulder is located near the main entrance of Parque Almendares and Josefina island both places highly frequented by Cuban families and by international tourism, respectively.
Climbing has been practiced in Havana Bulder since the 90s of the 20th century and 14 routes have been identified by professional climbers.
The Slovenian sports climber Miha Popovic, with more than 4,500 ascents and more than 4,400 of them being successful and who has climbed a distance of more than 105 km, has identified the following routes in Havana Bulder.
Routes grade 5a, 5b, 6a, 6b+, 6c, 7a, 7b, 7b+, 7b, 7c, and 8a.
From these routes mentioned before, two routes of grade 7a are equipped with plates and ribbons, excluding meeting.
Climbing Modalities
---
In Havana Bulder, different types of rock climbing are practiced, such as classic climbing, sport climbing, Top rope or Yo-yo, just integral and Bouldering.
Havana Bouldering is almost like a first step required for those who are new in climbing and prefer a natural environment for their practice.
You can start doing bouldering, which is a modality of the integral alone in which the climber never climbs far enough to prevent a fall that could cause problems.
That is, you climb a few meters with the fall assured, generally you will only need a mat that avoids blows or a partner paying attention to the fall.
The top rope
---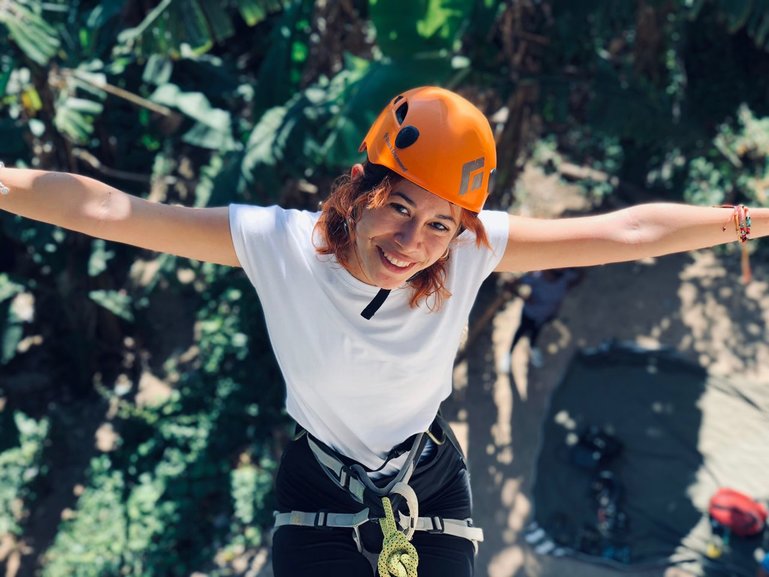 Climbing Top-Rope
Another modality that you can practice in Habana Bulder is the top rope, which is a basic climbing technique, it's safe if It Is done correctly and is ideal for climbers who are just starting out in the sport.
Top rope is a climbing modality where the rope that secures the climber goes up to the end of the route on the meeting.
The rope runs from the belayer to a station high above the two of them (belayer and climber), and then lowers to support the climber from the harness.
This type of climbing diminishes a potential fall, so the possibilities expand and climbers can practice really difficult movements above their level.
Main reasons why the top rope is the ideal safety technique.
---
It is an acceptable and safe method of working the tracks.
It allows removing the tapes in one way because it is easier and faster to recover the equipment that way.
It makes it possible to overcome the limits of strength without the inconvenience of falling between 2 belts and not being able to continue.
Doubting if you will be able to reach the top on a route that is far above your level.
To test the steps farthest from the ground in a good height Boulder (Highball).

For the practice of the top rope you will require specialized equipment which is very difficult in Cuba, but there are entities that organize these climbing experiences and provide instruction on the technique and safety measures, make the necessary means and instructors available to climbers. and guides ensure you during the climb.
If you plan yo visit Havana, enjoy an exciting rock climbing experience in Bulder Havana, challenge yourself to climb and feel an adrenaline rush when you reach the top.