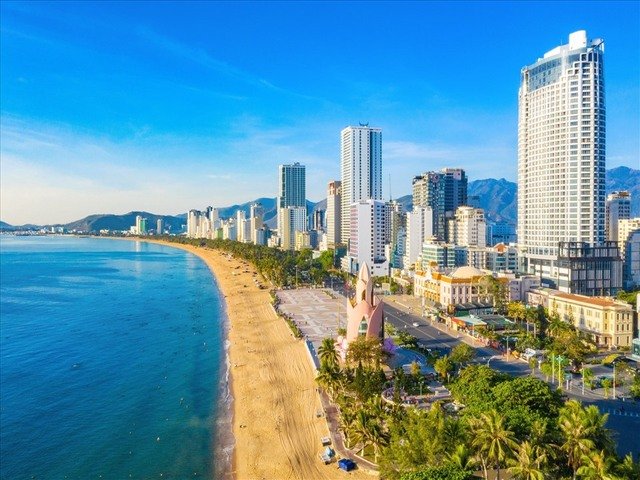 Cafes Shop In Nha Trang Vietnam
Nha Trang, arguably best renowned for having one of the world's most stunning coastlines, has an emerging café culture that is worth checking out while in town. If you grow weary of doing nothing at the beach, take a good book or your laptop to one of these air-conditioned establishments, buy a lovely cold cup of ca-phe-sua-da (Vietnamese ice coffee), and squander the rest of the day away. These are our very favorite places in town.
An Cafes Shop Nha Trang
---
"An Cafes", This eco-friendly coffee and tea store is entirely made of wood, offers wonderful indoor and outdoor seating, and has a cool air-conditioned part in the back if it's a hot day. It's a very serene and retro-looking location, with fish ponds inside enormous mechanical clocks, all surrounded by old exhibits of Vietnam in a jungle, and it offers wonderful coffee and tea to top it all off. It is primarily visited by locals, although it is a true jewel for tourists. An Café Nha Trang is ideal if you need time to plan the next stage of your travel, read a book, or surf the internet. It's also a great place for a romantic date.
An Cafes Shop 1 at 40 Le Dai Hanh street
An Cafes Shop 2 at 10 To Hien Thanh street
An Cafes Shop 3 at 24 Nguyen Trung Truc street
Iced Coffee Simply Original
---
Iced Coffee Simply Original has seven locations in Vietnam, with the company's headquarters in Nha Trang. With a cozy environment that is current and contemporary in comparison to the neighboring venues, Iced Coffee Simply Original has established their value time and time again with the quality specialty coffee and tea experience delivered to clients.
Iced Coffee Shop 1 at 49 Nguyen Thien Thuat street
Iced Coffee Shop 2 at 2 Nguyen Thi Minh Khai street
Iced Coffee Shop 3 at 2D VCN Phuoc Hai urban, To Huu street
Cong Cafe Shop Nha Trang
---
Cong began as a modest, run-down coffee shop on the corner of Trieu Viet Vuong Street in Hanoi. Nha Trang is a seaside city in Vietnam. For over two years, Cong Café has been regarded as one of the typical coffee shops in Hanoi and Ho Chi Minh City. Cong is now also a dating location, a place to speak with young people here, and even visitors traveling to Nha Trang. Not only is it well-known for its tranquil environment and friendly service, but it is also well-known for its distinctive and fancy design style, which includes the display of "recycled" artifacts from colonial times.
Cong Cafes Shop 1 at 97 Nguyen Thien Thuat street
Cong Cafes Shop 2 at 23 Nguyen Chanh street
Cong Cafes Shop 3 at 98 Bach Dang street
The Alley Cafe Shop Nha Trang
---
As the name indicates, Alley Café is a hidden gem located at AB Square. Another popular hangout for expats in Nha Trang, this is an excellent place to have drinks and food. They have a Western-style cuisine and are well-known for their fish & chips and pancakes. Some would even go so far as to declare that they offer the greatest garlic bread in all of Vietnam, not just Nha Trang. Nothing can go wrong if you start your day with some morning coffee and pancakes. Another advantage is that it transforms into a lively bar at night.
The Alley Coffee Shop Nha Trang at AB Square, 44 Tran Phu street
Highland Chain Cafes Shop Nha Trang
---
Highland Coffee is Vietnam's "original" brand, classified as a famous luxury coffee shop chain with safe prices. Although it has just opened for a short time, it has received much attention from young people. Highland Coffee brand originates from Vietnamese coffee, with delicious taste along with a comfortable and polite space, very suitable for those who have a passion for coffee. More specifically, the Highland Coffee brand always maintains manual coffee classification to choose the best quality coffee, freshly roasted every day.
Highland Cafes Shop 1 at 2 Hung Vuong street
Highland Cafes Shop 2 at 26 Hong Bang street
Highland Cafes Shop 3 at 12 Han Thuyen street
Highland Cafes Shop 4 at Nha Trang Center, 20 Tran Phu street
Highland Cafes Shop 5 at Lotte Mart, 112 Hai Thang Tu street
Highland Cafes Shop 6 at Vinpearl Empire Condotel, 44 Le Thanh Ton street
Highland Cafes Shop 7 at Star City Hotel, 74 Tran Phu street
Highland Cafes Shop 8 at Citadines Hotel, 62 Tran Phu street
Highland Cafes Shop 9 at Vien Dong Hotel, 1 Tran Hung Dao street
Highland Cafes Shop 10 at 108 Le Hong Phong street
Highland Cafes Shop 11 at 105 Da Tuong street
Highland Cafes Shop 12 at 95 A1 street, Vinh Diem Trung urban
Highland Cafes Shop 13 at Florida Hotel, 66 Quang Trung street
Highland Cafes Shop 14 at 80 Le Dai Hanh street
Highland Cafes Shop 15 at 53 Le Thanh Phuong street