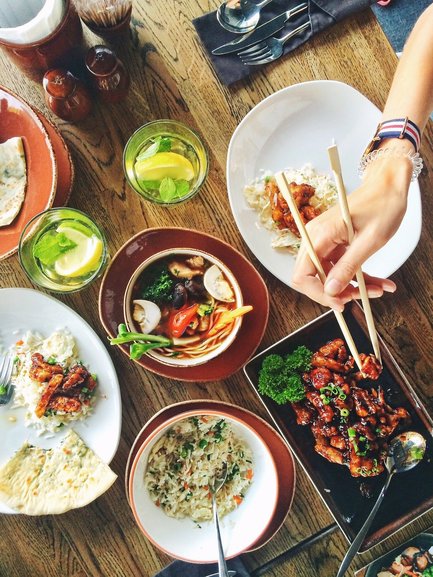 This is for you Food Junkies wanting today's World Best Food combined with fantastic Travel Experiences! We think that's a great combination and looking at the result from the 2018 list of The World's 50 Best Restaurants (which was the inspiration for this Food Travel Post) there's only 6 Food Destinations you should focus on when counting countries.
Here's the Food Destinations:
Modena in Italy | #1 Osteria Francescana | Chef: Massimo Bottura
---
Who would have known? Modena in Italy; an ancient little town on the south-side of Po is in the Top Position! Maybe most famous for their red Ferrari cars designed and developed by motor genius Enzo Ferrari but also for being the birth place of world famous tenor Luciano Pavarotti and now...the Chef on everyone's tounge; Chef Massimo Bottura and his establishment Osteria Francescana with the concept "juxtapose culinary tradition and innovation with contemporary art and design".
The region of Modena - Emilia Romagna - is a strong slowfood region with great ingredients like Parmesan or Parmigiano Reggiano, Balsamic Vinegar or Aceto Balsamico, Parma ham or Prosciutto di Parma and of course Pasta and Wine so for a Foodie this is heaven on earth!
Taking a Food Tour visiting Wine Makers, Food Producers and exploring the genuine, hearthy Italian Cuisine of this region can successfully be combined with driving fast Ferrari's, listening to Opera and soaking up the History, Culture and Landscape.
Girona Spain | #2 El Celler De Can Roca | Chefs: The Roca Brothers
---
The Roca Brothers; Chef Joan Roca, Pastry Chef Jordi Roca and Sommelier Joseph Roca have been in the Restaurant Business for a long time and the Restaurant El Celler de Can Roca have been considered a high-end establishment since opening in 1986!
Girona is a Catalan City and the Capitol of Province Girona. Cathedrals, old fortifications and buildings along the confluence of the rivers Ter, Onyar, Galligants, and Güell make the city view astonishing with both older and more colorful modern houses just riverside in a beautiful mix. The City of Girona definitely has a lot to offer when wanting to experience Culture and especially Food Culture!
Menton in France | #3 Mirazur | Chefs: Mauro Colagreco & Antonio Buono
---
In Menton you'll find the 3rd entry on World's 50 Best Restaurants; Mirazur. Chefs are Mauro Colagreco and Antonio Buono; both from Argentine and that is what you'll find on the plates; Progressive and highly executed European dishes inspired by the Mediterranean food and surroundings with influences of South American and Argentine. We think that sounds like an exiting combination!
While being in Menton - nicknamed "The Pearl of France" and also quiet famous for the many Gardens in the City - you must take the chance to explore the Riviera and Côte d'Azur! Monaco and Nice is nearby and also the North Western parts of Italy.
If coming to Menton in February you should visit The Lemon Festival! Each year a new theme; past themes include Viva España, Disney, Neverland, and India. The festival lasts many days with exhibitions of Lemon Patterns, Golden Fruit Parades, Night Parades, a lot of food (with lemons we guess?) and different bands passing through Menton's streets on foot or on truck trailers. Sound like a lot of fun!
New York in the USA | #4 Eleven Madison Park | Chefs: Daniel Humm & Dmitri Magi
---
The City that never Sleeps and The Big Apple - both well known nickname's for New York. In this Mega City you can explore 24/7! There's so much to experience it's overwhelming and you probably will need much more then one visit to cover your Bucketlist.
Eleven Madison Park is the World's 50 Best Restaurants no 4 on the list of 2018. The New American Cuisine is more then ever present on Eleven Madison Park with an innovative approach. The Swiss-born restaurant co-owner Chef Daniel Humm have taken Eleven Madison Park to exceptional heights through the years but now rely a lot on Chef de Cuisine Dmitri Magi to run the Kitchen.
Read more about New York and find restaurants, culture, shopping and "must-do's" on NYC official site with Events!
Bangkok in Thailand | #5 Gaggan | Chef: Gaggan Anand
---
One Night in Bangkok is not enough. Just saying. You can read a lot about Bangkok on Sticks & Spoons Blog and even a Restaurant Review from Gaggan on our Stories & Guides page.
Chef Gaggan Anand's story, journey and career is amazing! From being born in a poor family back in India to owning his Michelin Starred Restaurant Gaggan in Bangkok is nothing less then mesmerizing. If you haven't seen Netflix Series "Chef's Table" - that's a tips from us!
Bangkok is a real Foodie Spot! If you love food this is one of the best cities in the World to travel to and explore - from Streetfood to High-End Restaurants and Michelin Stars! Even Michelin Star Streetfood!
Lima in Peru | #6 Central | Chefs: Virgilio Martínez and Pia León
---
Central has been a Top Restaurant for years and might be one of the reasons that Peruvian Food have had a rise as one of the Top Food Trends in the later years. With a strong focus on Ecosystems and Elevation in the diversity of the country's fauna and produces they make extraordinary food!
Chefs Virgilio Martínez and Pía León (husband and wife!) pushing boundaries with ingredients never used before in dishes like Waters of Nanay featuring piranha fish served in an entire, sharp-tooth-filled piranha head! The menu explores every altitude of Peru from 20 metres below sea level to 4,100 metres above it, in 17+ courses.
Lima in Peru | #7 Maido | Chefs: Mitsuharu 'micha' Tsumura & Cesar Choy
---
Maido has a brilliant concept in their Nikkei Experience menu which is a tasty journey through Peruvian-Japanese fusion cuisine, with an emphasis on seafood. In 2017 the Restaurant beat Central and it's coherent reign as no 1 for four years being voted The Best Latin America Restaurant! It's good with competition but unfortunately for Maido they had to see Central beat them back in the World's 50 Best!
Beside an interesting Food Scene with a Melting Pot between African, European, Chinese and Japanese Cuisines there's UNESCO Architecture, huge amounts of History and Inca Trails - like Macchu Picchu and Sacred Valley - to be explored!
Paris in France | #8 Arpège | Chef: Alain Passard
---
The Romantic City of Paris is on every Traveling Couple's Bucketlist (we guess?)! Some real iconic Restaurants and Chefs on the scene of course but the one everyone is talking about now is Apèrge and Alain Passard.
With a highly driven French Cuisine Chef Passard also manage to change his menu to become contemporary with some fantastic Signature Dishes up his sleeve. Back in 2001 Chef Alain Passard announced that his Restaurant were going Vegetarian and even if meat have made a restrained return vegetables is still what make this French Restaurant stand out!
There's a massive amount of tourist attractions you can visit while in Paris but don't forget to just chill; buying a Croissant and Coffee, sitting on one of the many Café's watching Parisian Life pass by on the boardwalk!
San Sebastian in Spain | #9 Mugaritz | Chef: Andoni Luis Aduriz
---
Ohh...San Sebastian! Spoons have been in Donostia three times and long to take Sticks there on a longer weekend trip. Spoons also have eaten on Mugaritz which was a fantastic Restaurant Experience!
The 20 course menu is a seasonal, techno-emotional Spanish influenced journey built with the elements and unique ingredients typical for the region. Chef Aduriz and his team execute an impeccable Dining Experience that include many surprises.
And San Sebastian as a Food Scene is incredible and addictive. The Pintxos Culture and buzz in the Old Town especially in the evening is something every Foodie should experience at least once in a Lifetime! Take my word for it!
Axpe in Spain | #10 Asador Etxebarri | Chef: Victor Arguinzoniz
---
This Restaurant is also one that Spoons have visited twice! Axpe is located between San Sebastian and Bilbao and it's a strong recommendation to pay Chef Victor Arguinzoniz and Asador Etxebarri a visit while being in the "neighbourhood"!
The absolutely unique way Chef Arguinzoniz use his grills, the smoke and heat from selected coals combined with the natural flavors of top quality ingredients and own produce makes Etxebarri one of the most precious dining memories as a Chef for Spoons. It's surreal.
All seafood dishes are flawless! The Goose Barnacles feels like they are picked and cooked directly. A simple green pea soup served in a shot glass is so complex, fully packed with flavor and levels of taste it takes 15 minutes to finish it enjoying and loving every second. A 12 year old milk cow in the Signature Beef Chop is mouthwatering and the best meat I ever eaten! And so on.
The list above with "WOW-moments" could go on forever! Nothing I have eaten at Etxebarri has flaws. The Oysters, the Palamós Prawns, Goose Barnacle's and all fish and seafood is utterly delicious and superfresh! And we're far away from the sea in the middle of a mountain pass in a village with a population of...what?...a hundred persons? Maybe. How is this even possible?! The Seafood's explicit quality is later explained in the Kitchen Tour by the circulated basins filled with delicious ingredients and fresh sea water just outside the Kitchen!
So that's it! There's 10 Destinations to Gastronomically Discover and Explore; Italy, Spain, France, USA, Thailand and Peru if you like us are devoted Foodies that Travel for Food. Hopefully you have got some inspiration and Food Tips for your Foodie Bucketlist spiced up with some sights to watch on the way!
"Travel Every New Destination to Explore Food"