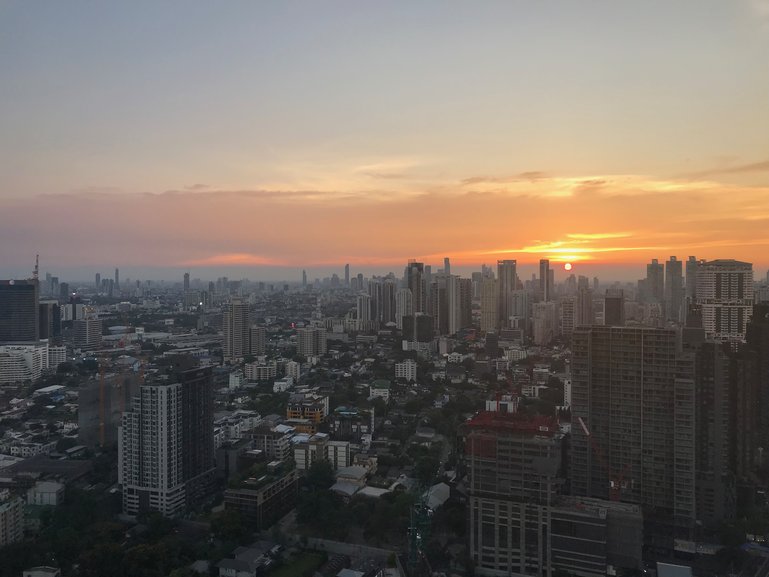 Bangkok Skyline
Bangkok is a large and very spread out city with traffic that rivals New York and LA. However, with proper planning you can avoid spending the bulk of your time sitting in transportation.
1. My number one travel tip to anyone going to Bangkok is stay in the neighborhood where you are planning on doing the majority of your activities. If you are only in Bangkok to see the major temples then stay along the river or in the Khao San Road neighborhood. If you are in Bangkok for the shopping, popular restaurants, and rooftop bars stay along the BTS sky train.
2. Using the BTS (skytrain) and MRT (subway) is the cheapest option for solo travelers but when traveling in a group can be comparable to the price of a taxi in total. However, you can not put a price on avoiding the often stand still Bangkok traffic. Both, the BTS and MRT are incredibly simple to use and well marked. I would recommend taking a screen shot of the maps on your phone and downloading the google map of Bangkok offline.
3. If you are light on luggage and times allow for it (between 6 am and midnight) take the BTS to BKK airport as opposed to a taxi.
4. Walk!! (this goes back to staying in the correct neighborhood) Downloading the Bangkok google map offline will help you navigate wherever you need to go.
5. Map out your activities before hand using the map so you can utilize public transportation and walking as opposed to using taxis to cross the city multiple times. If you are going to the mall pick a restaurant or market close to the one you are going to so that you can spend more time in the area and reduce your time in transportation.