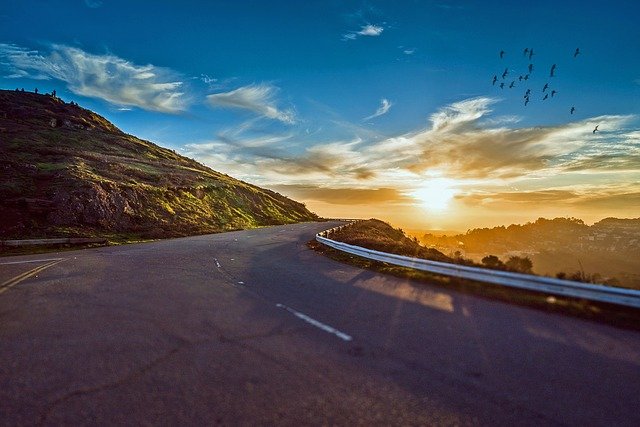 Making a good road-trip is not something you can improvise. To avoid unpleasant surprises, here are our 13 tips that will help you prepare for it and make it a success!
A road-trip is something you have to prepare for
Even if there is something exciting about taking to the roads on a whim, know that it's a bad idea.
A road trip is something you prepare and plan.
Some countries, for example, have harsh weather conditions on certain dates, which can make your road-trip complicated to experience
Do you need a visa? An international permit?
Car insurance? Travel insurance?
Travelling with children? With pets?
What are the country's safety tips for them?
It certainly spoils the charm of spontaneity, but it will save you a lot of worries once you're on the road.
So here are our tips for a successful road trip.
1 - Budgeting
---
This step is important because it will determine what road-trip you will be able to do, the time to spend there, the places, the means of locomotion used...
If you're going away in a group, think about the food aspect as well, where you'll sleep.
Do the accounts and provide yourself, in cash, with a spare envelope in case (flat tire, extra gas, someone who is sick...).
2 - Make your itinerary
---
Itinerary blog travel Happy Travelling GuyThe first thing to do once the budget is known is to plan your itinerary.
Even though it will most certainly change along the way and you can always make unexpected stops, this step is important.
This itinerary preparation allows indeed:
to calculate distances and travel times.
to locate the important elements: petrol stations, hotels, places to eat...
to adapt his path to the vehicle you'll have.
Make a main route with, next to it, possible detours.
List the things to see and the important things you will have on your way to avoid any unpleasant surprises (out of petrol, stuck on a road, no food...).
3 - Choosing the right means of transport
---
According to your budget, the chosen itinerary, the number of people, your means of locomotion for this road-trip can be very different.
But whether it's a simple car, SUV, 4×4, a fan or a camper, the choice of your vehicle is crucial for your road-trip.
If you have any doubts about the reliability of the car, don't take it.
A breakdown in the middle of nowhere is the factor that will make you regret your road-trip for a very long time.
Be meticulous about it!
4 - Music
---
The road may be long, so make a big music list.
Varied. That's the key point, especially if you're going away in a group!
There's little chance you'll want to listen to the same music for 50 hours...
You can of course use a device with a USB stick or just your smartphone with music solutions including Spotify.
5 - The cooler
---
Anything small or large, hard or a cooler bag, think about getting a cooler.
If you do a lot of road-trip, you'll be happy to have cold drinks and snacks.
You will be able, in gas stations in particular, to recharge your cooler with ice, it is very practical throughout your trip!
6 - Save the battery of your smartphone
---
On knows, if you're going on an adventure, you'll want to share it with the world via stories on Intagram or Snapchat.
Make sure you do this in a conscientious way in the sense that you should always keep some battery power on in case something happens to you.
If you can (see the following tips) have external batteries to recharge them, turn off 3G and GPS as much as possible (use a separate GPS instead).
Also, for photos, choose a camera rather than your phone, you'll have much better photos and you'll save a lot of battery power.
7 - Enough to recharge your smartphone
---
Have enough to charge your phones.
It may sound silly, but smartphone batteries have a limited lifespan.
For your road-trip, you need to be able to call for help if you need it.
There are several options to do this:
if your smartphone has a detachable battery, have several of them for a road-trip.
Take external batteries that can recharge your phones many times.
Take a USB charger from the cigarette lighter. It takes a long time to charge, but it can be a good troubleshooter. There are several USB ports to charge external batteries and phones at the same time.
Also, when you have access to them, consider charging your devices from electrical outlets.
8 - Take a (real) GPS
---
Of course you can use GPS and maps/applications from your smartphones.
But they consume a lot of batteries and prevent you from doing other things with your phone.
So choose a real car GPS, which will help you solve these problems.
9 - Respect the Highway Code
---
When we do long road-trips, we always want to save a few minutes.
However, and if you are in a foreign country, avoid it.
Between traffic tickets, arrests or mechanical problems, we can only encourage you to really respect the traffic rules.
If you are in a foreign country, get the facts.
There are many websites and Youtube channels that explain the specificities of the road in different countries.
And, believe us, for doing so, it's a great help!
Long road trips are associated with some of their own types of problems… like driver fatigue or distraction. Don't plan to be on the road for 12 hours in one day, as there are many different scenarios that could increase that time (like traffic accidents), making it even more difficult to concentrate. When you are distracted or tired, traffic accidents become even more likely.
10 - Book in advance
---
If you plan to sleep in a hotel, in a camping or other: book!
It may sound silly when you say it like that, but still, arriving at nightfall in a crowded place is really complicated.
Book and have peace of mind: no last-minute stress, no night on the road looking for a place to sleep and above all: a good night's sleep to recover well!
11 - SIM cards
---
Even if your operator allows you to make calls etc in foreign countries, don't hesitate to buy a local prepaid SIM card.
You will have a number where you can be reached and you are sure to have credit just in case.
The best thing to do in these cases is to have a dual SIM phone, or, if not, get a new or used (there are some really cheap ones) simple phone to equip it with this chip.
Safety above all!
12 - Prepare your applications
---
There are many applications related to travel and road-trip.
Download them and configure them before your departure.
Try them out.
We will make, in the coming weeks, many articles to present you several, think about creating an account to be kept informed!
13 - Make the best use of gas stations
---
For a road-trip, service stations are crucial.
Take the opportunity to take a break, drink a coffee, buy some food, go to the toilet...
Also remember to refuel regularly.
Never wait until you run out of fuel.
It doesn't cost you more and, most importantly, you'll be safe from that point of view.
Thank you for reading this article!
You have understood it, a road-trip, it is prepared.
We hope we have helped you through this article.
If you have other tips, don't hesitate to write them down as comments for future readers!
Thank you again for reading this article!
- Happy Travelling Guy -