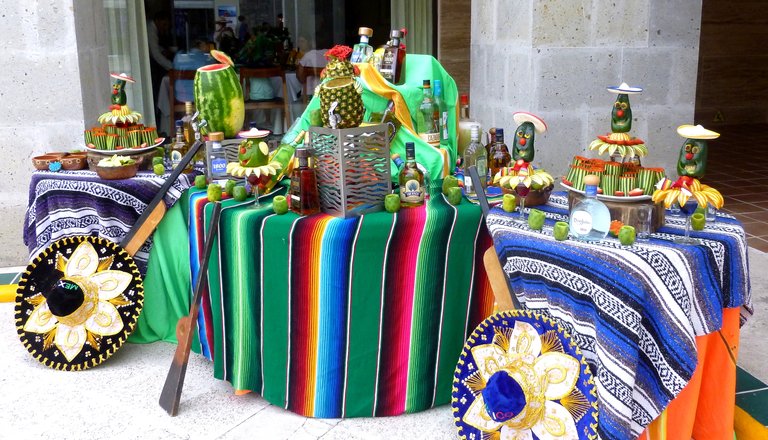 If you are a budget traveler visiting "budget destinations", you can get around very frugally, thanks to an abundance of inexpensive accommodations, meals and transportation options. But the one thing that can really sneak up on you if you're not careful is the cost of booze.
Obviously, alcohol is part of many people's idea of fun and drinkers gonna drink no matter what. But at least, here's a couple of ways to avoid breaking the bank in the meanwhile.
Stick to beers, "specials" and happy hour discounts that only run $2-3 per drink. National beer is very cheap in most budget destinations. So, if you're looking to get sloshed or treat others to a round (or ten) on a budget, beer is your friend.
If you must have the hard stuff, try to drink it outside of restaurants / bars / clubs located in the main tourist drag / quarter. Hit the local liquor store and arrange a private bottle stash you can hit before leaving your lodging for a night out; bring your own little flask to discretely swig out of. Meet up with your friends on the beach or the public park picnic areas -- as opposed to private establishments that require constant purchases (just don't break local open container laws...)
Where bars and restaurants (even the non-fancy ones) get you the most is with cocktails (anything prepared by a "mixologist" will cost ya...) Wine too can run up a bill, especially if you like the finer stuff (though "house wine" might be cheap...) And if your alcoholic beverage comes in a coconut, a pineapple, a melon or some mystery tropical gourd, expect a substantial mark-up for the exotic presentation.
You can be in a country where a beer costs a buck a bottle, but you'll still be paying $6-$12(+) for that martini (quite possibly made with low-quality, watered-down liquor) at some average restaurant. Sure, it might seem "cheap" in comparison with $20+ for a martini back in NYC (on Staten Island during happy hour...) -- but that's why you don't drink martinis (or anything else other than free tap water) in New York City!
Besides, comparing local prices to the ones "back home" will result in your paying through the nose by local standards, which is so unnecessary. Only compare local prices to local prices! And, for a budget traveler, that $6-12 shelled out on a mediocre mojito can instead buy a full meal or a crashpad for the night.
And let's be realistic: most of us aren't going to have just one mojito either... That's the other destructive tie between booze and money: as we imbibe alcohol, our memory and self-control weaken with each drink (especially when socializing with others who are drinking), resulting in loss of inhibition, filters and sound financial judgment.
This is how otherwise reasonable and frugal travelers end up ordering way more and higher-priced booze than they planned on. When it's time to pay up, it's too late to claim ignorance -- especially in a foreign language and with the room spinning 'round and 'round.
It's generally a useful safety habit to pay extra attention to prices and quantities when you're ordering drinks. First of all, bars are notorious for obscuring their drink costs until -- BA-BAM -- your bill has too many zeroes on it, courtesy of some allegedly "designer", supposedly "topshelf" vodka in your Bloody Mary you've never heard of. Some less-than-honest establishments may simply sneak in a charge for an extra drink or two, if they think no one is counting. Just something to be aware (though not paranoid) of.
Wherever you go and whatever alcoholic fare you drink, don't be embarrassed to clarify prices upfront, especially if you're asking to substitute brands / types of liquor in your cocktail or requesting something off the menu altogether.
Likewise, don't be shy to inquire about the size of the pricey cocktail you're about to order just to make sure it's not absurdly small.
It all comes down to: relax but maintain mindfulness of how many times you order what at what price and make sure it corresponds with the bill. Financial regret is a bad companion to a hangover.
Of course, sometimes, travelers end up having such an amazing, memorable time of it that the splurge feels completely justified. Sometimes you just live in the moment and throw frugality to the wind.
But, as a regular habit, it could consume a budget traveler's monthly expenses in a handful of days. So, if you're planning to drink regularly, it really helps to put some thought into doing it as inexpensively as possible.
The good news is that cutting alcohol costs is totally doable with the above guidelines without resorting to the nastiest, cheapest-of-the-cheap, back-alley bottom-shelf moonshine that will land you in the local ER with alcohol poisoning. As long as you make it a priority and are strategic (as opposed to impulsive) about it, you can have your inexpensive booze and drink it too.
Happy travels and stay safe out there!