Christmas on the road usually brings some unique experiences. The sign said Bikers Welcome at Rumors Sports Bar & Grill and was open on Christmas. We were the wrong kind of biker but we went in anyway for a late dinner. As cigarette smoke drifted around in this dive bar we sipped our beers and ate burgers, fries and a Cajun chicken Philly. Ed the manager took great care of us and started a trend of noteworthy southern hospitality. We overheard plenty of conversations and one in particular stood out. A tipsy woman called to her friend to get another shot of Fireball, "Let's get blackout drunk and make some bad decisions." she drawled. Smelling of smoke we drove to our nearby North Chatt rental and checked in.
In route to Chattanooga that day, we had Fall Creek Falls State Park to ourselves since it was Christmas Day. Bike bushwhacking, log hopping and tree clearing made for the longest bike ride ever. And, we never saw the falls that we planned the stop around. We had to hike the last half-mile in the dark with a cell phone flashlight. 13 miles took almost five hours around the Upper Loop Trail. We crossed Cane and Meadow Creek several times, removed socks/shoes for one, then once across a swaying rope and plank bridge. We got on/off our bikes about a hundred times. Feeling water-fall jipped, we drove south toward Chattanooga in search of a late dinner hoping something would be open.
The other area Chattanooga trails including Raccoon Mountain were challenging in a different way. Raccoon's blue and black-labeled trails doled out plenty of rock and root minus the streams. The East Rim overlook provided a cloudy view of Tennessee River's Moccasin Bend where we scarfed down a sandwich. We continued to Live Wire and a sustained downhill that made us grin. Later in the ride, I lost the will to live after a rock garden section followed by a 3.5 mile climb that took my final reserves. My legs were toast after two days of hike-a-biking. We had earned some food and beverage and perhaps mercifully it rained the next two days.
Everyone will check your ID in the Noog as we pub crawled around as the rain continued. Lunch at the Honest Pint was an important stop. Our helpful and hospitable server Ashley wrote us a list of her favorite watering holes: OddStory Brewing, Hutton & Smith and Chattanooga Brewing, WanderLinger, Heaven & Ale and more. By her list, it appeared that Chattanooga is hoping to become a beer city. We made a point to hit all her suggestions during our stay in the city.
The rain also forced us into being more typical tourists. After being denied entrance to Point Park at Lookout Mountain, due to a government shutdown we moseyed to Ruby Falls. This three-hour experience tested our patience. Only a mere five minutes was spent admiring the indoor, underground waterfall. As it rained outside, we followed a perky tour guide on an excruciatingly long walk through the caverns, jammed in like Tennessee cattle.
The soggy conditions kept us off bikes again so we messed around and did some retail therapy at Rock Creek, Suck Creek Cycle, REI and dined on Edley's BBQ. We also drove to Ellijay, Georgia in the evening to visit my cousin Kevin and Cathy's 30,000 square foot sky lodge for a quick visit and dinner.
When it is too wet to bike, you hike. Laurel-Snow Recreation Area,north of Chattanooga, had a breathtaking stream of water plunging 80 feet onto the Cumberland Plateau and into Richland Creek. We walked about six miles with the sound of rushing white water in our ears the whole way. The trails remained wet from the rain storm so we splooshed forward and muddied our boots and pant legs. My new Nikon 3400, thanks to Santa Josh, was draped around my neck swinging back and forth in between attempted photos.
Back at the trailhead a seasoned park ranger bent Josh's ear about the hills, the wildlife and how high the river had been just yesterday. "Good thing y'all weren't hiking this trail yesterday, not sure you could have made it over the bridge." We've had confirmed sightings of a panther, cougar, black bear and yep, Big Foot. Saw it myself in these hills." That was not the first time we'd heard the locals talk about the legend of Big Foot roaming around Appalachia foothills.
The wet conditions continued as we made our way north to Michigan. We made a very spontaneous I-75 exit at London, Kentucky in the hopes of catching one more ride. The Daniel Boone Forest did not disappoint nor did the Van Hook Falls. The only mistake was biking vs. hiking. My backside was instantly wet from the rooster tail of water. Add in muddy clay and many stream crossings for a new trip record for total hike-a-biking. The last half mile we leaned the bikes against some rhododendron and hiked to the falls. The creek had turned to a rushing river and the falls plummeted over 50 feet into a bouldered gorge. We hiked in behind the falls in the natural cavern overhang and marveled at how loud water is when smashing on rocks!
We made it back over the 13 stream crossings, the return we skipped removing socks/shoes and just splashed forward swamping everything we had on. We did not make it to midnight for NYE rather crashed at a La Quinta Inn just north of Cincinnati with the sound of rushing water in our ears.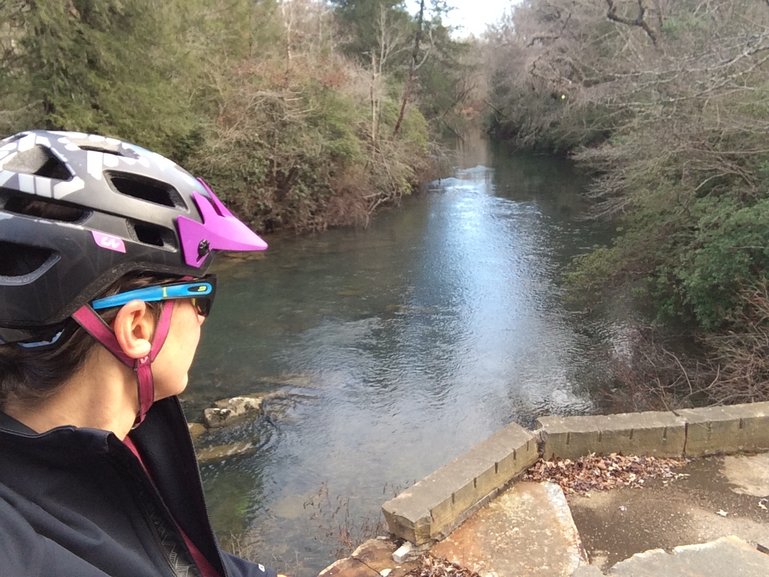 Mountain biking Fall Creek Falls, Upper Loop Trail
Happy New Year from Team Holmes & Watson.