The current pandemic has changed how we approach travel in so many ways. Is it safe to board a plane? Or a cruise ship? Are there remote places to visit that are lower risk? Is it safe to book a hotel room or make a reservation at a local restaurant? Current tourism statistics reveal that most hotel and vacation rental bookings are within 100 miles of the traveler's home. The Canadian border is still closed and many other countries are still supporting travel bans.
A Washington Post article from June 15th cited, "As we closed borders, canceled events and self-quarantined at home on a mass scale, the travel industry, began to nosedive. The collective effort to save lives meant economic catastrophe for an industry that profits from people leaving their houses."
Now, the reopening is a work in progress. The tourism industry (small and large) is hoping you are ready to explore and take some risks. The good news: most towns, attractions, and cities have taken precautions and are prepared to welcome you safely. Compared to other states, Michigan has gone from one of the worst to better because of measures to contain and slow the spread.
So, It's June now (almost July) and time to get back in the game even if that means staying closer to home and planning in-state trips. A shorter stint or regional road trip has the same mental benefits of a vacation abroad. The cruise ship or airplane can wait as you ease back into the game. Start small. Get out of the house, discover Michigan's pristine outdoors, go camping, hiking or biking and get close to nature (no need to seek a crowd yet). Chapter 6, in my new book, Travel Light, is all about the Great Lake State and tips on where to explore next.
Traveling locally is underrated and easier on the pocketbook too. As a local and resident of the Mitten, I choose to stay in my home state often for adventure trips or weekends out of doors. Bonus, being outside is safer than indoor activities that put you in close contact with others. Let's stay safe with these highlights and ideas for exploring in the Mitten.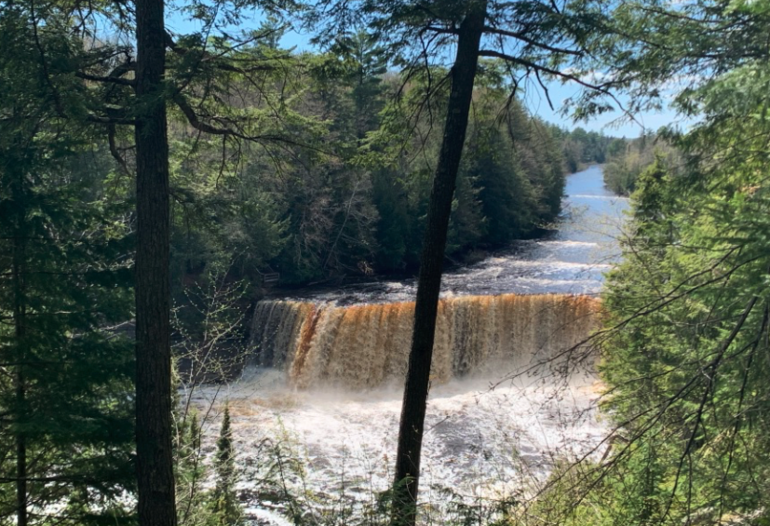 Tahquamenon Falls in Michigan's Upper Peninsula
The Upper Peninsula
---
I am awed by the rugged natural beauty of the U.P. and its sheer size at 16,000 square miles without crowds or bustling tourist traps. Only 3% of the state's population lives among the peninsula's woodlands and waterways. The U.P. is surrounded to the north by Lake Superior, the world's largest body of freshwater. It boasts Pictured Rocks National Lakeshore and a bevy of wonderful water-based activities. Other musts include Tahquamenon Falls, Porcupine Mountains, Marquette's hiking and biking trail network, Mount Bohemia, and a good old fashioned road trip for some waterfall hunting or rock collecting. At our last visit in late May, most counties had zero confirmed COVID cases.
The North Country Trail (NCT)
---
The NCT is another gem for any outdoor enthusiast. The trail runs through the entire state of Michigan and was approved by Congress in 1980. It spans 4,600 miles through seven states, from New York to North Dakota. In my informal focus groups, most folks have not heard of this amazing through-trail and resource for hikers, bikers, and backpackers. In Michigan, it passes through the Manistee National Forest, skirts Traverse City to the east, and heads north to the U.P. and follows the Lake Superior shoreline. A mere half-hour drive from our home, we can access the trail near Newaygo and Hesperia areas. Some sections are open to biking, so check the MMBA (Michigan Mountain Biking Associate) for details and maps. For hikers or bike-packers, you can pitch a tent (no camping fees) along the way and create an overnight or weekend that will not dent your wallet. For more information on the NCT, its local sections and access points, visit www.northcountrytrail.org
Happy and safe trails!