Travel, road trips, and vacation planning have all taken a detour from our usual route. As May pushes into June and almost three months of the COVID Stay Home/Stay Safe order in Michigan, the travel pivot will continue. A staycation has become a bad word because we've been sequestered at home, so we want nothing more than to LEAVE. Thankfully, the outdoors is still open! As a west Michigan resident, I am taking advantage of the local parks, trails, beaches, and outdoor spaces that are open in Muskegon and Ottawa counties and in the regional area. Getting outside has always been a part of my routine, and I am excited to see others jump on the hiking, biking, running, and golfing bandwagon.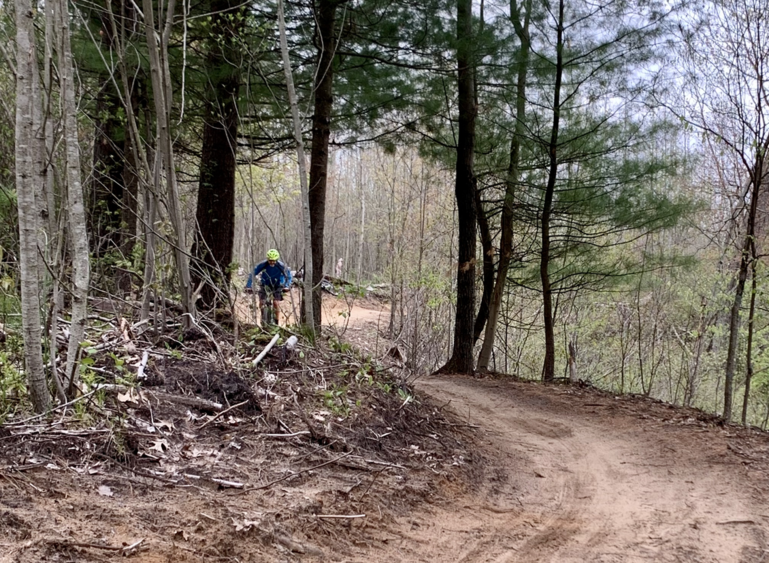 Riding the Matrix at Mosquito Creek
Mosquito Creek Trails, Muskegon
---
There are lots of bikers but considerably less in the mountain bike category…those who like to pedal on dirt, not pavement. Muskegon is focusing on dirt, at Mosquito Creek Trail System in Twin Lake. The hilly topography has been transformed into a dirt rollercoaster through a collaboration of Visit Muskegon, Michigan's Edge Mountain Bike Association, and plenty of philanthropic businesses. Unlike the rooted, hilly and technical single-track trails at neighboring Owasippe, Mosquito Creek is proving ground for those looking to earn their single-track stripes. It's a fun and flowy pedal festival, not riddled with soul-crushing climbs or features like roots, jumps, or log rolls. The trail rating is green and blue, so it's an opportunity for families to introduce new and young pedalers to dirt, not the sidewalk. Start with Faz Track, three miles of gentle rollers, then move into the Matrix that features some climbs, banked turns, and ridgelines overlooking the creek. Mosquito Creek continues to add more advanced features and miles, so stay tuned to their upcoming fall announcements. With Mosquito Creek on the roster alongside the seasoned Owasippe trail system, Muskegon is officially on Michigan's mountain bike map.
Pere Marquette Beach, Muskegon
---
There are plenty of pristine beaches on the sunset coast, but none like Pere Marquette. I learned to play beach volleyball here and played my first pro MPVA tournament in the deep sand. The expanse of sugar sand has been certified a "clean beach," and its sheer size is unique relative to other overcrowded options along Lake Michigan. Pere Marquette can host 100s of beach volleyball courts all close to The Deck's barbecue and beverage offerings. This city beach hosts beach volleyball and sand soccer tournaments, Burning Foot Beer Festival, and a bevy of tourists from every state cruising the oval loop, looking for a sunset glimpse. You can also catch the cruise ships and the Lake Express ferry coming in/out of the channel into Muskegon Lake. It's where sea and sand meet to make a perfect destination for all types of beach-goers. Kitesurfers, paddlers, volleyballers, and loungers alike agree that this is a top Midwest beach destination.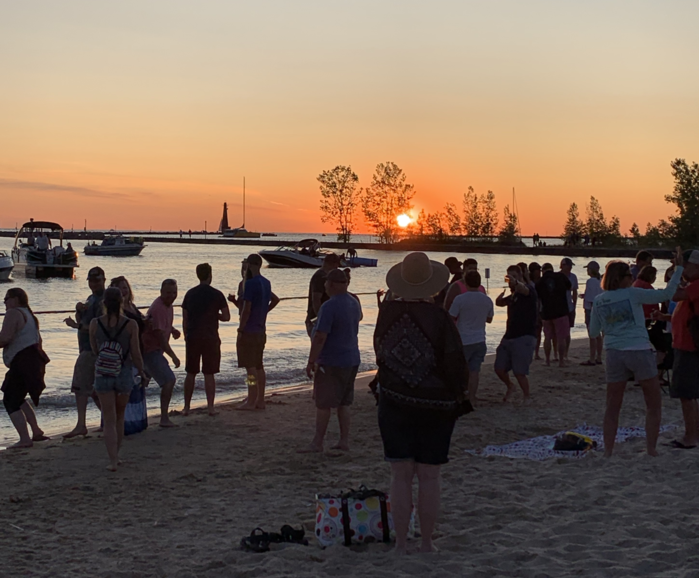 Pere Marquette Beach on Lake Michigan
Coast Guard Park and North Ottawa Dunes, Ferrysburg
---
When the AARP letters started arriving, I realized that running on pavement and the subsequent bone-jarring soreness was not worth the athletic gains. During the pandemic, I've been meeting my friend Jen for weekly socially-distant trail runs (ok, we walk up the big hills). We run, we gab, and compare notes on how marketing technology will change for small businesses. Coast Guard Park has a network of trails that wind through hilly dunes, much softer than asphalt, with outstanding views of the big lake. CGP trails also connect to Hoffmaster State Park at the most northern point at trail marker 11. Ottawa County and Muskegon counties connect via these two trail systems. Also, follow the maps posted at intersections (trail marker 20) for views of Lake Michigan. Are you feeling frisky? There are some intense stair sections to traverse that overlook North Beach Park.
Michigan is the Midwest's Golf Riviera: Muskegon Golf Courses
Boyne Golf
---
Josh got a good chuckle when he caught me smacking shag balls into our back swamp with my nine-iron. I had a bad case of cabin fever, thankfully not COVID. I decided to end my backyard round when my shanked ball rifled off an oak tree back toward me and plunked off the garage siding. Sheepishly, I sheathed my club. When the golf industry reopened in early May, Josh and I wasted no time in adding it to our roster of outside activities. Plus, it's a perfect pandemic sport, easy to stay six feet away from your golf partners, and it provides acres of space to chase around little white balls. Josh met his buddies at Oakridge Golf Club in Muskegon for a friendly round for some much-needed socialization.
I hopped in the car and drove up north to join Jen and friend Dani for a round at Boyne Mountain's Alpine course. Admittedly, driving and staying somewhere other than home for a night, had me well-past excited. Jen's four-bedroom condo is a short drive to the clubhouse and is ski-in/ski-out in winter. Our swings were rusty, and we lost many balls to Boyne's woods and wetlands. The scorecard did not reflect how much fun we had. We were over par and overjoyed to be back in the travel saddle even just 175 miles from home base. It was a girls golf road trip adventure, we laughed, we ooohed and ahhed the views of Deer Lake, and our spirits were lifting along with the COVID restrictions.
Getting outside and getting exercise is a significant component of staying mentally and physically healthy, especially during the current COVID crisis. Just looking ahead and planning travel will lift your spirits. Get in the car and go, adventure awaits in your local parks, on the trails and links. It's true, fun, and even scientific says National Geographic.