Bella Vista, translated from Spanish to English, is simply a beautiful view. There is plenty of beauty, and it's a beautiful thing to pedal right from your yard into a world-class mountain bike trail system. Drive less, ride more in this mid-south mountain bike mecca. It's a unique no-hotel zone loaded with over 200 stylish vacation rentals inside the trail system. Bella Vista is tucked in Arkansas's northwest corner on top of the Ozark range, which provides the elevation for perfect sendy and rolling ribbons of trail.
Here, the community, neighborhoods, parks, and trails are interconnected. In Bella Vista, homeowners would argue the backyard is the front yard! Hand-cut trails lead right into the primary trail system. You'll find benches, unique bike-themed art, and even a cooler of free water in the "front yard" as you pedal through. Bike culture is a priority, and the routes are thoughtfully and professionally designed to intersect with parks and campgrounds, pedal-up restrooms, bike repair stands, water fountains, Phat Tire Bike Shop, and the Gear Garden near the pavilion in Blowing Springs. Bike amenities, yup, they've got that.
With 100 miles between the Back 40, Little Sugar, and Blowing Springs trail systems, the terrain covers easy to expert. And yes, it's all connected to the rest of Oz Trails via the Razorback Greenway. Bella Vista is an outdoor enthusiasts paradise, both for local residents and visitors alike. The multi-use trails are shared with hikers, runners, and fur babies. And besides the impressive amount of trails, seven golf courses and pristine fairways coalesce around the impressive landscape of creek beds, waterfalls, rolling hills, and limestone ledges. In Bella Vista, you can shred and swing!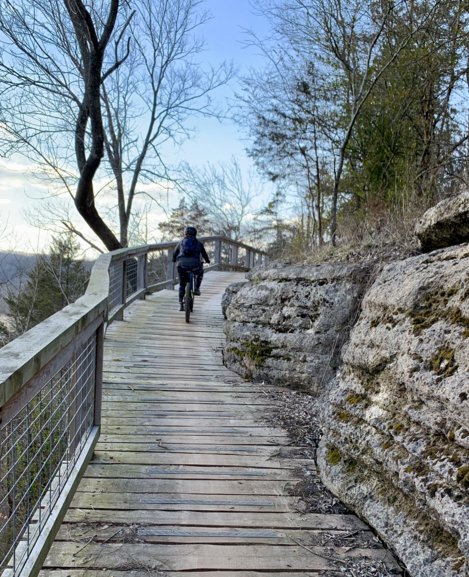 Blowing Springs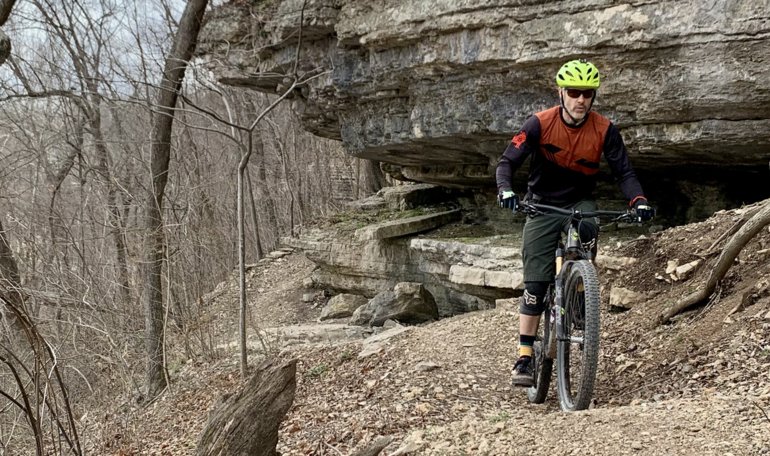 Little Sugar, Danger Will Robinson trail
During our six-day visit, we explored sections of all three trail systems. I'd be hard-pressed to pick a favorite.
Blowing Springs
---
Our rental house, Start2Shred and the expansive deck overlooked Blowing Springs Pavilion and the Gear Garden, open seasonally for post-ride refreshments. The homeowner's 14-year old son built the in-yard trail with switchbacks and berms that let you roll right onto the lower loop. The house is also equipped with a bike repair stand and bike wash area. The bikes have comfortable places to rest as well! Blowing Springs has 6+ miles of fun, flowy intermediate tech around caves, and unique bridge features.
Back 40
---
We stayed at another outstanding rental house, Free Ride that overlooked the Back 40 from another impressive deck. We pedaled clockwise around portions of this 40-mile system through tall trees, around waterfalls and bridge sections cut next to rock ledges. There are plenty of climbs, but they are always followed by rollicking romps downhill. So ride down, back up, Back 40!
Little Sugar
---
From Pinion Falls, we pedaled the Sugar Connector under the highway, through the Country Club Golf Course to the impressive Sugar Bridge, the gateway to a dose of single-track sweetness. You'll have an immediate "sugar buzz" when you encounter Danger Will Robinson's narrow rocky path above the creek, tucked under massive limestone ledges. Then, stay focused and continue around Tunnel Vision's perimeter to find Huntley Gravity Zone. Huntley is the perfect place for all levels of riders (baby air to big air) to session approachable jump and feature lines.
Bella Vista Golf
---
Lucky seven in BV – Seven courses provide plenty of variety and over 100 holes to test your swinging skills. I was happy to rest my legs and fine-tune a different set of skills. My dirt sister Kim and I landed at Tanyard Creek Practice Center for a productive lesson in ball striking. Darryl's teaching methods were top-notch as our little white balls flew further and straighter. Kudos to Darryl for keeping it simple – I still remember the three B's! Balance (stance), belly-button (rotate), and balls (balls of your feet).
Bella Vista Post Ride/Round Refreshments
---
Bikers and golfers live for post-ride or post-round refreshments, namely beer and a hearty meal. I'd suggest stocking up on local craft beer (Bentonville or Bike Rack Brewing) and having it chilled and ready at your rental. Light a fire and the grill, pull up a chair with pals, and sip your way through several happy hours. Ride, sip, chill, and repeat. For a well-rounded culinary experience, I'd suggest getting fancy for a night at Lakepoint Restaurant & Tasting Room, adjacent to the marina and Scottsdale Golf Course. Soak in the sunset vibe while sipping a wine flight. I chose four robust Cabernets on a chilly March evening. My dinner foursome savored red meat delights and perfectly seasoned grilled fish and salmon entrees for an exquisite dining experience. Prefer jeans and a flannel; I'd also suggest Gusano's for a deep-dish pizza, dine-in, or take-out.
To date, Josh and I have visited three times, and we are always plotting a return to this slice of Arkansas. Bella Vista is much more than a retirement community. Its recent growth has diversified it with adventure seekers and younger families making it a premier location for all life stages and, of course, for riding bikes.
Admit it, you barely know where Arkansas is on the map? Above Texas, borders Oklahoma, Missouri, Tennessee, Louisiana, and Mississippi. Give it a closer look; it's affordable, scenic, and loaded with outdoor recreation in a temperate year-round climate. Accolades include Top 25 best places for affordable homes by Money Magazine and one of America's Top 10 Best Places to Retire by U.S. News & World Report. Armed with this knowledge and pack of beautiful memories on two wheels, we're thinking about ditching the visiting part…. thinking we want to stay longer!