Big things come in small-town packages. New Bern, North Carolina is the shiny gem in a small velvet box – open it up and discover the appeal, both on the surface and underneath. The intercoastal and ocean views are the shiny gem exterior, but the friendly locals are the interior and soul of the town. Friendly is an understatement here… you feel taken care of.
For example, Natasha at Prohibition, Annie at Cypress Hall Kitchen & Bar, the gang at Emerald Golf Club, y'all took the time to make our signature cocktails, our birthday dinner experience, and the golf round more complete. Also, history came alive with Tom, Wayne, and Crystal aboard a Trolley Tour around the downtown district. And, Channing at the Country Biscuit, breakfast is my new favorite meal, and I will not forget her enthusiasm or how divine a biscuit donut tastes. Randy at Stillwater Kayaks helped create a memorable afternoon, where we paddled the harbor with a bonus waterfowl wildlife show.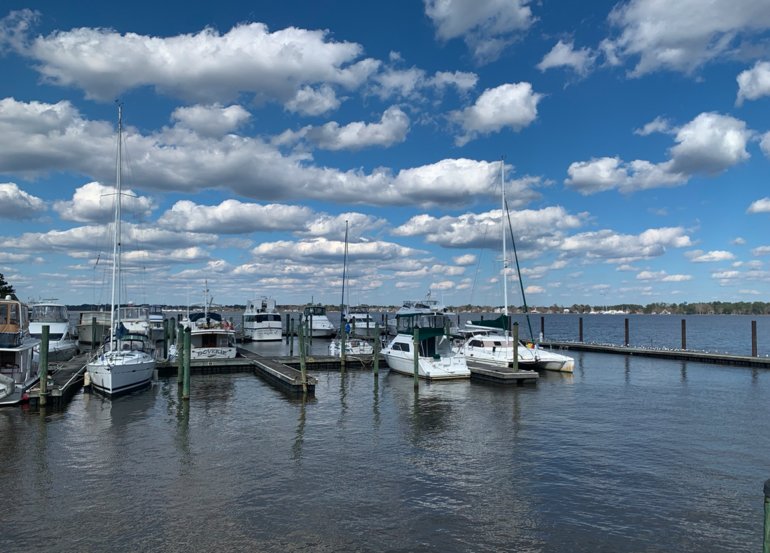 New Bern harbor, North Carolina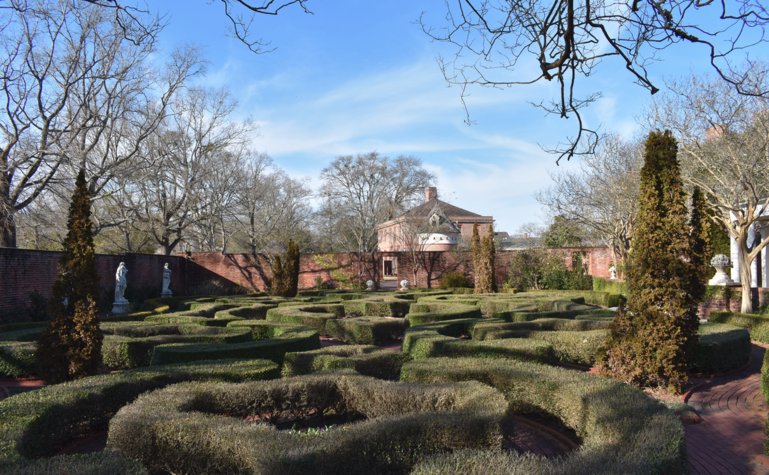 Tryon Palace and adjoining gardens.
Though we were strangers, we didn't feel that way during the art walk and the farmer's market. Conversations sprouted up like bright spring flowers with artists, shop owners, and market vendors. Even the Marine guards at a Cherry Point Air Station were extremely good-natured when I wrong-turned into a restricted military entrance. They smiled, called me ma'am, and politely instructed me to make an immediate U-turn to exit.
A milestone birthday was the catalyst for this ladies' road trip. We picked New Bern for its small size, coastal location, proximity to golf, and much warmer (than Michigan) temperatures. Maureen turned 60 in February, so the birthday girl, mutual pal Kris and I set off on a March adventure, a mere 14 hours away! During our visit, Southern Living announced that New Bern secured a top spot in The South's Best Small Towns 2021. We would wholeheartedly support this claim and immersed ourselves in the local culture.
If I had to pick a favorite day or activity during our week, I would be hard-pressed to choose from a diverse list: golfing, downtown strolling, beach hiking, art walking, palace touring, kayaking, and dining on fresh fish and seafood, to name a few. Oh, add "bear hunting" too. New Bern's symbol and namesake, a bear or Bern in German, represents the town symbol and sister city in Switzerland. There are over 50 bears to find throughout the city and surrounding area in many shapes, styles, and themes. While finding bears was fun, kind of like an adult version scavenger hunt, it was again the talkative and helpful locals that made the experiences so memorable.
History does not mean a dusty museum here. New Bern oozes history from restored homes, the rebuilt Tryon Palace, and more. Enthusiastic locals will point you to the palace and adjoining gardens. Take the Behind the Scenes Tour and walk the manicured hedges for a taste of the colonial 1700s and a glimpse at North Carolina's first capital. The Trolley Tour caps off a vibrant history lesson with the scoop on key players that spent time in New Bern like George Washington, Governor Tryon, Pepsi-Cola inventor Caleb Bradham, and Isaac Taylor, the ancestor to music greats, Livingston and James Taylor. And, there's a stop at the iconic Cedar Grove Cemetery, where you'll hear stories about the weeping archway.
During our week, we enjoyed several doses of local charm chased with plenty of springtime outdoor adventures. We also took time each morning to sip coffee on our condo patio while the ducks, geese, and osprey provided the morning music from our local pond. The seasonal rays felt hot to us sun-deprived northerners, so I happily applied sunscreen for our rounds of golf, the second at Harbor Point Golf Club. Not one but two staffers warned us about the extra-fast putting surface. As the three-putts mounted, we learned to play hockey on the golf course, on greens that played like ice! Not deterred by the scorecard, I focused instead on the views from the final holes. On 18, I replaced the flag, marked another double bogey, and sheathed my clubs. In no hurry to change scenery, I lingered around the green, staring at the sun glinting off the sailboats and river currents stretching out to the horizon. The waves shimmered, and the blue transitioned to fluid silver.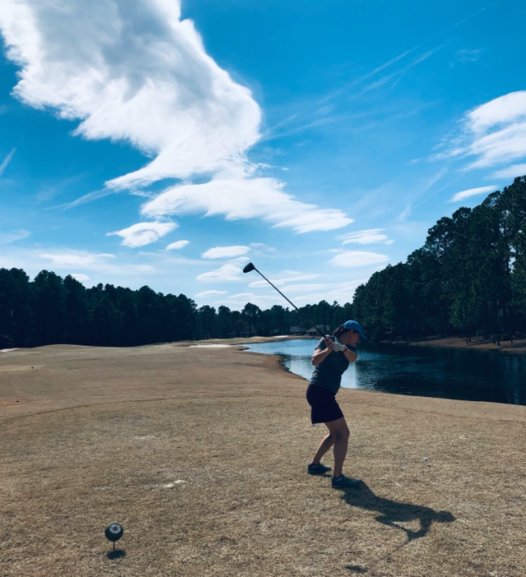 Harbor Pointe Golf Club, New Bern, NC
That shiny exterior, the Neuse River, connects New Bern to its Atlantic Ocean neighbors on the Crystal Coast. We fit in a proper sandy beach hike at Fort Macon State Park, complete with a picnic that overlooked the expanse of sand and water. Water adventures are a must in this area: New Bern's local marina and Fairfield Harbor have protected areas to launch for a sail, a SUP, or kayak. Vibrant blue views are prevalent along the river and from New Bern's quaint downtown, making for a delightful combination. In this place, when you visit, you'll be surrounded by water and waves of coastal hospitality.