You like to ride your mountain bike. It's nearing year end so it's time to put a travel wish list together for 2023. Tis' the season for giving so I've compiled a 2022 recap to aid in your planning. Here's five destinations around the country and one right here in the Mitten that cater to two-wheeled adventurers. We seek out bike-friendly camping or lodging, trail accessibility to town and urban centers, local bike service/sales shops, and of course, the proximity of beer and food to the trail. Let's go mountain biking!
Bella Vista, Arkansas
---
Bella Vista, translated from Spanish to English, is simply a beautiful view. There is plenty of beauty, and it's a beautiful thing to pedal right from your yard into a world-class mountain biking trail system. Drive less, ride more in this mid-south mountain bike mecca. It's a unique no-hotel zone loaded with over 200 stylish vacation rentals inside the trail system. Bella Vista is tucked in Arkansas's northwest corner on top of the Ozark range, which provides the elevation for perfect sendy and rolling ribbons of trail.
With 100 miles between the Back 40, Little Sugar, and Blowing Springs trail systems, the terrain covers easy to expert. And yes, it's all connected to the rest of Oz Trails via the Razorback Greenway. Bella Vista is an outdoor enthusiasts paradise, both for local residents and visitors alike. The multi-use trails are shared with hikers, runners, and fur babies. And besides the impressive amount of trails, seven golf courses and pristine fairways coalesce around the impressive landscape of creek beds, waterfalls, rolling hills, and limestone ledges. In Bella Vista, you can shred and swing!
The Mountain Bike Capital of Georgia
---
Georgia is a peach, but there are a couple of other reasons to PICK Ellijay, the northern corner of the state. It's prime apple orchard country and Georgia's mountain bike capital. Here, the foothills of the Appalachian Mountains extend into the Chattahoochee National Forest to create perfect rolling terrain for 500 acres of orchards and 100-miles of singletrack. We showed up at Mulberry Gap Adventure Basecamp to start our visit. Each day we explored miles of trails with stops for lunches that included homemade sandwiches and a Honey Crisp apple.
Mulberry Gap is like a mountain bike summer camp for adults with super friendly counselors to guide your stay. Just the talent show isn't on stage; it's on the trails. This adventure retreat caters to bikers, hikers, and gravel grinders as the surrounding terrain has plenty of dirt roads and techy wilderness cross-country trails. Trust me, there's no shame in shuttling, and don't think your cheating by skipping the initial climb. The Gap has rustic cabins or campsites, and the on-site Barn is the communal gathering area for meals and beverages. There are also several hot tubs dotted in between cabins and the two bathhouses.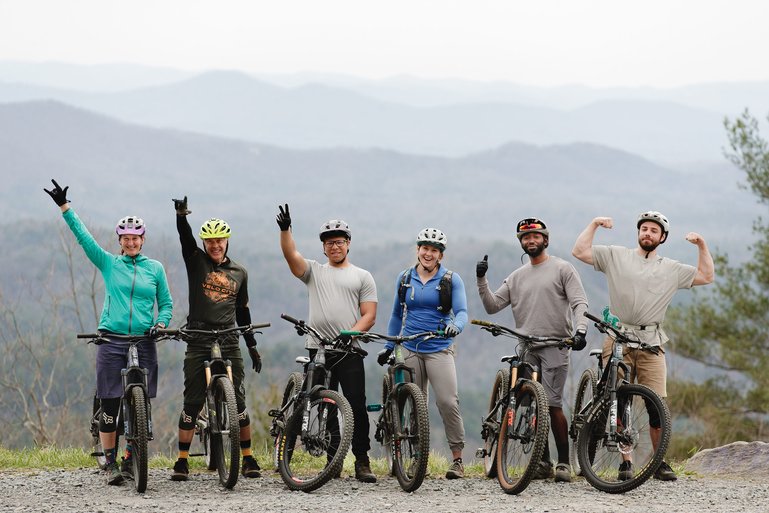 Mulberry Gap Adventure Basecamp, Ellijay, Georgia
Flagstaff, Arizona
---
Arizona has serious mountain bike credentials, and now that we've added Flagstaff to our bike resume, the state's stock went up another notch! Absolute Bikes armed us with full-suspension rentals and a map of local trails. Tip: Bring your climbing legs and some protein bars to keep you energized biking at elevation. Flagstaff is a giver, so if you're willing to churn up a couple thousand feet, you'll be rewarded with panoramic views, followed by lengthy downhill rippers, fun, flowy, and laden with popcorn-rocks of all shapes and sizes. In mid-April, we encountered snow at higher elevations, so your downhill speed will be punctuated with some snow-patch commas this time of year. Ideally, start with Fort Tuthill Bike Park and an easy roll of Soldier's Trail, and move next to Campbell Mesa for a primarily flat pedal-paradise. For more intermediate to advanced riders, tackle Schultz Creek and its many connections like Dog Food or the Secret, Little Elden, and Little Bear to Sunset. One word on the trails…stunning.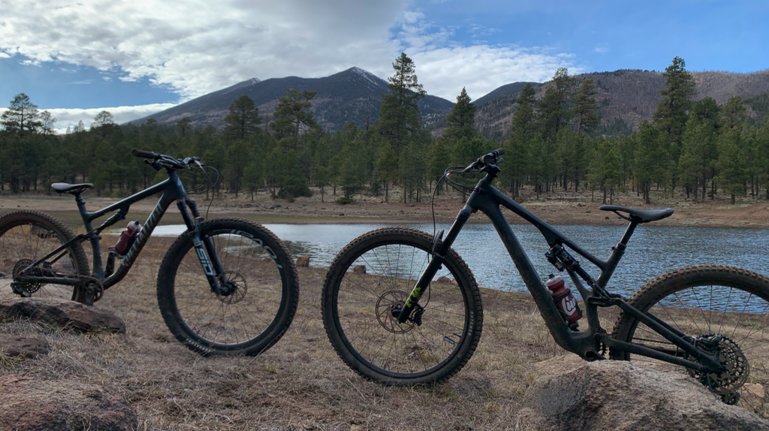 Flagsafff, AZ, bike with views of the San Francisco Peaks
Michigan's Dragon Trail at Hardy Dam
---
Once complete, this ambitious project will feature 47 miles of professionally-built single-track trail around Hardy Dam Lake designed for mountain biking, hiking, or running experiences. Current status, 24 miles and rolling, that's 60% complete, and the remaining sections are fully funded, with construction continuing through 2023.
Why did they name it the Dragon? Because it's so damn big!! That's what turns my crank about this trail system, its sheer size. It's one of the few trails I can pedal the trail longer than the drive it took me to get there! The final trail system will be jointly managed by the Newaygo and Mecosta County Park commissions and maintained by WMMBA. The Dragon lays in wait for your visit – you can access the trail through several existing county or state parks, such as Sandy Beach, Big Bend, Brower Park, or Newaygo State Park, to name a few. In addition, the neighboring cities of Newaygo and White Cloud are close-by retreats for stay-and-play amenities.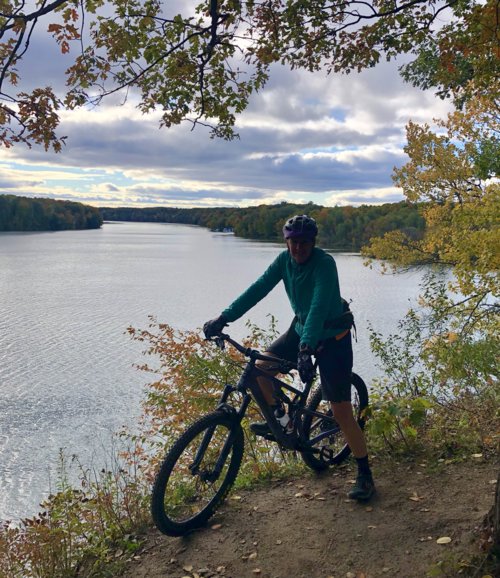 Dragon Trail at Michigan's Hardy Dam
Pedal Pisgah & DuPont (Brevard, NC)
---
Located just 30 minutes south of Asheville and tucked near Hendersonville and Brevard, Etowah Valley Golf & Resort is a relaxing and quaint destination minus the bustle and traffic of its neighboring city destinations. For outdoor enthusiasts, it's a perfect home base, just 10 minutes to DuPont State Forest's 12,000 acres, home to multiple waterfalls, and world-class hiking and mountain biking trails. It was a winning week of activities: golf + bike + golf + bike + waterfall hike. A chill round of golf is the perfect partner to the adrenaline-infused single-track bike experience over hilly, rock-laden terrain. Here, you can shred and swing, oh and sip too! It's craft beer country, so post-round refreshments should land you at nearby Mills River Brewing (charming outdoor patio), Oskar Blues, Sierra Nevada, or the Sideways Farm & Brewery is just two miles away. Their Honey Brown ale is a must-try, sweetened with farm-made honey.