Why is Flagstaff a must-visit Arizona destination? At 7,000 feet above sea level, the desert terrain and cactus spikes change to towering 200' Ponderosa pines, the trademark foliage of the towering San Francisco mountain peaks. Fittingly, Flagstaff's name is derived from the town's original pine flagpole erected to celebrate the nation's centennial in 1876.
Here, you can take advantage of elevated experiences like mountain biking Mount Elden, stargazing at Lowell Observatory in a designated dark sky city, biking or hiking the rim of the nearby Grand Canyon, sipping award-winning craft beer, walking along Route 66 in Flagstaff's historic downtown, soaking in the college town vibe, and discovering new flavors in a burgeoning and diverse culinary scene. And its smaller size (compared to busy hubs like Phoenix or Tucson) makes Flagstaff friendly and approachable.
MTB Flagstaff
---
Arizona has serious mountain bike credentials, and now that we've added Flagstaff to our bike resume, the state's stock went up another notch! Absolute Bikes armed us with full-suspension rentals and a map of local trails. Tip: Bring your climbing legs and some protein bars to keep you energized biking at elevation. Flagstaff is a giver, so if you're willing to churn up a couple thousand feet, you'll be rewarded with panoramic views, followed by lengthy downhill rippers, fun, flowy, and laden with popcorn-rocks of all shapes and sizes. In mid-April, we encountered snow at higher elevations, so your downhill speed will be punctuated with some snow-patch commas this time of year. Ideally, start with Fort Tuthill Bike Park and an easy roll of Soldier's Trail, and move next to Campbell Mesa for a primarily flat pedal-paradise. For more intermediate to advanced riders, tackle Schultz Creek and its many connections like Dog Food or the Secret, Little Elden, and Little Bear to Sunset. One word on the trails…stunning.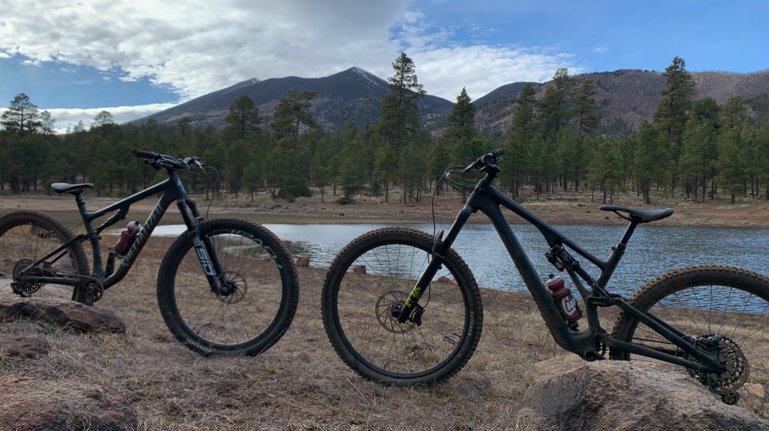 Flagstaff biking views of the San Francisco Peaks
Bike & Beer
---
When traveling, one of our favorite combinations is biking, followed by sipping a refreshing craft beer, the world's best recovery drink. Flagstaff does this combo better than most, and better yet, all the craft breweries (8 to choose from) have outstanding food. Try the Lumberyard Hazy Angel IPA and sip a Beaver Street Railhead Red paired with a wood-fired pizza. We spent time at Mother Road's patio for conservation-themed suds, the Golden Ale. Historic Brewing Barrel + Bottle House is home to the award-winning Salt River Lager. Super refreshing, they go down easy, and it really helps to dull the pain in your quads. Their Barrel House burger paired with the balsamic-glazed brussels is the perfect accompaniment. Adventures require plenty of fuel, both pre and post-ride. Get a good start by ordering the Jerry El Mujeriego at MartAnne's Burrito Palace, the pork green chile loaded with cilantro and cheese, topped with two eggs over medium. The spice will wake you and your taste buds up for the day's adventures!
Art, History and Star Gazing
---
The historic and quaint Motel DuBeau was our home base during our stay. Each night, we were lulled to sleep by a plush mattress and the rail cars passing nearby along the Route 66 line. Flagstaff is a good balance of adrenaline-fueled fun paired with doses of local art, education, and history. Lucky timing, The Museum of Northern Arizona hosted local Navajo artist Baje Whitethorne Sr. and an exhibit of his colorful landscape paintings and sculpture. Bonus, he was on site, so I had him sign two small prints of his originals. The Riordan Mansion was a fun guided tour, and I received an outstanding history lesson about Flagstaff's pioneering families. Also, be sure to put a tour of the Lowell Observatory on your list, home to the Lawrence Lowell and Clark Telescopes. This astronomy hot spot is where Pluto was discovered in 1930, and it continues to be a beacon for learning more about constellations, stars, and the vastness of our universe. You can look through one of their telescopes and be amazed for yourself.
Earth Church at the Grand Canyon
---
We spent Easter Sunday at the Grand Canyon and made some new friends on a Bright Angel Bike Tour. I can imagine what other visitors were thinking, watching us pedal around the paved trail near the rim, "Hey, watch out for the giant pothole on your left!" Peter and Stephen guided our group and provided fun facts at rest stops about the canyon's formation, the swift Colorado River, the local wildlife, and the unique vegetation at altitude.
We returned our rentals and switched to hiking for a spectacular sunset jaunt into the canyon from the South Kaibab trailhead. We did not dally on the downward walk on trail and rock steps to Ooh Aah Point with limited daylight. My vertigo tends to flare up on terrain with sheer cliffs, so I kept contact with the still warm rock walls as we continued to a turn-around with views of Yaki Point. The scenery transitioned as the sun dipped lower in the sky. The sandstone walls shone bright yellow and vibrant terra cotta red lit by the sun. The impending shade revealed the depth and darker colors while layers of a luminous blue and purple haze appeared across the vast ten-mile expanse of the canyon. A final dollop of sun dipped below the west wall, sending a glow of color and last light for our return to the top. A Grand Canyon experience never disappoints.
The bike and hike had our internal fuel gauge on low, so Josh piloted us back to Flagstaff. Our route was illuminated by a full moon in a dark sky lit by millions of stars and the glowing eyes of elk grazing in the pastures. I gazed up at the stars and started plotting the next day's elevated adventure.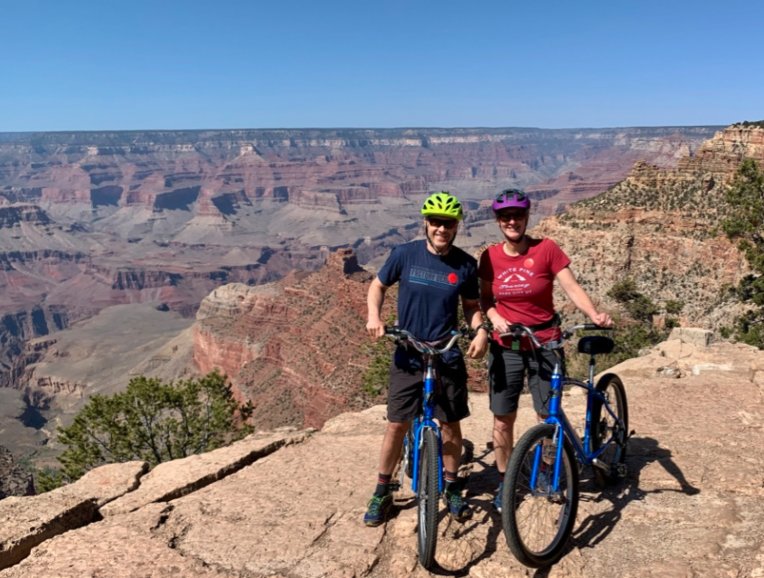 Bike the rim of the Grand Canyon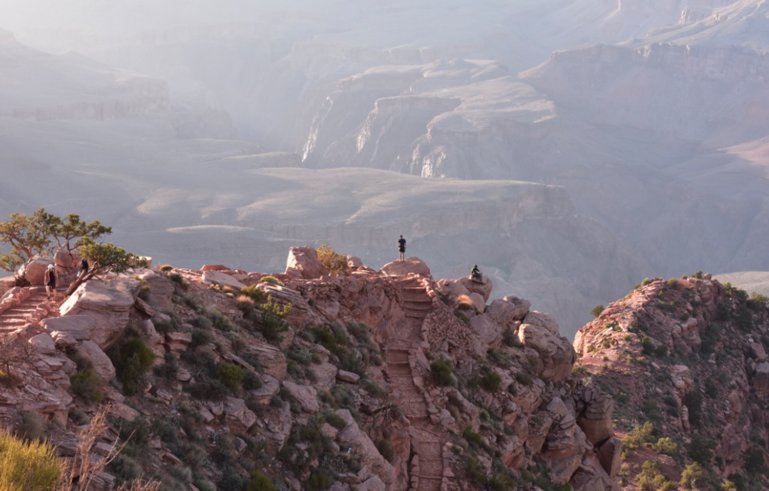 Sunset hike, South Kaibab trail in the Grand Canyon