News flash – people plan entire vacations around cool places to ride a bike! You've heard of ski-in-ski-out condos, but the new trend is bike-in and bike-out! Bike-centricity is the hot new amenity to type in the search box, and trail accessibility is the new black. And, it's not necessary to have a 10,000-foot peak in the backyard to become…the Mountain bike capital of the world. I know it's a bold proclamation. So, where is this place?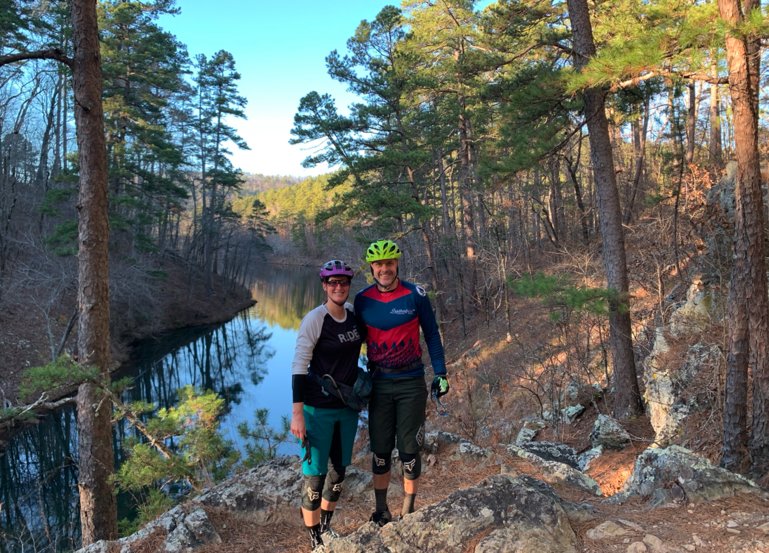 Views from the Northwoods Trails in Hot Springs
Bentonville, Arkansas
The state itself, parks and recreation folks, and the Walton Foundation (the Walmart crew) have all combined resources to create elaborate and professionally built trails and greenways to attract two-wheeled tourists of all levels and encourage residents to choose healthy activities as well. What a great idea. The community partners include Bentonville, Hot springs, Fayetteville, and Little Rock, to name a few. Throw in the Ozarks, the Ouachita range, a "can-do" commitment…it all makes for a winning bike destination recipe.
We arrived in #theMTBCapitaloftheworld on December 21st to determine if the mantra is true. The holiday (really any time of year) is an excellent time to visit because of the temperate climate. We pulled in at noon near B-Ville's town square and parked at the Compton Gardens lot. It was just a few pedal strokes to hop on the Slaughter Pen trailhead, the gateway to a 100+ mile trail system! The trails pass by a world-class art museum (Crystal Bridges) and connect to family-friendly flow, a paved greenway, techy singletrack, jump lines, and even rideable art features. It is the full spectrum from easy to expert trails that genuinely lives up to its silver IMBA rating. On our warm-up day, we rode over rock skinnies, cruised berms, passing by bronze animal sculptures and the the 10-foot tall Sassy the Sasquatch. She's made of repurposed bike parts, by the way.
After two hours behind bars, I left Josh, and I returned on All American and BooBoo to make my timed ticket at Crystal Bridges. After swapping my jersey for a clean shirt, within minutes, I found myself gawking at the Ansel Adams gallery and his iconic national park portraits of Yosemite, Yellowstone, and more. I grinned and realized B-Ville had booked me on an adrenaline and art tour.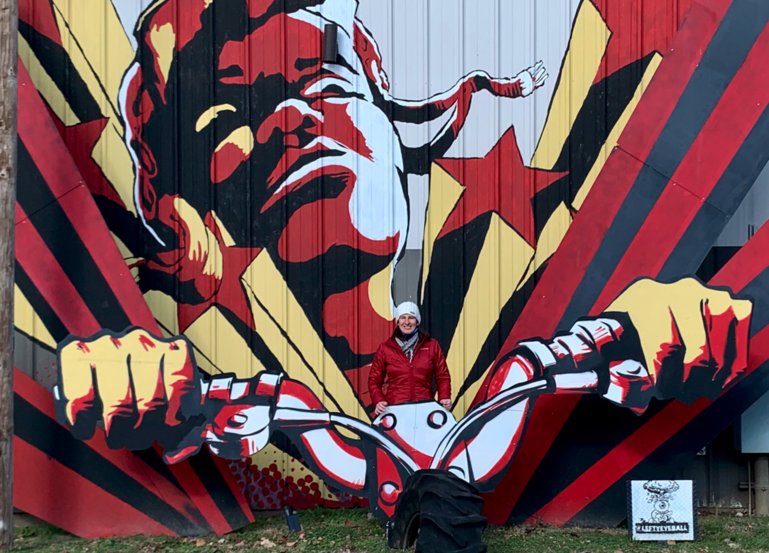 Murals and public art are part of the biking experience
We continued to fuel our creative side, discovering new trails and more public art, including the audio/visual experience on the North Forest Lights walking tour! Our 8th street Airbnb was easy access to the 8th Street Market and the Momentary, another must-see museum, which hosted a thought-provoking multi-floor exhibition by artist Nick Cave. His depiction of civil liberties, and the lack thereof showcases our country's struggle to achieve true inclusiveness. I carried these thoughts with me on the way to Coler Mountain Bike Preserve. Bonus, this area is less than two miles from the town center.
I found my favorite run at Coler: Fireline! This sumptuous downhill had me panting and saying AGAIN. I was super excited to get some "baby air" over the tabletops and jump sections. Coler has a great mix of trails from flow to techy, rocky with a whole bevy of unique built features, all with Airship Coffee plunked in the middle. It was ideal to cruise in from Oscar's to take a break to let my legs recover. I sipped a coffee and watched beginner shredders encouraged by moms and dads, to pods of teen and adult riders discussing what they should ride next. There's a lot to talk about when you have that much terrain to choose from. I listened, rubbed my sore thighs, and realized Bentonville has defined a new breed of bike culture.
We'll need another visit to thoroughly cover all of Slaughter Pen, Coler, and the Back 40's new additions. The OZ Trail Network has indeed built a bikers' paradise. Thankfully, with the insight of Bike Bentonville's Aimee Ross, we discovered more new territory from downtown. She led, and we followed to Tiger then Black Apple Creek, through the tunnel, then on to Tristan, Barn Burner, to a trail that glows in the dark through ingenious trail-building methods. Only in Bentonville, I thought as Aimee continued to share their mission and future plans. We returned via Ozone and picked up some friends along the way, exuberant locals who offered tips and coached-up Josh on the jumps and drops. Dusk loomed, so we pedaled purposefully back to town for happy hour and our dinner reservations.
We had to log plenty of miles, especially with the calories we put down. B-Ville will serve you well on the trails and at the table. The culinary scene is as spicy and varied as the trails so take your pick from tender beef, to gluten-free, pork delights, and authentic Mexican. We chose to clean up and make reservations for dinner, but there are plenty of roll-in destinations that don't mind a little trail dirt. Pedaler's Pub is aptly named and hint enough that bikers are welcome, clean or dirty. We had tasty meals at the Hive located inside 21C Museum/Hotel where we stayed a luxurious night and perused their in-hotel galleries. Their Hive & Dime cocktail is a refreshing post-ride drink. The Preacher's Son located in a restored church is a creative choice and currently serves gluten-free specialties. The tacos at YeYo's were perfect fuel before a Coler ride, and Tusk & Trotter, order the ribs, trust me. And staying true to our bike and beer roots, we bellied up at Bentonville Brewing and Bike Rack Brewing. Impressed, we imported a six-pack of the Bike Rack amber back to Michigan.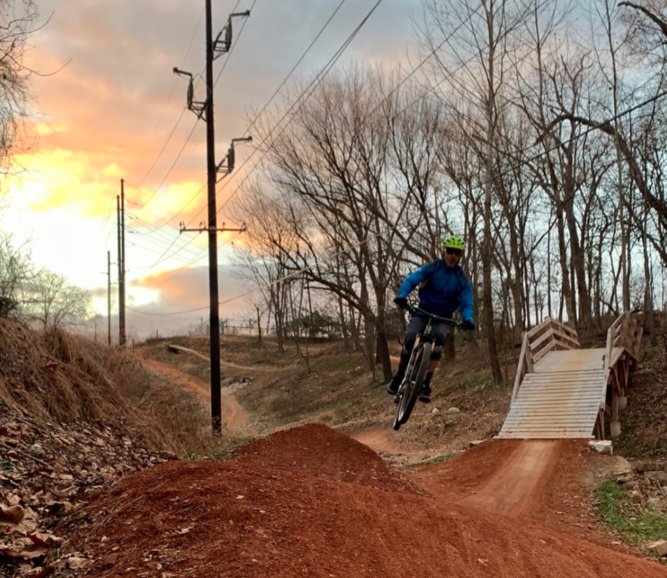 Slaughter Pen trails in Bentonville
Hot springs, Arkansas
Just three hours southeast, Hot Springs has spawned a sister trail system called #NorthwoodsTrails. B-Ville had us primed and ready as we rolled into town and watched the steam rising from the fountains in the National Park. It's a geothermal wonder when water comes out of the earth at 130 degrees+ and is pumped into the spas. I needed a leg soak for sure but mounted up again and chased Josh and some speedy locals (thanks, Stephen) around the 40+ miles of trails. Similarly here, bike centricity took center stage. Just two miles from town will launch you into sweet singletrack and scenic cross-country with lake views.
Keep your eyes ahead, and don't be caught gawking at the sparkling crystals scattered alongside the trail. Besides having amazing trails, Hot Springs has special rocks in the Ouachita Range called Novaculite, made up of small quartz crystals. These rocks are well known for use as a whetstone to sharpen knives. Thankfully, I only picked up souvenir rocks, stayed on my bike, avoiding any sharp encounters. We tested out the skills area at Cedar Glades. Josh practiced on the jump lines then we warmed up on Coffee & Waffles before tackling tougher terrain. At Waterworks, I would recommend climbing to Blue Jay or to Valkyrie and then push repeat. Or, try End of the Rainbow for a double-black, oh-sh*t experience on a steep ridgeline. The trails are full of character here. Prefer a more chill rock-spotting tour? Take Bees Knees to Freeman and follow the winding loop through the forest and past Dillon Lake.
We earned more beer calories and visited Superior Bathhouse & Brewery twice for suds and snacks. The Spicy Run (Jalapeno lager) was outstanding, and I liked it even more when our server informed us they brew the beer using the thermal waters! That would heal my leg soreness, right? It was bike then beer for two days, and the Hotel Hot Springs was a convenient-to-trail home base with a comfortable bed and suite to rest up.
Driving home and reminiscing, we realized how special the Bentonville and Hot Springs trail systems truly are, as are the communities, the volunteers, and organizations that support them. Saddened to drive away, fueled by instant separation anxiety, we plotted a plan to return and to harness this newly discovered superpower.
When you visit, you'll feel the PEDAL POWER too!