In Michigan, mountain bike trail expansion projects are in progress all over the state. The pandemic has spurred a rapidly expanding sport, and riders are eager to get outdoors and explore. Bikers have a thirst for adventure, so typically, they seek single track…. followed by suds. Thankfully, craft beer is another Michigan strong suit with a current roster of 300+ breweries making the proximity of brewery to trail optimal and accessible. Bikers like to drink beer, and breweries want to serve thirsty patrons. It's a natural pairing in the great bike and beer state.
Next time you load the bikes and head to your favorite Michigan trail, be sure you've got a post-ride plan. Then, take advantage of the dynamic duo: Bike & Beer. Here are a few rippin' and frothy suggestions.
Barry Roubaix, Killer Gravel Road Race (Hastings, MI)
After several Covid cancellations, the Barry Roubaix returned on Oct. 5th, 2021, to the hills of Hastings. The collective heartbeat of almost 4000 riders could be felt around the region as each wave embarked on 18, 36, 62, or 100-mile courses. Though it's a race, the roads and route are permanently marked so you can get your gravel on and train year-round. I survived the 36-mile version, churned up all of the three-sister hills and the soul-crushing Heartbreak Hill. Why torture our legs and brave Segar Road's sandy and rutted two-tracks? Because there's Founder's beer at the end! Michigan's Mothership of craft beer understands a biker's heart all too well. We're not all racing for a podium spot; some of us are just seeking to lift liquid refreshments instead of a trophy.
Brewery Pairing: Founder's Brewing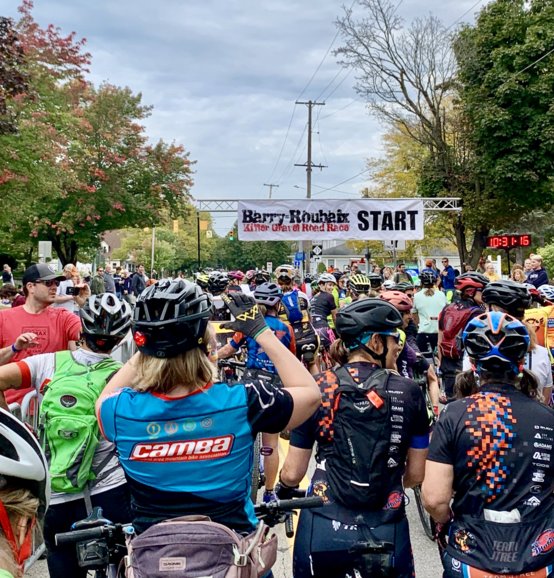 Barry Roubaix start waves
The Dragon Trail (Mecosta and Newaygo County)
Once complete, this ambitious project will feature 47 miles of single track around Hardy Dam Lake. Why did they name it the Dragon? Because it's so big!! Four segments are complete and form a continuous trail from Hardy Dam to Big Bend Park. The hilly terrain and ridgelines along the lake are perfect for mountain biking and provide outstanding views when you stop to catch your breath. The Dragon spews out equal parts approachable cross-country, fast-flowing hardpack, and optional rock-laden jump lines. It gets my nod for new favorite west Michigan trail system. Follow this link to keep tabs on trail progress and fundraising. (14.6 miles completed to date)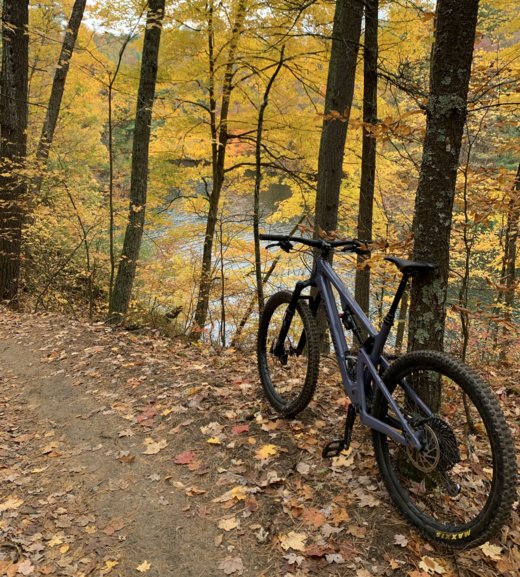 The Dragon in fall
Brewery Pairing: Cedar Springs Brewing
Follow US 131 south about 20 miles to Cedar Springs Brewing's Biergarten and Brauhaus for German Bavarian-style beer and food.
Canonsburg Ski Area (Grand Rapids, MI)
This is a classic but is clearly open to continuous improvement. Look closer, the updates and re-route felt like riding a new trail on our last visit. The trail, weighing in at 11 miles, has plenty of tight and twisty singletrack, plus you can search for air or turn tricks in the Skills Park area.
Brewery Pairing: Brand new, Archival Brewing is five minutes away on West River Drive. We found the beer and menu items to be just as impressive as the stunning façade and outdoor patio.
Vasa Skillz Park (Traverse City, MI)
As a Traverse City native, frequent road trips for family visits now include bike breaks. The small town of my youth is all grown-up and has jumped on the trail-and brewery building bandwagon. The Vasa trail system now includes the Skillz Park & Loop. The Bartlett Road trailhead provides access to the newly constructed jump lines and two miles of adjacent trail. Choose one of three lines with feature elements such as jumps, drops, tabletops, berms, and rock gardens, all designed to help riders advance their mountain biking skills. While working on my "baby air" skills, I watched loads of little rippers and teens sessioning the lines, then lapping me as they excitedly churned back to the top for another run. If you prefer to keep the rubber side down, hit up the Vasa Singletrack loop for a 13-mile pedal festival at the Supply Road trailhead.
Brewery Pairing: Stone Hound Brewing is conveniently located a few pedal strokes off the paved TART trail and one quick mile to the Bartlett Trailhead. Roadies and mountain bikers alike belly up for brews and pedal fuel at the attached restaurant, Rad.ish Mexican Street Food.
I should also mention Palmer Woods Forest Preserve, in nearby Leelanau County. This 1000-acre forested preserve with 400 feet of vertical is now home to several loops and over 10 miles, from beginner to advanced sections. I'd give it high marks for a fun rating, with plenty of churny climbs, rewarded with fast and tight descents, the picker bushes pulling at your clothes as you fly by. So give it a shot and wear long sleeves.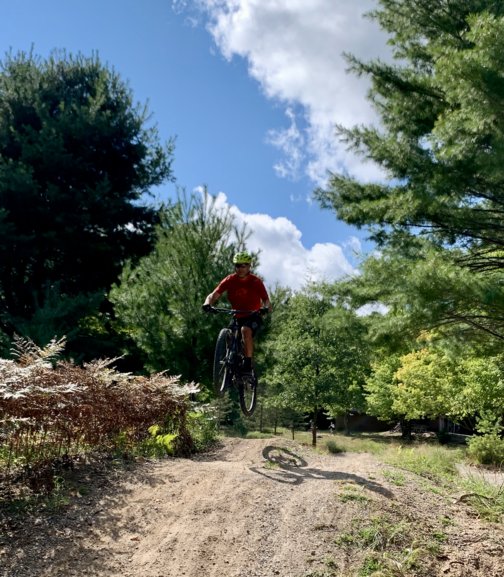 Vasa Skillz Park
Mosquito Creek (Twin Lake, MI)
The Creek has continued to evolve with recent improvements, trail work, and feature additions. Toss in the Infinity connector, the Saints Loop, and this trail system now has some chops and options for more experienced riders. Even the Gerber Kids Loop had me hitting repeat several times. Admittedly, I have a personal affinity for this trail, mainly because Josh and I have skin in the game, aka many volunteer hours building bridges, fixing sandy corners, or creating berms. I've learned trails do not build themselves, and you can really help by volunteering time and/or simply writing a check.
Brewery Pairing: Pigeon Hill Brewing, Unruly Brewing
Downtown Muskegon is about 25 minutes away, and you'll find plenty of places to imbibe and refuel. I'd highly recommend Pigeon Hill Brewing and Unruly just blocks away from one another, so you don't have to choose just one.
Hot tip: Crystal Mountain Resort is unveiling their new lift-served gravity trails on Oct. 16th, just for the day from 2-6 pm. These trails will officially open in 2022.
Pedal on friends and enjoy Michigan's colorful canopy this fall. Check-in with your local organization and MMBA for trail news, and visit MiBeer.com to plan your next bike and beer pairing.