Trail usage is on the rise for runners, hikers, and bikers of all levels… especially the mountain bike niche. Dirt shredders and their two-wheeled creatures have come out of their homes from the COVID coop-up ready to roll. Trail builders, DMO's (Destination Marketing), and organizations have been busy building new trails to keep you happy and healthy during a global pandemic. Remember, the outdoors is still open!
In Michigan below-the-bridge, we selected five of our favorites in our ongoing quest to be more single-track savvy. And, speaking from experience, there's nothing better than the pairing of a bike ride and a Michigan brew. Earn your calories in the saddle, then quaff recovery suds at a variety of nearby, award-winning craft breweries. Michigan is already known as one of the great beer states, and now it's on the verge of becoming a great bike state! Try the combo; it's fantastic and good for your mental and physical health.
The Dragon @ Hardy Dam (Newaygo & White Cloud)
47 miles of trail is an impressive amount of terrain, especially when built on the bluffs above the Hardy Dam waterways. But riders must be patient, only 12 miles are complete to date, and trail building takes time and money. If you want to help, support the trail by volunteering or donating. I am excited about the Dragon because of its sheer size; it's one of the few trails that I could be pedaling the trail longer than the drive it took me to get there! And for Michigan, there's some climbing. On my last Dragon tour, I logged 14 miles and 1200 feet elevation gain on an out/back from Sandy Beach County Park. Besides the carved, flowy trails, and luscious banked curves, the views of the inlets and waterways are icing for the cake.
Brewery Pairing: Newaygo Brewing is 12 miles from the Sandy Beach County Park trailhead. Tip: Try the Pecan Porter with a house-made pizza.
Mosquito Creek Trails (Muskegon/Twin Lake)
Another new trail system on the scene, Mosquito Creek, is also building more miles and is enticing new and young riders to roll the Faz Track and the Matrix. There's a newly built 100-foot wooden-banked berm that will turn some heads. Dirt Artisans is underway, building phase III. I literally get daily "dirt" from husband Josh, a part-time trail builder this fall. Don't let the word Mosquito scare you away, instead ride the trails and become a believer.
Brewery Pairing: Pigeon Hill Brewing in downtown Muskegon is 14 miles west. Pigeon Hill has a solid line-up from the Walter BlondAle to some specialty beers like Your Mom on French Toast. Tip: order a pizza from next door, Top Shelf.
Merrell Trails (Rockford) and Cannonsburg Ski Area (Grand Rapids)
Grand Rapids has mountain bike cred by the nature of an abundance of trails within moments of refreshing craft brews. Merrell is leading the way with challenging terrain on Saw Tooth and downhill flows on Siren and Phaser. Neighboring Cannonsburg has cut trails into the ski mountain slopes, giving it some elevation and hill-climbing challenges. And, if you are into getting air, try out the skills area and jump lines.
Brewery Pairing: From Merrell, Rockford Brewing is a short two miles away in downtown Rockford, and Third Nature Brewing is just three miles away. Perrin Brewing is another watering hole on the west side, conveniently on our way home to Nunica. We frequent Perrin for the burgers…Josh likes his topped with an egg and peanut butter. For liquid refreshment, the Grapefruit IPA remains a favorite, and as colder weather arrives, we'll switch to the Blonde Porter.
DTE Energy Foundation Trail (Chelsea)
We've fallen pretty hard for DTE…..we are truly trail-whipped and are continually plotting a return. With a fifth loop (The Cassidy Loop) about to open chocked full of advanced and technical features, we anxiously await the grand opening. Here's a previous story with some trail tips and where to find post-ride refreshments. Michigan Mountain Biking
Boyne Highlands Bike Park (Harbor Springs)
Boyne Highlands is one of the few lift-served bike parks in Michigan, capitalizing on the ski resort infrastructure. The trails at Highlands feature both downhill jump lines and single-track sections that traverse the perimeter of the ski hill. This is the perfect pairing for team Holmes & Watson. I prefer to ride the cross-country trails and log some miles, while Josh wants the thrill and challenge of getting some air and bombing down technical descents. And, bonus, Highlands has three high-end golf courses, so we can switch gears from pedaling to swinging.
Brewery Pairing: Petoskey Brewing is a mere 7 miles down the road where you can sip a Belgian Dubbel, the Horny Monk, or perennial favorite Juicy, a New England style IPA. Also, the olive burger and sandwich menu will not leave you wishing for a larger portion.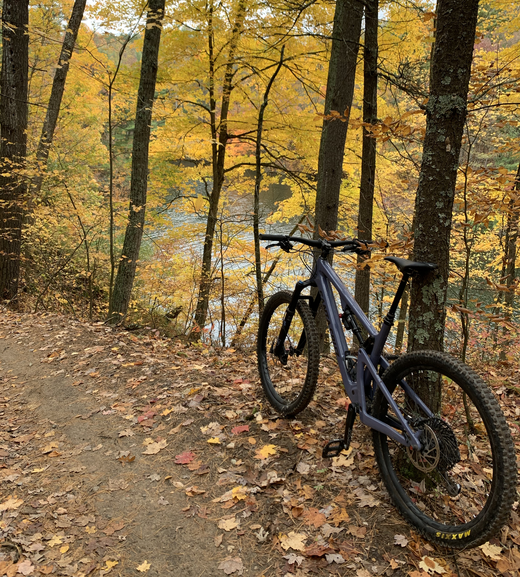 The Dragon Trail in Newaygo County, Michigan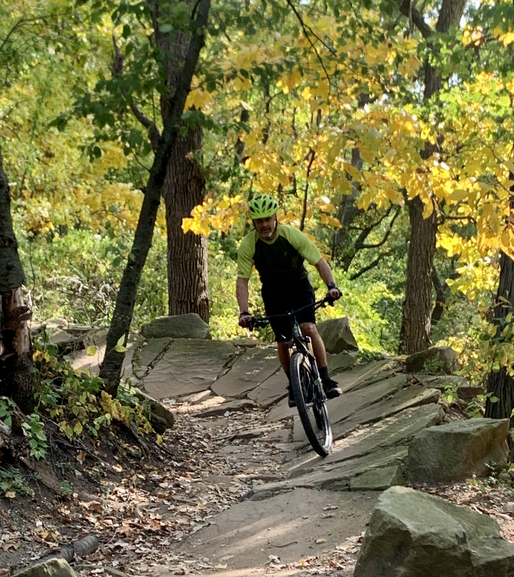 DTE Foundation Trail in Chelsea, Michigan. Sugar Loop