It was Friday the 13th of March 2020. While I was looking at my notes, I discovered 13 more breweries to add to our total. Over the past few years, we've (my husband and I) been attempting to visit all of the Mitten's craft beer establishments. We call our quest, The Beerventures of Holmes & Watson. It's a tall-pint task, with over 300 on the state's roster.
To date, Michigan craft breweries visited, 120.
That was the best statistic of the day, of that week, and really the whole month. The ominous nature of Friday the 13th lived to its billing as the world gasped at news of COVID-19, the Corona Virus, the confirmed pandemic, deaths, suspended travel, social distancing, and lots of cancellations. The carnage of closings rolls on still. And, my book launch series is grounded but you can order Travel Light online. Events, schools, the NBA, March Madness, concerts, all spring sports, churches….even God is not immune to a worldwide epidemic.
Life for Michigan residents took a significant shift around this ominous date. Even for the healthy, there is no celebrating as we watch our global family suffer in places like Italy, Iran, and China….COVID presses on and is now surging into Africa, the United States, and South America. It moves closer. It finds Detroit, Grand Rapids, and for my small dot on the map in West Michigan, it's just a matter of time. It could be me, my neighbor, a co-worker, 1 in 4, could be diagnosed. During a crisis, my instinct is to want to help, to chip in, to volunteer, but the government, the media, they want us to stay home, don't put yourself at risk. I understand the strategy behind epidemic mitigation, but it makes me feel so helpless and useless.
And, yes on Friday the 13th, Founders Brewing officially closed its Grand Rapids taproom, the result of a Michigan mandate to not hold large gatherings. Of all the events and cancellations, it stuck in my brain, swirling around like the foamy head on a good pour. That evening, Josh and I took a drive to Trail Point Brewing in Allendale for pints, grub and to escape any more bad news. Lamenting Founder's closing its doors, we were thankful that Trailpoint, a smaller establishment, had not been affected, at least not yet. We savored our MI Amber and Black Walnut Ale over Righteous Cuisine food truck tacos and nachos…relishing the moment, sipping, and reflecting on simple pleasures. Lifting my glass, I air-toasted toward the sky and asked for world peace and health.
Of note, the only thing Josh and I had stockpiled in our home recently was beer and wine, not gigantic packages of toilet paper. We felt good about our priorities. Now, in lieu of a depressing news feed, I am looking forward to Founders opening its doors again and the world getting healthy. I think about the future and hope to return to more travel in my state and abroad in search of tasty suds, friendly people and amazing places.
When we are allowed to venture out and find the perfect pint in the great beer state, here are a few suggestions for your list.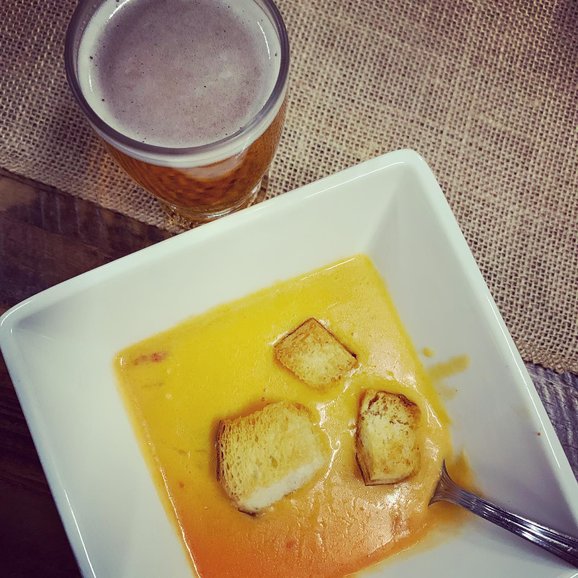 Michigan craft breweries now total above 300 in the state.
Last fall, we spent some time on two-wheels in Chelsea at the DTE Energy Foundation Trails. Post pedal, we discovered several watering holes in the Ann Arbor area. We visited Chelsea Alehouse, Homes Brewing, Wolverine State Brewing, and Townies Brewery.
Closer to home, we patronized a couple of newbies on the scene. Rake Beer Project in downtown Muskegon makes them lucky number three in the neighborhood. Rake is in good company with Unruly Brewing and also Pigeon Hill Brewing (our local favorite). All three, by the way, are within walking distance of another. The head brewer, Josh Rake, has his own unique style. He brews up fruity and frothy along with farmhouse ales and some sours. The taproom is in the garden level of Northtown 794, which is also home to several restaurants that pair well with beer. Kitchen 794 and Capone's Pizzeria & Speakeasy are right upstairs so you can order in. Also, check out North Grove Brewing in downtown Montague, about 20 minutes north of Muskegon, just a sandbag or two away from White Lake. This fun warehouse space is big and was packed during our visit. We opted for beer only, so I can't give you a rating on their grub.
Also, in striking distance is Rockford's new pub, Third Nature Brewing. Equal parts restaurant and brewery, we stopped in just a few days after their opening. It was jam-packed, but both the beer and bites were good, so we deemed it worth the 30-minute wait. Also noteworthy, Brewery Vivant has a spin-off called Broadleaf Local Beer, located in Kentwood. With Vivant's reputation, we did not hesitate to try them out. Their web homepage and taproom signs read: Beer~Art~Exploration, which I'd say is an accurate tagline. My drunken noodles were delicious, and I paired them with a flight of four.
To celebrate our anniversary in late December, we landed at Frederick Meijer Gardens for a holiday-themed tour. We continued east from Grand Rapids into the metropolis of Lowell, surprisingly home to two craft beer pubs. We toasted to three years in the books and agreed to continue our quest. Big Boiler Brewing served us plates of fish and chips and grilled sandwiches while we watched the Lions add another loss. Josh went with his stalwart, a Hefeweizen, and I sipped a stout that paired well with fried fish. Dessert was more beer, this time just down the road at New Union Brewing. I was impressed with their line-up of robust porters and stouts and also sampled a BBA version.
In this case, I am saving the best for last. Starving Artist Brewing in Ludington is a must-drink stop in Ludington, uniquely set up in the brewer's attached farmhouse. There's no taproom, just a porch, a propane heater, and some barrels for tables. It's not fancy, but boy is the beer tasty. Thankfully, it was on the way to an Irish Fest retreat, so several MIMF'ers (Michigan Irish Music Festival planners) gathered for happy hour. We sampled quite a few, and honestly they were all outstanding. The Blood Forge – Blood Orange Ale, Flogging Red – Imperial, Motor City Joe – Coffee Cream Ale, Demon Wings – Imperial Black IPA, Pop Art – Grapefruit Brut IPA and the Moon Shadow – Chocolate Milk Stout.
And, lucky thirteen in this batch is Guardian Brewing in Saugatuck. This woman-owned brewery was worth the drive past Holland. I fell pretty hard for their MiCo Medio, a cream ale brewed with hatch chiles, spicy and perfect, especially with their food menu of stews and hand-crafted tacos. Josh and I sampled a gose and a few stouts, all were solidly drinkable and smooth. Perhaps the dollop of sour cream was the music duo that performed during our visit. Serita's Black Rose churned out some great classics, rock, funk, and blues tunes. Her voice was captivating and smooth, just like the brews! We'll be back to Guardian for more of both!
Peace, health, and brews! Holmes & Watson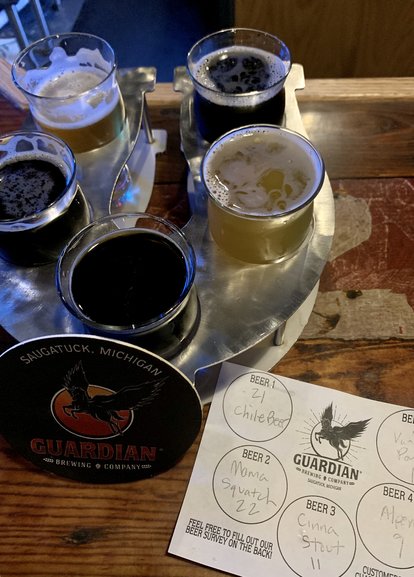 Guardian Brewing in Saugatuck, Michigan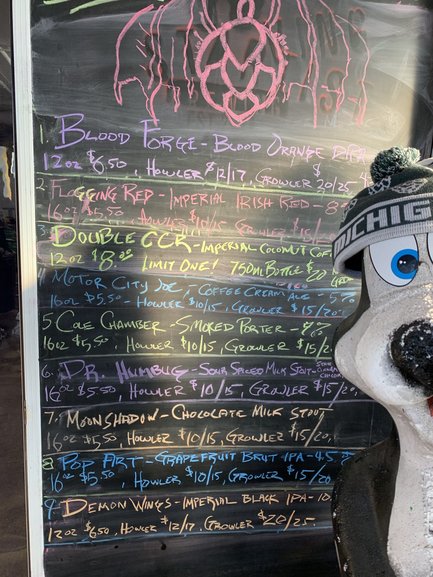 Starving Artist Brewing in Ludington, Michigan