We still don't like IPA's but luckily craft beer in Michigan is an exotic forest of options so the Holmes & Watson quest continues. With Grand Rapids just 30 minutes away and a friend's birthday bar crawl, it was easy to add to our total. At last check, we've visited 66 of 239 breweries, just 28% to goal. We thought we had made progress but 30 more came online in 2017. Not sure we'll ever make it to all, but it sure is fun trying.
We've added Atwater, City Built, Osgood, Elk Brewing (#2) and Creston Brewing to the total. This batch is all about extremes: exceptional flavors to downright swill. The craft beer industry in Michigan, booming as it is, still has its share of clunkers. Beer snobs feel free to skip City Built and order the Peruvian salsa instead. The spice masques the taste of the odd brews. More restaurant than brewery, City Built's atmosphere and spicy entrées tip the scales to good. Osgood in Grandville has a pub-grubby vibe, also seemed to focus on food and not the beer. After a flight of four, Josh and I found nothing to blow our skirt up.
Thankfully, Elk Brewing, Atwater and Creston saved the GR series. Elk Brewing has a solid lager, the Blonde Express and also the Brewtus Coffee Porter got a thumbs up from our group. Paired with the brussel sprout appetizer it was a positive stop. Plus, it's hard to mess up an evening when it features a pint of the Vanilla Java Porter, an Atwater staple. It was Creston Brewing that stole our GR tour. We dined on spicy burritos and thankfully discovered the Olmec Stout. This creamy yet complex beer is brewed with Cacao Nibs, coffee and some bonus spices, pasilla and ancho peppers. It was as delightful as the atmosphere in this north of town restored retro building.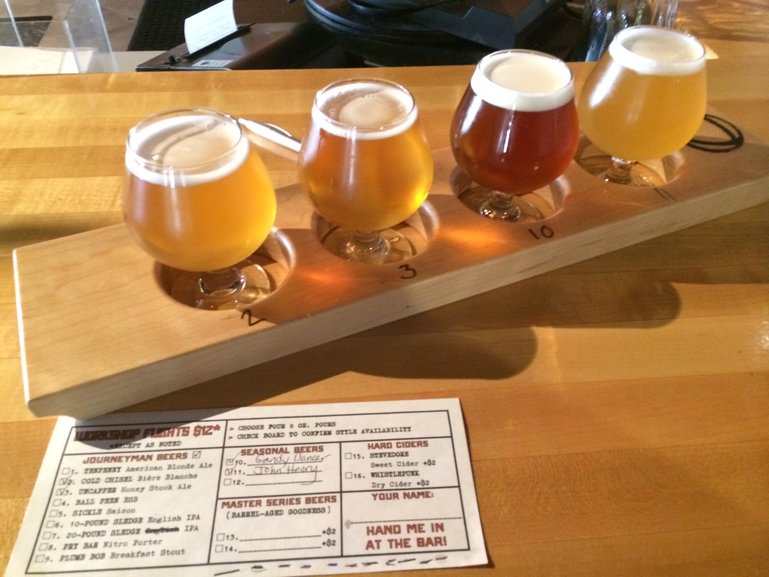 The Workshop in Traverse City, Michigan
A visit to Traverse City for the Thanksgiving holiday also gave us an opportunity to stop at a few more breweries and take a loop around the VASA bike trail. Earning our beer calories is always a must. On the way around the state visiting family (we call it the Michigan triangle, east to Flint then north west to Traverse City) Clam Lake Beer Co. was perfectly placed in downtown Cadillac for a much needed lunch stop. The wood-fired pizza was a nice substitute for dry turkey and the Cinnamon Toast Crunch beer was kinda like a piece of spicy pumpkin pie in a glass. Josh thought it odd that I ordered something sweet – that usually is his mode. He went for the chorizo tacos and washed it down with a light lager, the Clam Lake 106.
Then, we were off to Turkey Day # 2 that evening. After an overdose of leftovers, family time and four nephews, Josh and I kidnapped my sister Charla and took her out to taste some Traverse City brews. It wasn't busy on a Saturday so we sat at the bar at Earthen Ales in the newly restored Grand Traverse Village and ordered a flight of four. Josh sipped a brown while Charla and I tried a Rye IPA, a smoked porter and a juniper tinged brew. Charla deemed the Juniper and IPA passable but we all agreed the brown left a bitter after taste. We munched on pretzels in between sips while messaging my brother about our next stop.
We moved on to downtown's warehouse district and The Workshop. Ben and girlfriend, Lauren brought other family with our same idea (beer is better than turkey). The beer and conversation improved as we tried another round. Josh sipped a Sickle Saison, Charla the Ten Pound Sledge English IPA and I ordered an ESB, recalling a positive from a previous visit. We sipped and settled into sharing over-served sibling memories of Turkey Days past. In the background, an acoustic guitarist played a stellar version of Friday I'm in Love. Older and wiser persisted as the evening progressed, we resisted the urge for another round, opting instead to get home, tuck in the boys and skip the hangover.