A pint of craft beer is on average 200 – 250 calories. So there's a pork chop in every beer, perhaps a club sandwich as a point of measurement. Despite the caloric intake, the Holmes & Watson Bike and Beerventures churn on. There is no chance we are going back to light beers and less taste so earning calories via pedal strokes is the plan. Our goal: to visit all 268 of Michigan's craft breweries.
The Ore to Shore Mountain Bike Epic in Michigan's Upper Peninsula is a great way to earn some beer calories. The Soft Rock is the 28-mile point-to-point race from Negaunee to Marquette. A thousand others had the same idea to pedal around on trails, two-tracks and gravel roads overlooking Lake Superior. In one particularly sandy section, the dude in front of me flew off his bike sideways and landed with a thump. Thankfully, I stopped in time to prevent rolling over him. Checking back briefly, "Are you ok?" I called while dismounting and pushing my way through the rest of the sand. I managed a 2:11 time (One minute slower than my 2015 time). Josh smoked the course in 1:49. If my Garmin watch was correct we had 950 calories to consume to get back to even for the day. With some simple math, that equates to three pints.
Biking surely makes one hungry and thirsty, thankfully Marquette is the epicenter of the UP craft beer scene. Blackrocks and Ore Dock Brewing patio seating are within walking distance of downtown as is the Portside Inn for pizza and breadsticks. The Coconut Brown from Blackrocks continues to hold steady as one of our favorites. We branched out and found new tastes as well at Barrel & Beam Brewing on the outskirts of Marquette. This restored 1930's supper club is worth the drive for it's French and Belgian influences. The Señor Mexican food truck tacos paired well with the Terre a Terre saison, the Blanc du Nord wit bier and a Sour Start for Josh.
The surprise contender was Upper Hand Brewingin nearby Escanaba, the pet project of Larry Bell, yes, of Bell's Brewing in Kalamazoo. After more biking on Sunday on the RAMBA Trails in Ishpeming and a dip in Mother Superior, we made our way south to Little Bay de Noc for more liquid pork chops. The head brewer, Evan happened to be sipping a near-closing pint on the patio. We joined him and peppered him with questions. Cans vs. bottles? Escanaba vs. Marquette? UP vs. LP? and all sorts of random brewing trivia. I listened and learned while sipping a flight of four. The top three tastes for me were the Yooper Ale, the 906 and the Escanaba Black. (A Yooper, by the way is someone who lives in the UP vs. a troll, who lives below the bridge)
Later, after homemade pizza at Mo's in downtown Escanaba, we collapsed, tired and sore in a hotel bed north of town. In favor of sleep, we missed views of the waves lapping the expansive bay and the Perseid meteor shower above us in the clear UP sky. Earning calories is hard work and we needed our rest for the long drive home.
After our UP trip additions to our quest, we are now at 85 of 268 Michigan breweries, ever so close to the 100 milestone… so close we can almost taste it.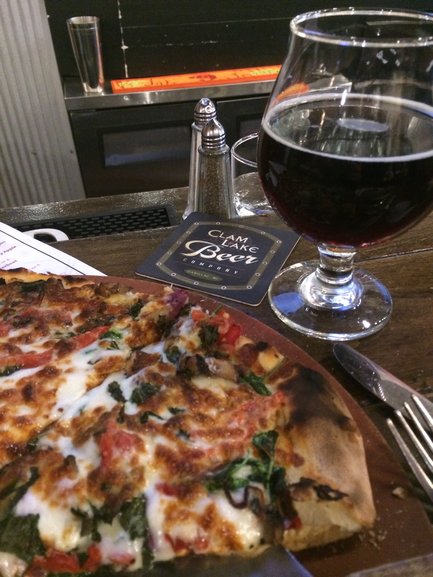 Michigan has over 250 craft breweries in the state