It's important to have goals to strive for, to lead a purposeful life. I keep a list at my desk to remind me of my pursuits. My goals include publishing a second travel book, becoming a philanthropist, visiting all continents by age 60, participating in a humanitarian vacation and of course…..
Visiting all 276 Michigan craft breweries!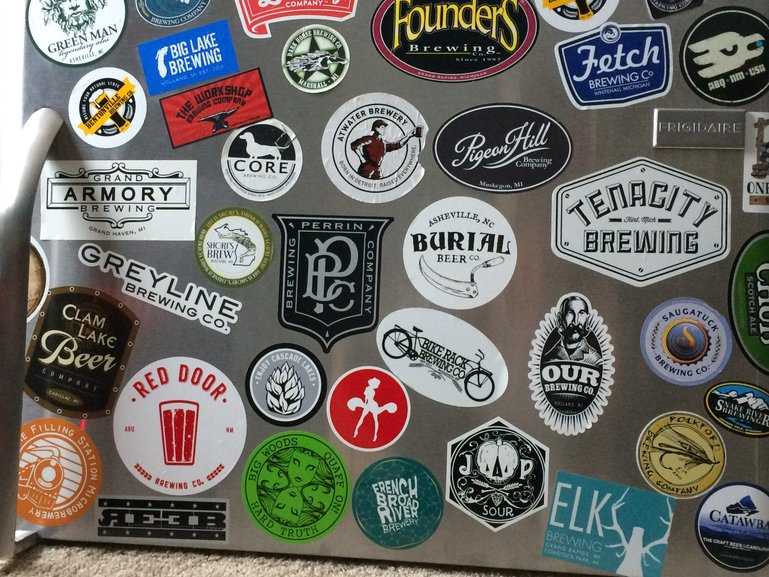 Our collection of brewery stickers from around the United States.
What? Perhaps not the most philosophically important in my hierarchy of goals but leading a balanced life means keeping a high quotient of fun, new experiences and travel. The Mitten is a big state so our beer hobby revolves around travel, biking and earning hoppy calories. The Beerventure Quest features Holmes (me) and Watson (husband Josh). We continue to seek out the perfect pint, most often after a playful pedal out of doors. So far, we've made decent progress on our quest especially because beercentric cities like Muskegon, Grand Rapids, Kalamazoo, Traverse City, Detroit and Marquette believe in the economics boost that beer and bikers can bring.
Eyeing the prize and looking to carve notches in our beer bedpost, we were ready for the push for 100. On a January evening, we set off to nearby Grand Rapids (a Midwest beer city and target rich environment) in hopes of hitting the final five to make the milestone. We managed four, safety and common sense prevailed as last call tolled at Speciation's taproom. 100 could wait another day. Here's a little bit about the breweries we patronized.
Thornapple Brewing Co.
We started our evening here. Don't let the strip mall location scare you away or influence your comment card. They serve up tasty brews and a nice array of stouts (Stars and Stripes and Emily Victorious) along with a tasty pesto hummus appetizer. Josh sipped a S.S.S.S the spicy, salty, saison session ale tinted with coriander.
Schmohz Brewing Co.
It took us a while to digest the robust menu on the bar wall. Schmohz taproom is about beer and not fancy ambience. Looking for food go elsewhere. Thumbs up to the Amber Tease Ale, Coconut Crusher, ESB and Kiss My Scottish Arse. I hear they are opening a Petoskey location as well.
East West Brewing
We had worked up an appetite by our third stop so thankfully East West in east town shares space with Bombay Cuisine. We dined on Indian chicken and veggie korma piled high over rice followed up with warm naan bread to ensure clean plate club status. The Moondance Brown Ale on nitro and the New England IPA paired nicely with the medium spice level.
Speciation Artisan Ales
This hot new start up has made a splash early in its young career, puckering up its patrons with a selection of wild ales and sours. The barrel-lined taproom will make everyone feel at home on the farm right in the middle of Comstock Park.
Sipping coffee the next morning, I reexamined the official Michigan beer guild list and recounted our stops. Smile. I had forgotten to mark off a previous stop for dinner and brews at Jolly Pumpkin's new downtown Grand Rapids location. I gleefully called to Josh down the hall, "Hey honey, I counted wrong, we made 100." All smiles, he walked into the kitchen and extended his hand for a high five. Continuing to celebrate, I poured myself another cup of coffee and wondered how long it would take us to notch two hundred, then all 276. Every time I look at the list, several more new establishments have been added. If 100 took three years, we might be able to complete our quest in 2025. Cheers to looking ahead, to new experiences, to new flavors and having lofty goals to pursue.
To plan your own quest: Michigan Beer Guild list of breweries.