The Holmes & Watson Beerventure quest continues.
Admittedly after hitting the 100 mark, the next phase seemed daunting. Michigan craft breweries pop up like springtime morels and it seems improbable to make a dent in visiting the almost 300 in the Great Lake State. We've discovered stressing over quantity is not our game. We've agreed to enjoy the journey and let the numbers add up organically. So, to succeed on the Beerventure quest, it means following our passions like mountain biking and the pursuit of Michigan's best single track. Besides biking, both our families live in target rich environments (Traverse City and north of Detroit) so while spending important time with moms, dads, sisters, brother, cousins, nieces and nephews we fit in stops for suds.
In the vein of family time and an east side visit, we added to our total. We cheered on Olivia, our niece, as she played her way into a playoff volleyball match near Goodrich and convinced Olivia and her mom Liz to join us for dinner at Michigan's Bavarian Inn for some family style chicken, buttered noodles, stuffing and soggy vegetables. We followed up with a stop at Frankenmuth Brewing so we could try a few German inspired brews. The east side gave way to a return home through Lansing and a memorable stop at Ozone's Brewhouse for pizza and beer on St. Patrick's Day. All the patrons were sporting MSU Sparty green in honor of the men's basketball team playing their way into March Madness. As proper craft beer enthusiasts, we did not order green beer. I sipped a snifter of the Black Roses Imperial Stout and Josh, as our driver, went lighter. The beers were delicious but it was the pizza that stole the show. Captain's Wood-Fired Pies made us a pepperoni and Mediterranean veggie sensation topped with a balsamic drizzle. Josh proclaimed, "That was the best pizza ever!" after polishing off the last slice.
As staunch believers in earning craft beer calories, our quest continued this spring with a biking and beer theme. Instead of bike then beer, we reversed our plan due to a fickle and rainy Mother Nature. We landed at Jolly Pumpkin Artisan Ales and Kitchen in Dexter, strategically close to the DTE Foundation Trails near Chelsea. The pub is a foodie haven with a specialty of producing sour ales. Josh courted the sours while I enjoyed a favorite, the Northpeak Siren amber ale. Josh devoured the pork belly sandwich and we shared a spicy roasted cauliflower with pine nuts and sautéed brussel sprouts. Full and fueled, we slept in spurts on a strange and bouncy bed at a nearby Airbnb farmhouse. The bed was quickly forgotten when our host served us a homemade breakfast. The blueberry pancakes and sage sausage propelled us forward on a fun and flowy pedal around the Big Kame loop. Josh and I agreed this trail system is the best in the lower half of Michigan.
The DTE Trails are so fun we returned on Memorial weekend and again with the recurring theme of dodging rain. As west siders, it's important to have strategically placed east side family or friends. Craig, a Milford resident, joined our group for a wet Winn Loop. The rain began in earnest the moment our buns hit the saddles. On the eight-mile dirt rollercoaster, we smiled and whooped the whole way, pedaling and up and down the natural topography. We gave Craig and Ginger's top-load washer a workout with a pile of mud-spattered gear. Then, we gave Milford establishments a go on an adrenaline-infused pub crawl starting at River's Edge Brewing. The Huron River floated past as we shared pints of Dirty Frank Stout, Milford Pub Ale (ESB), the Jealous Farmer (Saison) and the X-4 Strong Ale. After sipping and shuffle-boarding, our beer squall moved to Coratti's for an Italian dinner and a swap from suds to vino. To atone for an overage in beer calories, we returned the next morning to DTE to do all three loops for 16 miles.
Back home on the west side, Watson and I surveyed our progress and discovered we had missed a few local breweries. Brass Ring Brewing in Alger Heights proved a worthy stop. The friendly server explained, they keep it simple and stick to four ingredients: water, hops, malted barley and yeast. Simple is good, I discovered. My flight included the ESB – Danny Whizbang, the Wilde Irish – Red Ale, Miner Forty Niner – a California Common and the Eight Pound Hammer – Irish Stout. It's a small place with a chill vibe and good grub. In total contrast we stopped for a Dragon's Milk White nightcap at the Knickerbocker in downtown GR. This three-level monster by New Holland Brewing shows the commercialism of craft beer. We found a seat at the upstairs cocktail bar and watched the bartender make more martinis than pour beer.
Brooks Brewing in Ferndale became lucky seven in this batch, taking our Beerventure total to 107. Besides biking, Josh is passionate about soccer. Ex-player turned coach, he instills wisdom and technique to various levels and age groups. With a game on the east side, Josh found Brooks Brewing and the Belgian ale helpful in forgetting a loss.
Our advice, follow your passions and you'll find something tasty too.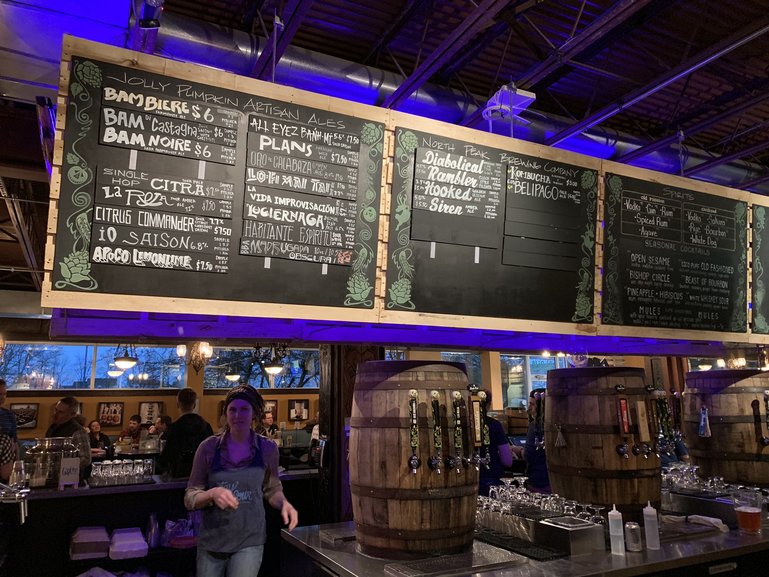 Jolly Pumpkin Artisan Ales in Dexter, Michigan