Beer on the beach. Burning Foot Beer Festival to be precise on Pere Marquette Beach in Muskegon, a stunning expanse of sand that also happens to be a certified clean beach. How often do you get to walk a festival in your bare feet? A non-typical August day kept the sand temperature low with no instances of burning feet. It was our livers that experienced trauma instead. It's a tall task to consider which of 65 breweries you'd like to sample especially since craft beer is swift in its ability to ramp up a buzz. You must choose wisely, just as the Templar knight suggested in Raiders of the Lost Ark.
I saw plenty of pretzel necklaces on Burning Footers to cleanse the palette and keep starch in the belly. I had stuffed honey roasted and sriracha peanuts in my bag for the same reason. Having a strategy is a good plan and knowing when to give your liver a break. We skipped our local favorites (Pigeon Hill) with the thought to try suds from out of our local region. And, just because they give you a small glass doesn't mean you down the samples in one gulp. It is not a shot, but a taste. So, we sipped, walked through the sand, bumped into friends and colleagues along the way. Everyone seemed in good spirits!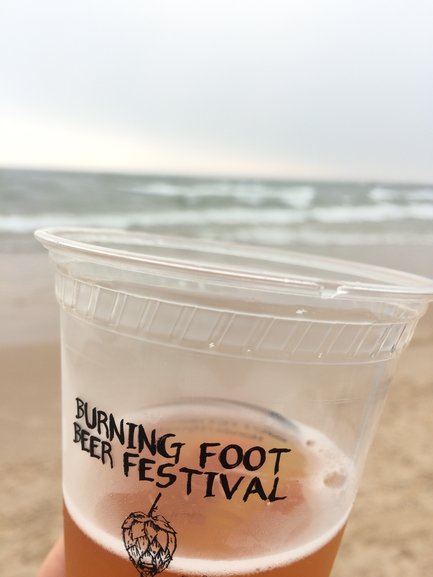 A craft beer festival on the shores of Lake Michigan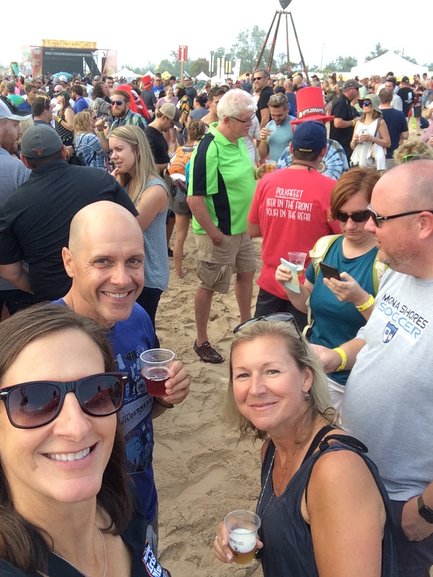 A Muskegon August tradition, beer on the beach.
I noticed a few sours on tap and at least five brewers had added cucumber to a batch. There's always a new trend in craft brewing and as usual a slew of IPA's. In my humble opinion, a few stood out that I would seek to try or buy again. It also will serve as a checklist of the next stops on the Holmes & Watson quest to visit all 200+ Michigan breweries. Currently we stand at 59 visited, which is just under 25% of the total (239 total per the Michigan Brewers Guild 2107 map).
Laura's picks from Burning Foot 2017
Dark Horse – Raspberry Black Ale
Creston Brewery – Bokonon (citrus, juicy)
Arclight Brewing – Toasted Honey Rye Lager
Arbor Brewing – Strawberry Blonde
North Pier – Happy Guy (Dry-hopped pilsner)
Ellison – Tiramasu, Coffee Dessert Stout
It was a successful festival from the taster and brewers perspective. New discoveries were made by intrigued patrons and brewers confirmed their next batches based on demand. A sold-out sign is usually a good thing at a beer festival. For those who love the chase of craft beer and finding the next perfect pint, I'd suggest booking a spot at Burning Foot 2018. $50 is a small price to pay for 65 stand-outs who will bring their A-game to a Lake Michigan beach. And, it's in MusKEGon, a town with a keg in the name.
https://burningfoot.beer/
https://visitmuskegon.org/