My taste buds were aligned with plenty other of wannabe epicurious foodies! After Taste of Muskegon tallied up the votes, mine included, Rad Dad's Tacos took first place in the appetizer category for its Bulgogi Masa Fries. Much more than loaded fries, the marinated beef, sauce, cilantro and green onion concoction combined for an explosive dose of seasoning that I did not find in the other like dishes. Although my second and third choices were also bursting with flavor, especially the vegetarian Samosa with Chutney at Curry Kitchen. My guess is some patrons or judges couldn't handle the heat from the magical world of Indian spices. The deep fried tortilla with potatoes and peas starts innocuous enough but when the chef added the chick-pea sauce and two other toppings, both the presentation and spice meter tilted. My third top choice was the Ahi Tuna Taco from The Lakehouse Waterfront Grill. The rare sesame tuna in a wonton shell was blanketed in a soy glaze and topped with guacamole, red onion and other delights.
Thirty-two restaurants and food trucks competed for the coveted Taste of Muskgon Plate Awards at this annual June event in Hackley Park in the heart of downtown. I was intrigued when the planning committee asked me to be a food judge and offered up three choices: Try 15 desserts, 15 appetizers or 15 entrées. The volume factor alone influenced my request for appetizers, which seemed to be the least amount of food one person could consume. The sugar buzz of 15 desserts seemed problematic and I was doubtful I could handle 15 mains on my own. Thankfully, I had help from husband Josh and his mom as well, who was in town for a visit. They happily assisted with tasting and trying. So between Friday evening and a rainy Saturday lunch, we devoured 14 appetizers (except the plantains that were not available) in between sips of local craft beer. Though I was not asked to judge beer, Pigeon Hill's 75-year Cole's Kolsch was my favorite in that category. My appetite was primed and ready after pedaling in a rainy Ride United, though my 50 miles turned to 25 when thunder and lightning trumped the raindrops.
After the wet, truncated cycle, Pam and I dodged raindrops and continued to check off my list while I made notes on my top five, also ranking the entries from 1 to 15. My surprise honorable mention was JP's Hotdogs, a Vienna Beef Chicago Dog. I am a rare hot dog eater but I took my judging assignment seriously and gave it a go. This hot dog was scrumptious. The hot peppers, pickle, onion and celery salt masked the hotdog taste perfectly inside the sesame bun. And, of no surprise Rosita's Tacos queued up a Mexican-style Steak Tostada that I forked and knifed in no time. They had me a cilantro! The hotdog and tostada were four and five respectively on my ranking.
No matter your taste and preference, I feel like everyone (patron, judge or restaurant) was a winner at Taste 2018. The brief rain did not dampen any spirits, there was plenty of time to stroll, taste and chat with friends over an impressive array of ethnic and American cuisine. As a bonus, big boats and bands added ambience while tasting. Muskegon's moxie continues to grow just as the downtown entertainment scene ramps up for summer on the lakeshore. Taste of Muskegon will give way to an impressive summer line-up, just be ready to change from taste buds and olfactory glands to the touch and silky feel of Lake Michigan plus the sound of live music drifting into your ears from the stages on Muskegon Lake at Heritage Landing.
For more on the next tasty event, stay tuned to Visit Muskegon's calendar.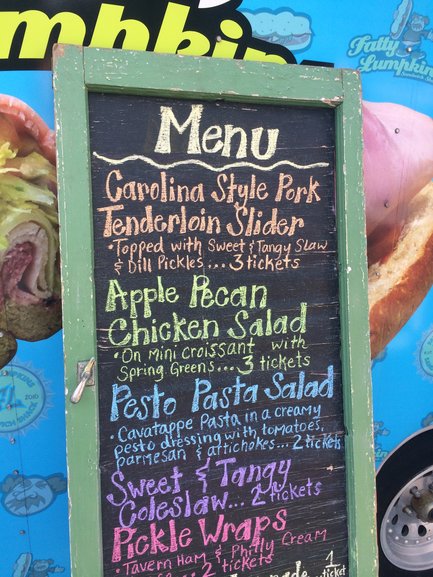 Taste of Muskegon food vendor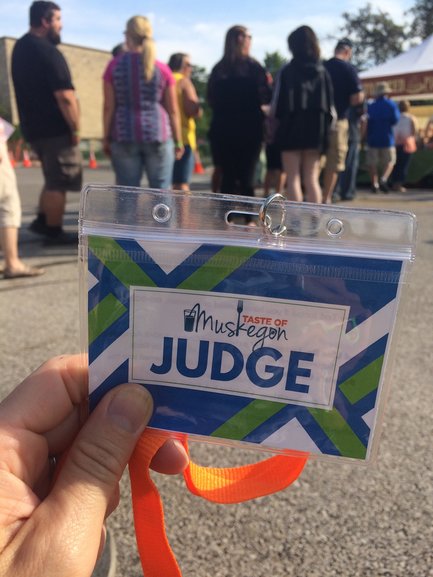 A delicious and important job
Pickle Poppers