Is Michigan one of the Midwest's premier mountain bike destinations? Yes, but only if you are willing to cross the bridge to the U.P. the much wilder peninsula. The U.P. is home to two IMBA (International Mountain Biking Association) ride centers, one in Marquette and the other in Copper Harbor.
Below the bridge, it's just not the same for two-wheeled thrill-seekers.
Until now…
Things are changing in the lower half thanks to bike visionaries and generous donations that have turned sections of Waterloo Recreation Area, just west of Ann Arbor, into a gem. It's time to ride the DTE Energy Foundation Trails located five miles north of Chelsea. This destination trail system now boasts four loops including the newly opened Sugar Loop in late August. That brings the total to just over 25 miles of single-track, ranging from an easy green loop to the more difficult with plenty of jumps, rocks, and features for the experts. The scenery isn't bad either especially for those of us who go slow enough to notice. Waterloo is the largest park in the lower half featuring 20,000 acres and a bunch of lakes and gorgeous wetlands the trails weave around.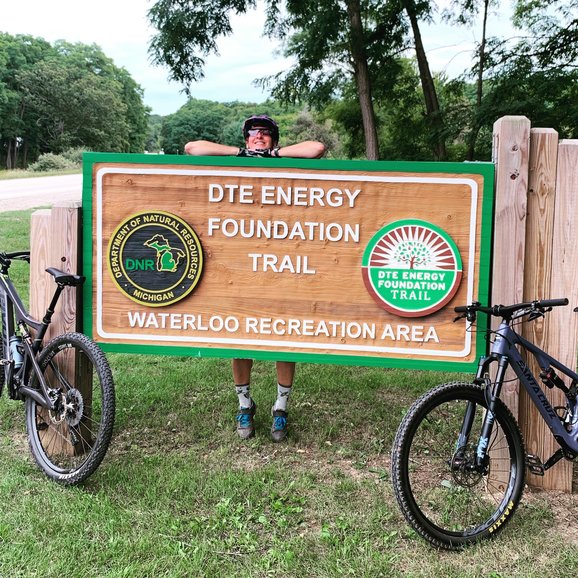 DTE Trails near Ann Arbor, Michigan
It was a dirt rollercoaster superhighway over Labor Day weekend. Both parking lots (Cassidy Road and M-52) overflowed with eager bikers who had been stymied by Mother Nature on Sunday. Thankfully the trails are directional by day, so you don't have to worry about getting mowed down by someone going the opposite direction down a hill. The most memorable moment of the weekend happened on the Winn Loop while I was churning up a switchback hill. I stayed to the right and as a man passed me, he tossed in a comment, "You just got passed by a 73-year old man." I frowned at his shade but instead focused on conquering the hill and catching up with Josh and Craig. Last I checked, hill climbing is not a race!
Though dissed by a fit senior citizen, I settled into my saddle and chased Josh up and around the banked turns, rolling hills and rock features. DTE is the perfect pedal. It's fast and fun and suited for a variety of levels of bikers. The machine-built trails are perfectly positioned on the area's rolling topography making flat Michigan seem quite hilly. We still call it mountain biking around here because "Hill Biking" just does not have the same punch.
The trail system is within 20-minutes of Ann Arbor and a batch of craft breweries where one can quaff above-average suds. Beer is, after all, the quintessential recovery drink for bikers. Now, besides crafting flowy and fun bike trails, Lower Michigan has plenty of brewing cred making southeast Michigan a double threat. For post-ride refreshments just five minutes away, stop at Chelsea Alehouse or Zou Zou's. For more choices, head east to A2 (Ann Arbor, the home of the University of Michigan) and make stops at Homes Brewing or Wolverine State Brewing for good grub and pints. Homes, the more eccentric of the two, will serve you a Bulgogi bowl with a fried egg on top and a bevy of sours and IPA's. If you prefer loaded pulled-pork nachos or a brisket sandwich alongside a variety of sturdy lagers, then belly up at Wolverine. I'd also give the nod to the beer at Townies Brewery, the Hefeweizen and amber ale were quite tasty.
As local Michiganders (west siders), Josh and I (Team Holmes & Watson) are thrilled we don't need to drive six hours or more to find high-end single track anymore. Door to trail from Spring Lake is just over two hours for a weekend bike beerventure or a day trip. We elected to stay nearby and found a spot at Green Lake Rustic Campground for our first night. Conveniently, we could bike the 1.5 miles to the main parking lot and connect to the trails. We had so much fun that we stuck around for another day of riding. Thankfully, SugarLoaf Lake Campground on night two had hot showers, much needed after a day of trail dust and sweat. Our legs were sore, but our hearts were happy.
We've happily road-tripped to other Midwest bike destinations like Duluth, MN, Brown County, IN, and Marquette and Copper Harbor in the U.P. but we're totally on board staying closer to home too. Thanks DTE Energy Foundation Trails. We tip our helmets to your whole team for building a sweet dirt rollercoaster for us and our two-wheeled creatures.