Lake Superior whipped up a September gale and slowed the RV down considerably as we made our way across the Mackinaw Bridge, to Marquette then to Copper Harbor at the tip of the Keweenaw Peninsula. Four important appendages (mountain bikes) were racked on the back of the RV. Instead of tent camping, Josh and I readily accepted Steve and Kim's invitation to glamp in their new 32-foot Newmar class-A rig for an extended Labor Day holiday.
Our first pit stop was in Moran, just over the bridge to split up the drive time. I was all for giving our drivers a break, plus I wasn't willing to offer to drive a large, high-profile vehicle. The Gourd Barn in Moran is a historic farm that allows RV'ers to land on-premise and tour the centennial barn and garden art shop. Turns out gourds make great birdhouses, vases, bowls, and more. The hospitality of the hosts and gift shop epitomizes the uniqueness of the Upper Peninsula and its residents.
The next day, we warmed up our legs on Marquette's south Noquemanon Trails by following the red loop around Greywalls Golf Course and to a panoramic vista of Lake Superior. Biking in the UP means that dirt trails transition to chunk and rocks, a place where a full-suspension bike actually gets used. The trail system is a bike paradise: over 45 miles of single-track where riders of all levels can choose chill or extreme options. In 2014, IMBA awarded its bronze ride center status. My favorite adventure pairing is the combo of a South Trails pedal, followed by a Blackrocks Brewery patio visit. We sipped the Bock and Citra Grand Rabbits on tap and, as a bonus, noshed on Burger Bus singles with caramelized onions, homemade pickles, spinach, topped with garlic aioli, oh AND hand-cut salty fries. A bike ride followed by local craft beers and burgers = paradise!
Marquette gave way to the more epic Copper Harbor trail system (IMBA Silver Designation) at the tip of the Keweenaw. Copper Harbor Trails Club has the lowdown (maps, website, and social media) you'll need to plan your visit. Lake Superior looks every bit like an ocean because it dominates the rocky beach and forested ridgelines on a jutting sliver of land. Lake Fanny Hoe Campground was our home base for three days of lake and wind-tinged adventures. We parked the rig, hooked into water and electric, and walked or biked for necessities, all less than ½ mile away. Copper Harbor is not a big place, which is part of the allure. There is a bakery (Jamsen's), a general store, Brickside Brewery, a couple of hotel/restaurant combos, and Keweenaw Adventure Company right smack in the middle by the Visitors Center and post office. The cell phone signal is non-existent, which is fine by me and another reason to visit and disconnect from the world.
The first order of business was to stop at Keweenaw Adventure Company and get the low down on biking and paddling tours. KAC offers a wonderful framework to make the most of your time in the bike saddle. They run shuttles to two positions: Brockway Mountain or the Keweenaw Mountain Lodge. From these drops, there is access to downhill gravity trails and downhill flow that left us breathless and happy. Three days also gave us enough time to try out some new terrain off the East Bluff, Point Trail phase 2. And, If you are willing to churn up a couple of miles of two-track, newly built Flo'Rion delivers a wild romp (flow-tech) down the bluff, over rock rolls, and massive berms. Copper Harbor's mountain bike rep is well deserved and is epitomized in the crew at Keweenaw Adventure, who add a local's touch with suggestions that optimized our time and skill levels.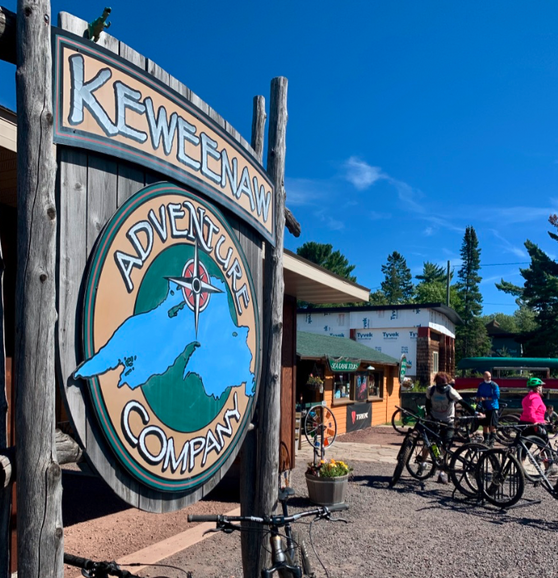 Keweenaw Adventure Company
High winds prevented our sunset kayak from happening, so we subbed in more biking and hiking. Two-a-day biking is not for the faint of heart. I pushed through sore legs, knowing I would not be sleeping in a damp tent on the ground. We explored and found connections, to access the MaMaki trail right from our campground. Climbing legs are needed when not using the shuttle, but in Copper Harbor, a solid churn up is rewarded with a whopper of downhill delights. My heart beat fast on a skinny-wooden boardwalk called Stairway to Heaven, and we woo-hooed down Garden Brook and Wooopidity Woo flow trails, to name a few.
Copper Harbor, Michigan and the Lake Superior shoreline
When not biking, we ate well to refuel. Though fancy restaurants are not a thing in the Keweenaw or the UP, the grub, specifically Lake Superior whitefish, is a sumptuous menu staple. My tip, skip the pasty. Harbor Haus, a German-inspired restaurant on the shores of the big lake, featured a bacon-wrapped whitefish filet. The local pub, Brickside Brewery, has an adjacent food truck that serves up a whitefish basket with fries and coleslaw that is well worth the 18 bucks. Waterfront dining can be built into every meal in Copper Harbor and included noshing PBJ tortillas in between bike runs overlooking Lake Superior on the Flow or on Raptor's Ridge.
The biking and superior views were number one and two on my list. I noted the contrast of getting dirty and sweaty after riding the rugged and rocky terrain, then each day enjoying the plush comfort of the RV's hot shower, hi-def TV's (plural), a comfortable double bed, and a full-sized stocked refrigerator. Luxury and rugged activities can be combined to make for an outstanding UP adventure vacation.
On our drive home we fit in a stop at Pictured Rocks National Lakeshore for more epic wind and water views. We told Steve and Kim we would likely accept another invitation to join them aboard the land yacht and offered a name suggestion for the next voyage.
Free Time.