The view from the Rock Cut Cabin was pristine – Lake Superior stretched out beyond our sight, golden eagles soared overhead, thimbleberry bushes lined the driveway, a rock-face bordered the fire pit, with two perfectly placed Adirondack lounge chairs, while waves lapped on the rocky shoreline. The reverie was only interrupted about every 10 seconds…
…when an 18-wheeler's diesel rumbled loudly past on Highway 41! The road to Marquette was perched between our cabin and the Lake Superior view. The traffic noise was the only complaint though, for a week of Upper Peninsula adventures.
It was the kind of trip when I was too tired to take notes in my journal. There were many miles covered each day, mostly on two-wheeled contraptions. The sun shone except Friday. I smiled and welcomed the rain, which meant a break for my aching inner-ass cheeks. I did a decent job of keeping up with Josh, whose boundless pedaling energy had everyone chasing, including Steve and Kim, who joined on Wednesday. Our twosome became a foursome and we immersed ourselves in exploring Marquette, eagle hunting, pedaling single-track, rock-hunting on our private beach, rope-swing-river jumping, followed by hearty meals, washed down with hand-crafted brews from Black Rocks and Ore Dock Brewing.
Kim's smile was intoxicating on this trip; she soaked in nostalgia from her NMU days as a student, marveling that some of the old places still looked and felt the same. (Portside Inn, Vango's, Quick Stop Bike Shop, and The Vierling Restaurant to name a few). And, crazy tourists and students still hike out to Black Rocks Beach on Presque Isle for the famous 30-foot plunge into frigid Lake Superior. My nostalgia was about looking out over enormous lakes that you can't see across. The idea of it just doesn't get stale. We traded one big lake (Michigan) for a bigger lake (Superior) on this trip. Lake Superior was warm enough to swim in August and perfect to rid the group of daily trail grime. It served as a daily pre-washing to an actual shower.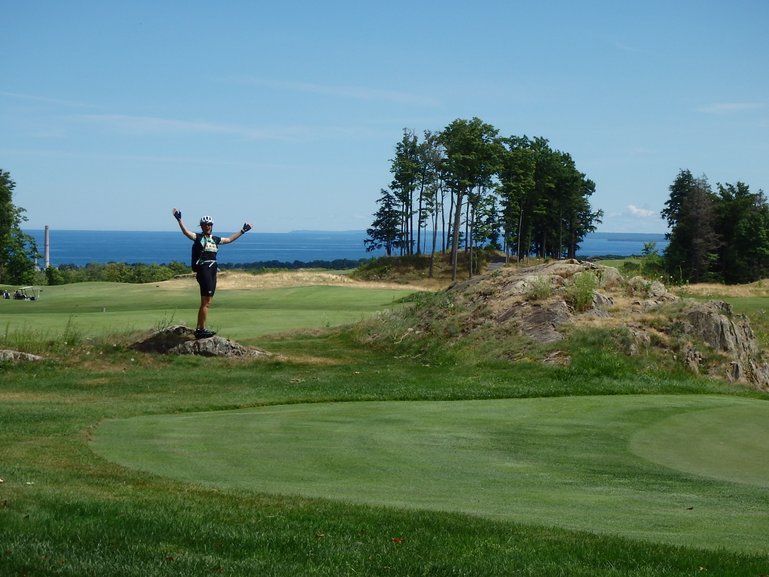 Mountain biking trails are adjacent to Greywalls Golf Club, overlooking Lake Superior
Marquette has ramped up their mountain biking moxy, securing a top-ten world ranking for single track. With intermediate riding credentials at best, I was humbled on the trail systems. Arriving on Tuesday, Josh and I watched a race series, featuring dual slalomers on a downhill course. They went really fast and wore a lot of padding. Wednesday, we set off on our own adventure on the Noquamanon South Trails. Thankfully, we had met Kate at Downwind Sports, who thoroughly went over the trail map and pointed out several routes and explained the difficulty level (marked like ski hills from green to double black diamond). From our starting point, we took the blue trail (labeled difficult), which climbed to the top of Mount Marquette. Kate had warned us about the climb, but neither of us were prepared for the rocks and roots. We did a lot of hike-a-biking, adding bruises to shins and elbows. Mountain biking is all about climbs, then rewards. The day eventually led to a reward as we went from blue to the red loop and down Freakin-Nature's banked turns. We pedaled around Greywalls Golf Course and passed signs, telling us to be quiet. After logging 14 miles, we found the yellow trail to finish, named Gorge-Ous for its precarious ridgeline above the Carp River. Hyper-focused, I kept my wheel on the left edge, along the safe side. The river and the trail spit us out on an access road, just two miles north of the cabin. After a Superior pre-wash, we landed at Black Rocks for beers. They sponsor the trails so we felt obligated to patronize them.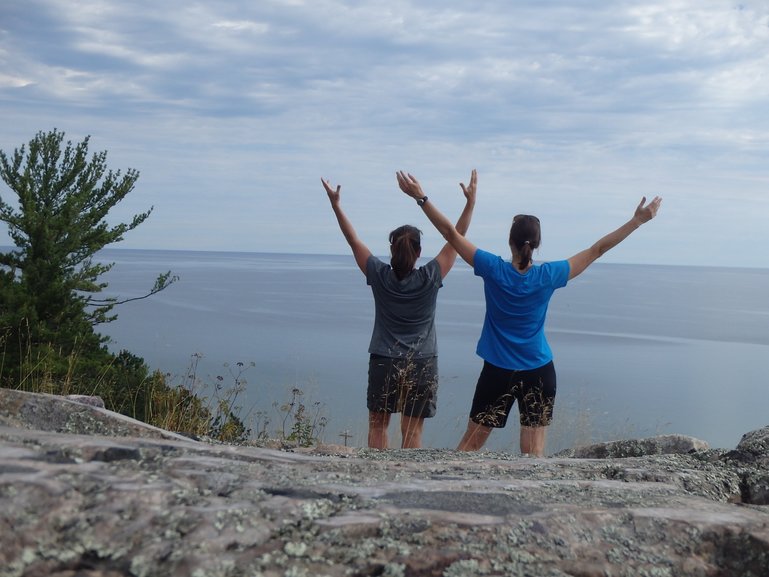 Lake Superior views
The next day, after a morning eagle-hunting hike behind the cabin, we tested the North Trails, accessed by the paved Iron Ore Path through Marquette. After seven miles on pavement, we transitioned to dirt trails following the Dead River. We bumped over roots for a few miles then stopped abruptly, spotting a rope swing, with a launching board. "Let's do it," we all chimed, pulling off layers. Each of us took several attempts, with varying levels of water-entry gracefulness. My names for the rope-swing attempts: The Backside Wedgie or The Ass-Dragger. The trick was to grasp the knots on the rope as high as you could reach, swinging out, while pulling up your legs to avoid dragging through the water. Still laughing, we climbed back on bikes, water squishing out our backsides, from our soaked padded-ass shorts. Spontaneity continued to rule the day, after another two miles. Entering another loop, heading into more dense woods, Steve popped his chain. No one had an extra link or the tools we needed. We backtracked to the main trail and Steve coasted (and got pushed by Josh and Kim) back to the main road and to Quick Stop Bike Shop for repairs. Steve got by with a little help from his friends.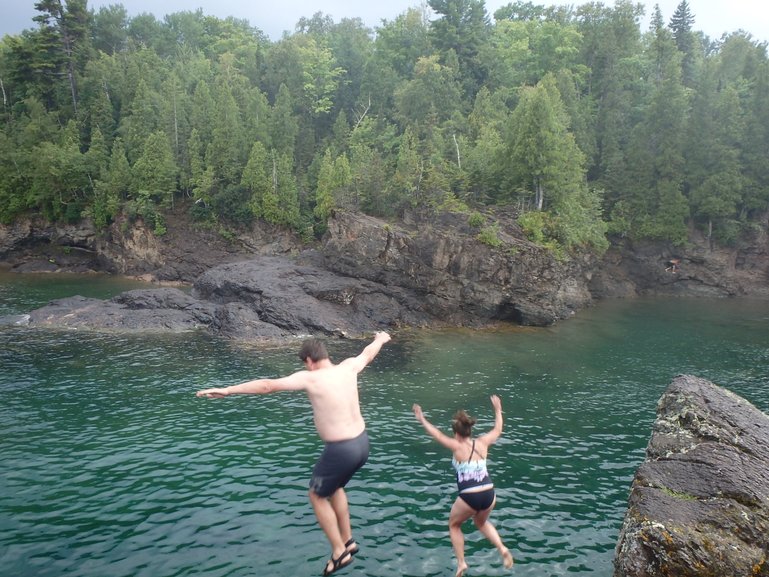 The Blackrocks plunge
Saturday we raced 28 miles in Ore to Shore's Soft Rock option. Kim made her inaugural ride, while I felt like a better-prepared sophomore. The veteran, Josh, made his fifth appearance. Steve was on the disabled list with surgery looming, opting for south trails during the race. With more TITS this year, (time in the saddle) I hoped to beat my 2:25 time from 2014. I shaved 15 minutes, coming in at two hours and 10 minutes, but my best accomplishment was not time, rather making it up Kirby Hill. Spurred on by two women, off their bikes, they became my over-zealous cheerleaders. They yelled while I furiously pedaled, "You can do it… looking strong… get the hell out of her way… rider coming through!" I credit them for my success. I didn't want to let them down and they got two young kids, blocking the trail, out of my way. Thanks Trail Angels!
Also worth noting, was an ill-timed seat-pack malfunction. At seven miles in, after a series of rutted hills, my seat-pack Velcro picked that moment to stop working. It dragged along my back wheel forcing me to stop. I tried to reattach it and tie it to the post. Two miles later, it was dragging again. I dismounted, considered whipping it (and all my tire supplies) into the woods. Instead, I stuffed the whole pack in the back of my bike shorts. I rode the rest of the way with a large black tumor protruding from my arse! I pedaled hard to try and catch back up to Kim. At the finish area, I found Kim and Josh and we exchanged animated stories while watching other riders cross the finish line. Kim logged a 2:06 and Josh notched a 1:45, shaving almost 15 minutes off last year. Dirty, happy and tired, we mingled around eating bananas and donut holes while rehydrating. Lake Superior called to us once again for a daily dunking and one last look over the boundless blue.