Bike tourism is on the rise as communities understand the benefit of increased trail usage and rollover effects for related businesses, not to mention the inherent health and wellness perks. So yeah, it's hip to plan entire vacations around destinations that cater to two-wheeled adventurers. We seek out bike-friendly camping or lodging, trail accessibility to town and urban centers, local bike service/sales shops, and of course, the proximity of beer and food to the trail. Some standouts do all these things better than most, and lucky for you, my mom always taught me to share. Here you go – a top-five Midwest MTB must-ride destination list.
Brown County, Indiana
---
Exotic Indiana excerpt, blog published July 29, 2020
….Brown County State Park boasts 27+ miles of single-track and is referred to as the Little Smokies based on its topography and forest cover. Rightly so, Weed Patch Hill has an elevation of 1,060 feet and a namesake trail that is now one of my favorites in the Midwest. Watson and I spent three days (almost four) riding the trails during a hot summer stint in early July. We pedaled right out of Buffalo Ridge Campground and hopped on Limekiln for a flowy and fast warm-up to Weed Patch's distinct downhill rollers and perfectly banked curves. I held on tight to my full-suspension Santa Cruz steed, nick-named Plum, and went faster than I should've down a whoop-inducing mile…
Michigan's Upper Peninsula (Marquette and Copper Harbor)
---
Rugged Luxury excerpt, blog published September 20, 2020
….Marquette gave way to the more epic Copper Harbor trail system (IMBA Silver Designation) at the tip of the Keweenaw. Copper Harbor Trails Club has the lowdown (maps, website, and social media) you'll need to plan your visit. Lake Superior looks every bit like an ocean because it dominates the rocky beach and forested ridgelines on a jutting sliver of land. Lake Fanny Hoe Campground was our home base for three days of lake and wind-tinged adventures. Copper Harbor is not a big place, which is part of the allure. There is a bakery (Jamsen's), a general store, Brickside Brewery, a couple of hotel/restaurant combos, and Keweenaw Adventure Company right smack in the middle…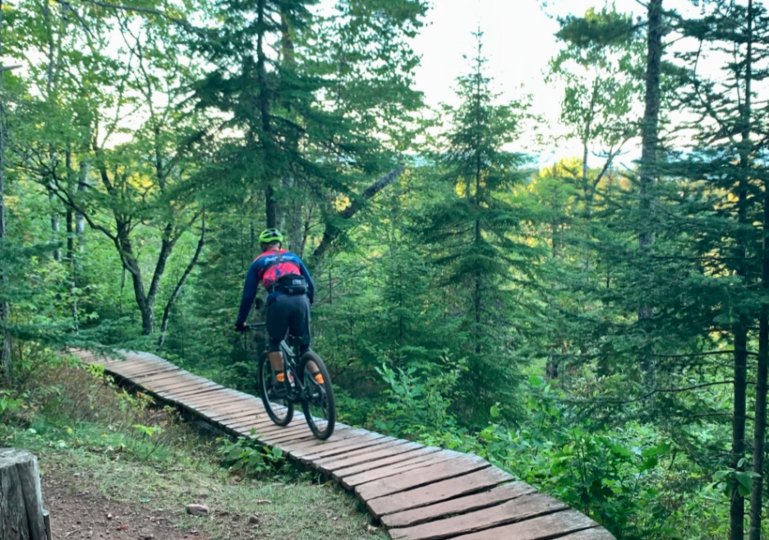 Copper Harbor, Michigan
Cuyuna Lakes, Minnesota
---
Red = Adventure, blog published July 6, 2021
…Like the mineral-infused red dirt in Cuyuna Lakes area, Minnesota, the color matches the personality of the people and the place. Red symbolizes passion, primal forces, energy, and adventure. It's an apt description for a community that has been transformed from industry and mineral mining to an outdoor recreational juggernaut. Now, a world-class mountain bike trail system (IMBA Silver) is paired with a pristine chain-of-lakes… it's a place where "flow trails" are etched in the earth and on the clear lake waters.
Here, the red will stick to you and with you, well past your trip. It turns a bike tire from black to a rusty hue. Here, flushed and rosy cheeks are partly due to trail dust and exertion. During our time in Cuyuna Adventure Town, we embraced the #shredthered mantra letting the vibe and the color sink in….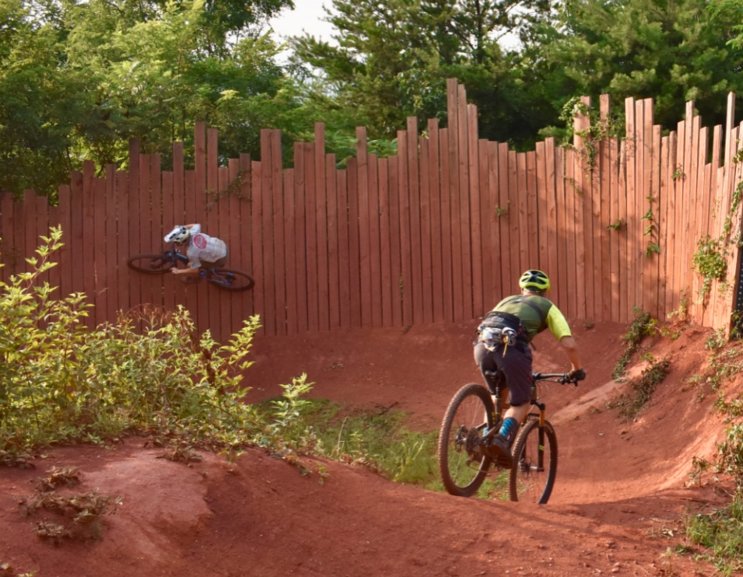 Devil's Racetrack in Knoxville's Urban Wilderness
Knoxville, Tennessee
---
Start Your Pedals, blog published August 7, 2021
… With a signature downhill mountain bike trail named the Devil's Racetrack, bikers, race fans, and lovers of speed and adrenaline take note. The Racetrack is one of many sculpted dirt highways in Knoxville's Urban Wilderness network, where 50+ miles of trail are waiting. This unique outdoor adventure area features a canopied forest where you can bike, hike, paddle, climb, or just get lost in the woods, all within the city limits! Most of us are used to mountain bike trail ratings that feature color-coded symbols: green (easy), blue (more difficult), and black (expert/advanced). In Knoxville, there is only one rating. RFF (Really Frickin' Fun)…
Duluth, Minnesota
---
Fall for Duluth, blog published July 12, 2019
…Lake Superior is the mightiest and largest of the great lakes, and it has created some terrain perfect for mountain biking. In the spirit of sharing, four Michiganders loaded bikes, ferried over one big lake, and drove across Wisconsin to get to the far west end of Lake Superior.
Enter Duluth, Minnesota.
Do not underestimate Midwest mountain biking. Duluth is not sandy and flat and is designated an IMBA gold-level ride center. In mountain bike speak that means there are 100s of miles of sick, gnarly rock and single-track rollers that the experts love, and an intermediate rider (like me) can get a solid butt-pucker scare on. Bonus, this is all with impeccable views of Lake Superior and friendly locals with a wild side….
Coming soon: Team Holmes & Watson will be visiting our Wisconsin neighbors to roll the CAMBA trail system, plus a few more hot spots like northern Georgia and northwest Arkansas.
Remember to support and get involved with your local trail organizations. In my neighborhood, it's MEMBA in west Michigan. If you can't write the big check, that's ok; they need sweat equity too. Volunteers are needed to help build, maintain or groom trails – it's a year-round need and process. Happy trails and pedal on.