The thrill of looking forward to a trip is the stardust of my soul. The only difference now… I am just not going as far. In-state road trips have been our staple, but recently we branched out and crossed the Michigan border into the exotic state of…
Indiana
What comes to mind when you think of visiting Indiana?
Manicured cornfields
Larry Bird
I-80 Toll road
Hoosiers, the movie or the university mascot
Indy 500
None of the above. Brown County is my answer.
Think of glacially carved ravines, steep ridges, and views from above 1000 feet. The terrain is hilly on the verge of mountainous, the rugged hero dirt is mixed alongside rocks perfect for rippin' down a banked trail from Hesitation Point on your mountain bike!
Brown County State Park boasts 27+ miles of single-track and is referred to as the Little Smokies based on its topography and forest cover. Rightly so, Weed Patch Hill has an elevation of 1,060 feet and a namesake trail that is now one of my favorites in the Midwest. Watson and I spent three days (almost four) riding the trails during a hot summer stint in early July. We pedaled right out of Buffalo Ridge Campground and hopped on Limekiln for a flowy and fast warm-up to Weed Patch's distinct downhill rollers and perfectly banked curves. I held on tight to my full-suspension Santa Cruz steed, nick-named Plum, and went faster than I should've down a whoop-inducing mile. Josh was waiting patiently for me at the bottom, and we confirmed, like a mountain-bike kid, that we'd just fallen in love. Again, Again!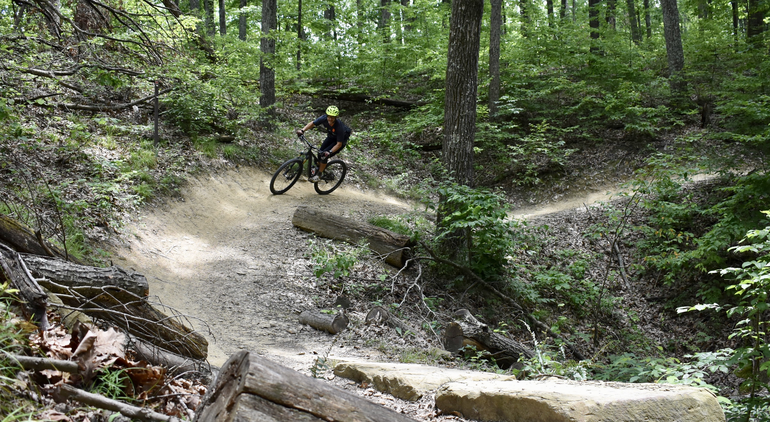 Hobb's Hollow at Brown County State Park
The Patch led us to Bobcat, which lived up to its expert rating. I was on/off Plum quite a bit for the bevy of root and rock features placed simultaneous to switchback turns above ravines. One such turn nearly deposited Plum and me in a creek bed. After that, I deemed our warm-up done. We pedaled back for refreshments and the arrival of our pals and their new 32' Newmar RV. A shower and glamping sounded pretty sweet as I peeled off my drenched gear.
On day two, the bike gang became four. We professed our love for Weed Patch to Steve and Kim and promptly showed them the way. They agreed with our assessment. We skipped Bobcat and used the park road to access Hobb's Hollow from Hesitation Point, another high-point in the park with spectacular layered views of the forest canopy. As an intermediate rider, I have no business riding down an expert downhill jump line like Hobb's Hollow. I let my adventurous friends lead and search for air while I controlled my speed and just rolled the jumps, keeping the rubber side down. It was all smiles again that led to another gradual climb, following Shelley Trail through a gorgeous canopied creek bed to Hesitation Point Trail. We arrived at the top sweaty and ready for lunch.
Besides the biking, Hard Truth Hills & Distillery in nearby Nashville was a good find for the A/C, atmosphere, Quaff On craft beer, and tasty sandwiches. Their 325-acre compound features tastings and tours, a full restaurant with deck seating, adjacent trails, and a small concert venue. For a place to rest your tired limbs, check out Yellowwood State Forest and set up camp there. (Brown County State Park is popular and often full) It's quiet, scenic, and you can pedal directly to Crooked Creek Trail and connect to BCSP's Ten O'Clock Line.
Two-a-day biking in the heat might not have been my smartest choice, but I really wanted to meet-up for the DNK Presents Thursday night women's ride. Danielle and Kate are great ambassadors for their local trails, and I discovered they lead other outdoor wellness adventures. I soaked up the local knowledge and had a blast trying to keep up with Kate as she rocketed down the trails and displayed her signature riding and air-skills.
Josh and I managed one more ride on day three, to cover sections we had not yet tried. We found Aynes Loop and North Gate before churning back up to Hesitation Point one last time. Finally, out of the saddle, my right calf cramped. I sat in the grass and leaned on our parked Subaru while guzzling a Bolt Gatorade. It was a challenge to walk, so I sent Josh on to roll the Patch one last time.
Set to leave the next morning, Josh tells me, "I've ridden all the trails except for Schooner Trace. If I do this last section, I will have covered it all." Schooner has a reputation and is clearly marked, Experts Only. I heard one local's warning, "Schooner does not give it only takes!" Still nursing my sore calf, I sat in the shade. When he rolled back toward me, his expression confirmed that Schooner had taken again. "I had a nasty fall," he says while trying to peel his jersey off to show me his wounds. At about half mile to completion, a slippery and narrow rock ledge sent him swiftly down to meet a pile of rocks. I mopped up his bloody chin and applied ointment to his abrasions realizing I would be driving us back home!
The expression is: Third time's a charm, not the fourth. Three days of riding was plenty, but sometimes you have to find out the "hard" way.
Perhaps Indiana is not synonymous with world-class mountain biking, but say Brown County and bikers will nod and grin. This collection of trails is also an IMBA Epic trail, and for a Midwest location, it requires plenty of endurance and technical skills. I found myself comfortable at times, yet challenged. The experience left me feeling fired-up this manicured-dirt resource is a mere five hours away from mid-state Michigan.
Click here for Brown County State Park Trail Map to plan your adventure on two wheels.