Most mountain bikers are men, 70% according to current demographics. That means my fellow femme shredders make up the other 30% or less. I'd love to see this stat continue to change, and I hope more women will take up this unique and adventurous sport. Change is a few pedal strokes away, especially with events like Roam Fest; the most recent iteration occurred in May in Knoxville, Tennessee. What's ROAM Bike Fest? It's a 3-day party on two wheels. Roam Fest is a fun-first mountain bike festival that creates space for women, marginalized riders, and genderqueer folks to build community while riding in world-class bike destinations. The festival showcases over a hundred guided rides, plus workshops, bike demos, adventure films, community programs, and some really fun happy hours and a dance party. The advertising was spot-on; bonus, I met nine new bike besties during 3-days of epic camaraderie. A male-dominated sport…sure didn't feel that way at Roam!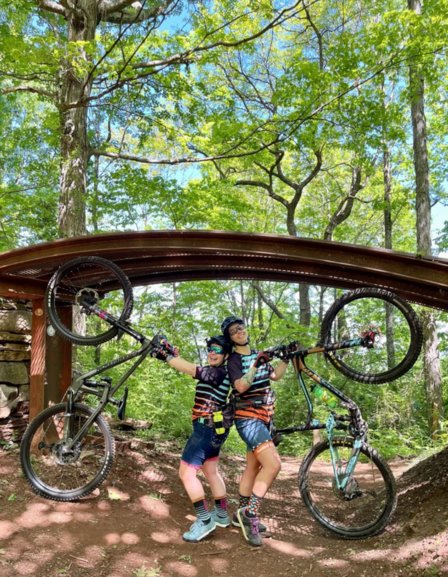 Riding with Roamies in Knoxville!
Brown County Bikes at Roam Mountain Bike Festival
---
The new bike besties centered around the Brown County Bikes booth, the hub of fun in expo row. The owners, Kate and Danielle Nolan, gathered an impressive group of gal pals to help staff and represent their bike shop located in Nashville, Indiana. (I initially met Danielle and Kate on a women's group ride in Brown County State Park. My husband and riding buddy, we liked Brown County so much we've visited several times since then to ride). The Knoxville Roamies included Kate, Danielle, Emily, Julie, Elizabeth, Hutch, Kate S., Nessi, and Denile. Besides being women and awesome humans, they are ambassadors, coaches, racers, wrenches, guides, supporters, moms, bike riders, and just damn fun to be around! My job was to write about the experience, but I also earned some cred by finding a rental house in SoKno (south Knoxville) just a few miles from the festival and Baker Creek Preserve. We squeezed nine of us into the mid-modern two-story, utilizing every red leather couch, air mattress, and semi-soft surface available to sleep on.
Some highlights because there were plenty. We fit in some rides, of course, and day one landed us on a trail aptly named Party in the Woods, where I followed Hutch and Elizabeth up and down some sweet flow and tech to warm up our legs. The three of us had matching BCB jerseys, so plenty of other ride pods noticed us and gave us an enthusiastic thumbs up and some trail whoops. Back at the fest grounds, we sipped beers and electrolytes on the inflatable couch, gabbed with 100s of other Roamies, and took turns checking out the gear at our neighbors like Shredly, Hand-Up, and Cane Creek, to name a few.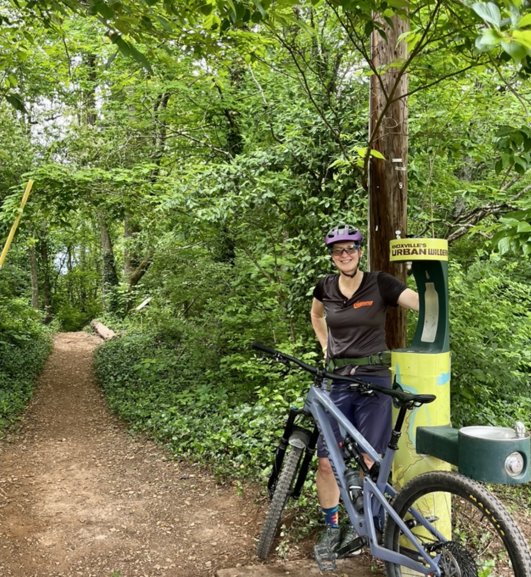 Knoxville's Urban Wilderness
Roam Mountain Bike Festival Highlights
---
We had not one but two hand/thumb injuries on this trip. I went first with a run-in on Sycamore, a two-way trail that sent me and another rider off our bikes into the weeds after a handlebar collision. The next day, Nessi got her groove on with some sick dance moves, so much so that she injured her thumb in a freak twerking incident. The story and dramatic re-enactment were replayed at length over happy hours and group chats. Our thumbs hurt, but honestly, I forgot the pain of laughing over the storytelling led by Denile.
The BCB booth was the center of activity and meeting place in between workshops and clinics. Both Kates led a session on track stands and bike handling, plus I was stoked to join the pump track and jump session clinic. There were plenty of unique workshops to attend, one led by Dr. Meredith, who penned a book called Toolbox, A pocket manual for Cyclists with Vaginas. Everyone took turns in the BCB booth, repping Transition Bikes, new gear, and helmets and helping shoppers try on the super popular one-piece overalls.
Shopping and pedaling transitioned to dinner, then converting booths to a Saturday beach-party theme. Nessi spearheaded mixing and shaking up a rum-pineapple concoction, Danielle threw on a coconut-shell bikini over her pink onesie, and everyone swapped Five Tens for sandals. The mood was festive out of the gate, spurred on by a sugary cocktail base or shots from the Gnar Bar. The fest organizers handed out the silent disco headphones, and the party began under our super cool underpass dance floor. Our legs were already torched from standing or riding, then add some dance moves to push the sore meter to high. I got lost in the music with hundreds of other Roamies and realized my face hurt too from laughing and smiling.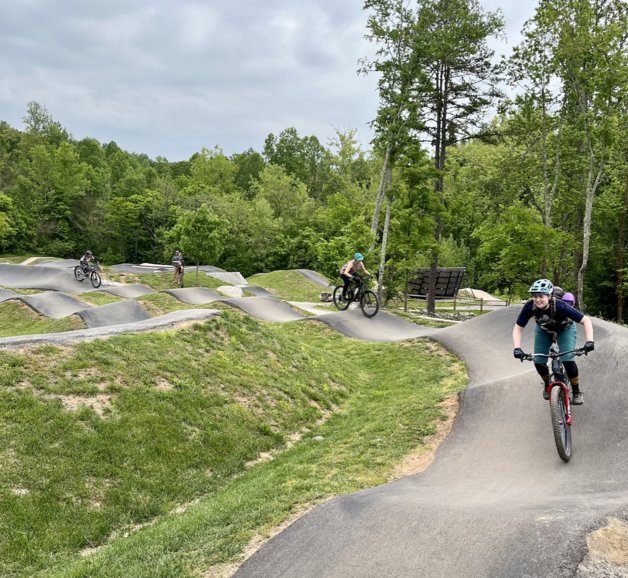 The pump track at Baker Creek Preserve
Happy and tired, the bike gang returned Sunday for a short day to wrap up the event with some final trail time, bike demos, a slow-taco lunch, and tear down. Roam Fest paired with Knoxville's Urban Wilderness was an epic combination! The festival experience and 100+ miles of trail are worth five stars on their own merits, but my favorite part was meeting nine new bike besties.