Michigan's Dragon Trail at Hardy Dam
---
Once complete, this ambitious project will feature 47 miles of professionally-built single-track trail around Hardy Dam Lake designed for mountain biking, hiking, or running experiences. Current status, 24 miles and rolling, that's 60% complete, and the remaining sections are fully funded, with construction continuing through 2023.
Why did they name it the Dragon? Because it's so damn big!! That's what turns my crank about this trail system, its sheer size. It's one of the few trails I can pedal the trail longer than the drive it took me to get there! The final trail system will be jointly managed by the Newaygo and Mecosta County Park commissions and maintained by WMMBA. The Dragon lays in wait for your visit – you can access the trail through several existing county or state parks, such as Sandy Beach, Big Bend, Brower Park, or Newaygo State Park, to name a few. In addition, the neighboring cities of Newaygo and White Cloud are close-by retreats for stay-and-play amenities.
The Dragon spews out equal parts approachable cross-country, fast-flowing hardpack, and optional feature or rock-laden jump lines. The hilly terrain and ridgelines along the lake are perfect for mountain biking and provide outstanding views when you stop to catch your breath. It gets my nod for new favorite west Michigan trail system.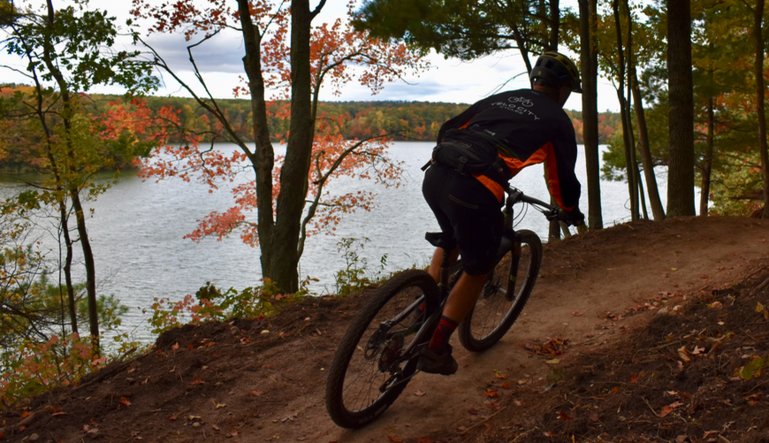 Fall views from the Dragon trail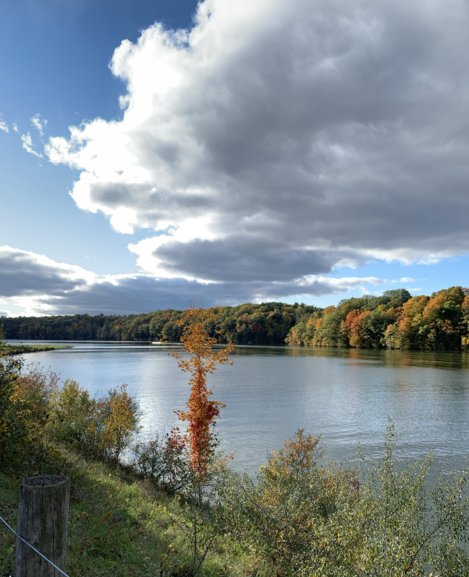 A view from Brower Park along the Dragon Trail
Rock Features near Big Bend Park, Dragon Trail
Bike Tourism
---
The Mitten is finally on the mountain bike bandwagon, and it is exciting. Bike tourism is real. My husband and I have visited, and watched communities all over the US find resurgence and economic gain by building recreational trail infrastructure. If you build trails, bikers and hikers will come. Ask the residents of communities like Cuyuna Lakes, Minnesota, Hayward or Cable, Wisconsin, or Bentonville or Bella Vista, Arkansas. I could go on, but the underlying message…. new trails are fun, needed for economic and tourism growth, and good for your health. MSU's Center for Economic Analysis projects over 100,000 annual visitors to this trail system, $4.15 million in economic activity, plus 70 new jobs.
Dragon Full Loop Ride
---
Just recently, on Sept. 4, in honor of birthdays and the spirit of adventure, Josh and I met up with about 35 pedal pals for the "Dragon Full loop" experience in its current stage. Thanks to Mark Deering and the Dragon Adventures Base Camp for organizing and leading our group. After about 4.5 hours in the saddle and 42 miles logged, I was equally exhausted and exhilarated. The group had all levels of riders, from spicy spandexers, to me and the party pacers in the back.
We churned up and down the flowy trail first to Sandy Beach Park, then to the Marina on the south side, where we crossed the dam on the road and made our way to some new sections of the just-built trail. Some bridges are not in, so we bushwhacked and splooshed across a few streams, then dried out on gravel road sections and two-track. We got plenty of nods and glances as we rolled through Brower Park campground and made our way around the Dragon's long northern neck. I noshed all my snacks and willed my tired legs to finish the last section; I knew burgers and cold brews were waiting back at the base camp. Thankfully out of the saddle, we cracked cold beers and exchanged spirited stories with other riders around the grills and a bonfire. My Garmin watch suggested I was at a caloric deficit, so I tore into a cheeseburger like a dragon after its prey!
Dragon Adventures Base Camp
---
A few of us camped the night before and got a preview tour of the progress so far on the project. We were the only tent campers, and an ill-timed rain greeted us on arrival. Thankfully, Mark and Amy suggested we put our tent inside the under-construction house. Plus it was home to the one flushing toilet on the property so far. It was boujee camping, but we were thankful to stay dry for our pre-ride sleep. The 23-acre site was once home to a working organic farm perched on rolling wooded hills.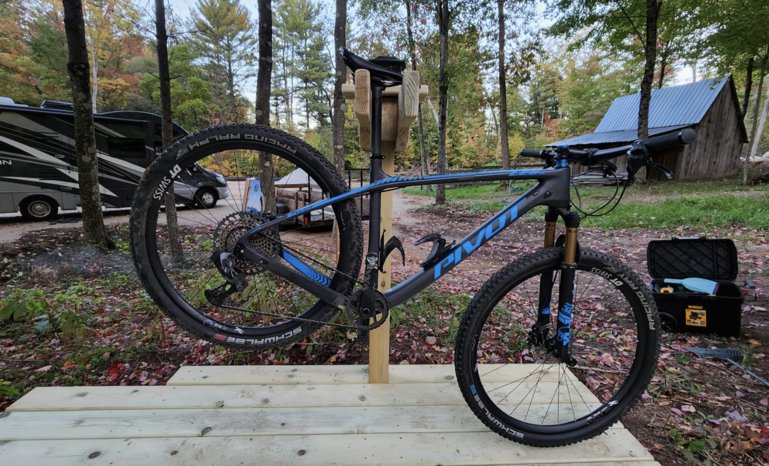 Bike wash station at the Adventure Base camp
The Deerings' are renovating the existing structure into a vacation rental and are currently creating a surrounding picnic, social area, and beer garden for bikers or hikers. The Dragon Adventures Base Camp is located at 6782 E. 16th Street near Big Bend Park and is only a ½ mile roll to access the main trail. Phase I includes a skills area, pump track, onsite hiking and biking trails, changing rooms, maintenance shed, and outdoor showers for you and your bike! Phase II (campground, cabins, and camp store) is pending approval on Oct. 17 — find out more about the project here.
See you on the trail; hopefully, we can try and tame the Dragon together!