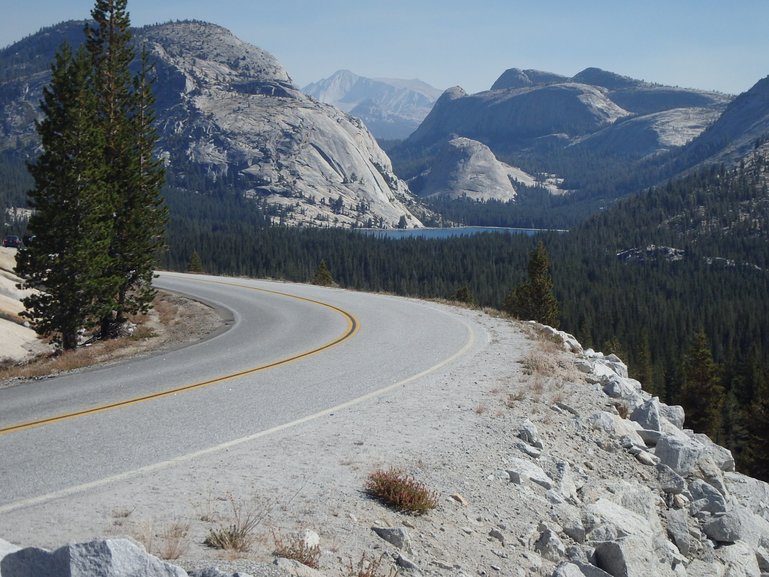 Tioga Road in Yosemite National Park.
It was 5:15 p.m. on a brilliantly hot August day. There was a line of cars waiting to enter one of the U.S's most visited National Parks. We added two more to the thousands already gaping at giant Sequoias, 1000-foot falls and domed towers of granite. Enter Yosemite National Park, a mere four hours east of San Francisco. We did not have a camping reservation, throwing our hopes at scoring a first-come first-serve campsite. After getting our park pass we pulled in to the visitors' office then walked a few steps to the campground office. It had conveniently closed at 5:00. To the left of the locked office door, I stared at message board listing all Yosemite campgrounds. Each one was marked with a slide-in placard, labeled FULL. I stared at it a while, willing the placard to magically change to OPEN! I would have been joyous at a MAYBE.
A ranger walked out of the staff office and paused while I stared at the FULL sign. In a pleasant tone she asked, "Do you have any questions?"
"Only if you have better news than your sign!"
She smirked but held her smile, "You don't have reservations?"
"Of course not." We were hoping to get lucky at the first-come first-serve areas."
"Well, at about 3 this afternoon, both Yosemite Creek and Tamarack Flat had about 20 sites left. If I were you, I'd go now." If they're full, you'll be heading for an adventure."
We followed Tioga Road about 10 miles until the Tamarack Flat sign beamed to our right. For three miles, we switchbacked around massive trees and boulders to the entrance and a message board. Find a campsite without a yellow tab and it was available. With haste we scanned each post searching for a two-night home. The first loop was full. Circling back, I noticed the very first campsite at the entrance was open. I shot out of the car and stood by the post protecting our precious find. Josh did another lap in the car and returned with even better news. There were other spots available on the far back loop! We pulled in to our site flanked by a gigantic downed Jeffrey pine, its base larger than our tent.
Tioga Road on day two in the park featured stunning vistas that made me a Yosemite believer. I toasted an imaginary glass to the views and to the National Parks' 100-year birthday. Thanks Teddy Roosevelt and John Muir for your pioneering and visionary spirit. The road corkscrewed and we hugged curves that opened up to precipices, valleys, alpine lakes and to Olmstead Point that featured the stately-granite backside of Half Dome. Next, was pristine Tenaya Lake, brighter blue against the granite peaks. We wound down to Tuolomne Meadows and the trailhead for our hike to Cathedral Lakes.
We turned an 8-mile adventure into 12 because we had to see both upper and lower Cathedral Lakes. Up is how I would describe the first several miles, up to 10,000 feet, the altitude meter showing me who was boss! Humbled, I kept walking, keeping Josh's backside in view as the rocks and giant pines increased in volume. After several miles, the majestic Cathedral Peak showed off in the glinting sun. It reminded me of the twin-craggy peaks that held the Great Eye at Mount Doom in the Lord of the Rings series. The Great Eye watched our ascent to flat meadow and the granite tipped lake, Lower Cathedral. Several pods of hikers milled around and sun-bathed on the rocks so we walked to the less inhabited side and stripped down to suits for a much needed dunking. My rankness trumped the brisk water temperatures. An echoing expletive was surely heard around the lake after I resurfaced with a gasp. Josh and I scrubbed away the campsite grime and sunned on the banks. We dined on protein bars, trail mix and BabyBell cheeses admiring the lake views. We devoured the scene before agreeing to find Upper Cathedral, armed with instructions from the rangers patrolling the lake.
Upper Cathedral was more isolated as we only encountered a few backpackers. Josh discovered the smaller lake was warmer as he jumped in several times off a rock and swam across to several rock islands. I perched on the jutting rocks admiring the scene and marveling at the clear views of rocks through crystal water. Eventually, we had to peel away from our personal alpine-lake retreat and walk five miles back torturing toes, knees and heels going down. We hugged a few trees on the route, positively amazed at the circumference of Yosemite evergreens. Grubby, sore-footed and on the verge of hangry, we emerged back to Tioga Road.
I found the universal dining symbol on the park map at the Tuolomne Lodge. I told Josh, "Let's hope they have a bar and restaurant so we don't have to eat MRE Chicken Terrayaki at camp." He agreed and we headed a short two miles and parked on the road leading to the lodge surrounded by white-tarped-glamping accommodations. We waltzed into the lobby into what looked like the lodge on the Dirty Dancing set. This tarped lodge only had solid walls. Quaint round tables with checkered tablecloths lined the room as I stationed myself directly by the Please Wait To Be Seated Sign, seeking a host in earnest. A young host walked by, sensing my hunger and urgency. "Do you have reservations?" he asked. "No we don't" I sighed. Another single hiker was waiting in the lobby, caught our attention with a sobering affirmation. "They usually fill up so you need dinner reservations." Our host politely walked by again assuring us he would check for any openings.
About five minutes passed, and I had begun to accept our MRE meal fate. Well past hungry and thirsty, Josh and I stared into the cooler in the lobby, displaying a selection of cold micro brews. Our host reappeared with news, "I've got room for two at the 5:45 seating. It is the only two spots we have left for this evening." I resisted the urge to pump my fist and politely replied, "We'd love that, thank you!" The solo hiker looked up from her perch and smiled. "Lucky, good for you!"
A second stroke of Yosemite luck landed us a family-style table with eight new friends. We shared bread, rolls and a large stainless bowl full of salad greens dotted with a few fleeting tomatoes. Our waiter brought two perspiring bottles of pale ale alongside our post-hiking feast. We sipped and smiled. The menu featured grilled mountain trout for $17.50 or a cheeseburger and fries for $16.50. I went with the trout, Josh ordered chicken. It all tasted like expensive cavier on manicured toastpoints. The waiter could have handed me saltine crackers and Cheese Whiz and I would have slurped it down with a grin!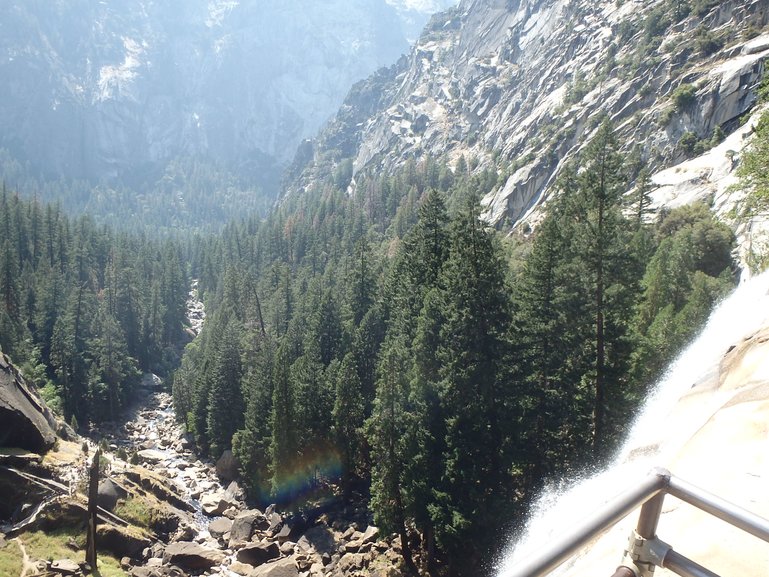 Vernal Falls hike