The Philae Temple Complex lies on Agilikia Island in Aswan south Egypt. It was a sacred temple for Ancient Egyptian and Nubians, because it was believed that it is one of the burying location if God Osiris. And that's why Ancient Egyptians believed that there are no birds or fish that flie or swim anywhere near the temple. The Temple was originally built on Philae Island. But It was moved to Agilika Island as a part of the UNESCO project to rescue Nubian heritage after building Aswan's Dam. The Philae Temple is one of the most visited and top attractions in Aswan.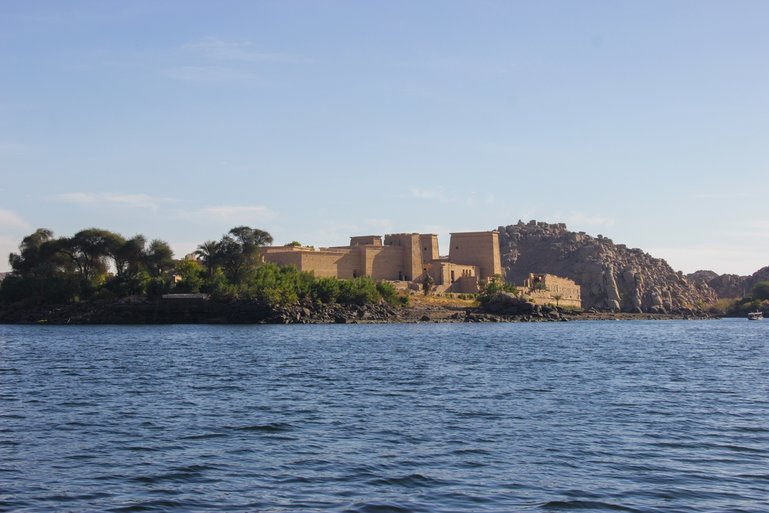 The Philae Temple
To visit Philae Temple you have to go in an amazing Nile River sailing adventure.
Reach the Philae Temple Marina
---
The Philae Temple Marina lies south Aswan on the eastern bank of the Nile. And to visit the temple you have to take a car to the Marina. The Philae Temple Marina is registered as "Marina Philae Temple" on google maps. You can take either a Taxi or a Careem - a service similar to Uber in Egypt. The ride costs around 35 EGP. When you reach the outer gates of the Marina you can either pay for the car entrance fee or to walk for 10 minutes to the Marina.
Hire a Felluca
---
After paying the Temple entrance fees at the Marina you have to hire a Felluca - a motor boat - to reach the temple. And if you're a student don't forget your student card that will guarantee you a 50% discount. The standard cost of the Felluca is 25 EGP per passenger with a minimum of 100 EGP per one hour Felluca. Which means that if you're more than 4 you will pay 25 EGP each but if you're just 2 you will pay a 100 EGP. Usually drivers asks for an extra tip, so make sure you agree upon the net price including the tip. You can tip between 20 EGP to 50 EGP.
Hire a guide
---
Sometimes you will find freelancers guides offering their services at the Marina. But if you are traveling to Aswan on a budget and you consider it an unnecessary expense, you can ask the local guards – but not the Police of course – about the temple in exchange for a tip at the end. The local guards are not as educated as the professional tour guides but they know a lot of information about the temples. I believe that a 50 – 100 EGP tip is fine depends on your evaluation and the size of your group.
Tipping Culture
---
Tipping guards is not legal but it is very common in Egypt and more like a culture. Ironically the main source of income of the local guards are the tips not their salaries. Even though it is not obligatory or customary if you don't use their help.