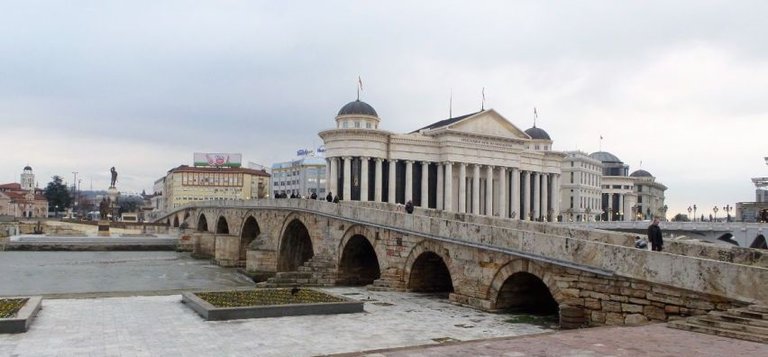 Stone Bridge in Skopje
A few years ago, Wizz Air introduced lots of cheap flights from and to Skopje. This move placed Skopje, the Capital of Macedonia, on the tourist map for many budget travelers. The destination is cheap and perfect for a quick weekend escape.
So, in case you have decided to visit Skopje anytime soon and have booked your tickets, it's smart to discover how to get from Skopje Airport to the capitol's central area.
First things first, the Airport is about 23 kilometers away from the city center. This means that you will travel about 20-30 minutes by car, depending on the traffic. It should take a bit longer by the airport shuttle as it has several stops along the way.
Make sure to have some Macedonian Denars with you or to exchange some at the airport as you'll have to pay in MKD. The exchange rate is generally flat, and 1 EUR usually sells for around 61.50 MKD.
Generally, once you land, you'll have two official transportation options:
Getting a Taxi
---
You should know that there are licensed taxis waiting outside the airport entrance. Since these are all operated by the same company, they all have a fixed rate of 20 EUR i.e. 1,200 MKD. Usually, there are several cars waiting and you shouldn't have an issue finding a free taxi. You will find the taxi vehicles parked on the right side when you exit the airport building.
If your final destination is beyond the city center, make sure to ask the driver in advance if the price will be the same for taking you there.
Getting an Airport Shuttle
---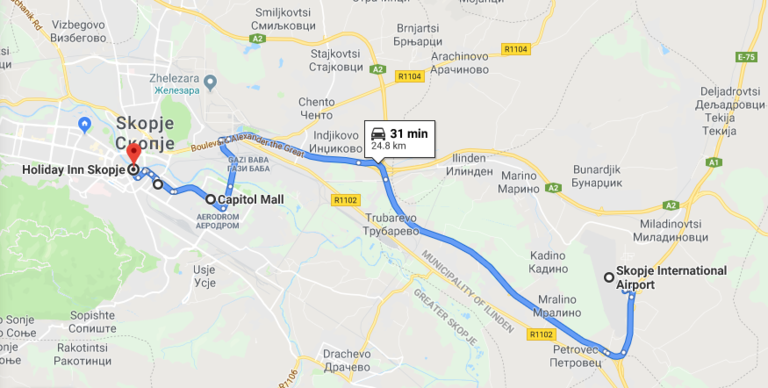 Skopje Airport shuttle route.
Naturally, this is the cheaper options and therefore the more complicated one. First, I'd like to point out that most travelers go for this means of transportation. In result, the shuttle easily gets packed with people. So, if you want to take the shuttle, make sure to get to the shuttle stations as soon as possible in order to find a free seat.
In addition, the shuttle won't be available at all times. Instead, you should check it's driving schedule (do it here). Once you open the page, just click on the "Direction: AIRPORT – SKOPJE" and find the schedule for the appropriate day.
As you can see, the starting point is Skopje Airport and there are two other stops before the final destination, which is the Hotel Holiday Inn. This hotel is right in the city center, so you should get off there if you want to explore the city first. The other stops are Capitol Mall and the International Bust Station.
A one-way ticket for the airport shuttle costs 180 MKD or about 3 EUR. You pay the ticket as you enter the shuttle.