Planning (or lack of..)
With the exception of a long weekend in sunny Hunstanton (Norfolk,UK), Dublin was our first solo trip together. It could have been considered a little spontaneous; a skyscanner 'anywhere' box ticked and the cheapest destinations considered. So there we were, flying to Dublin and back for £25! This has been a common trick for both of us and I would genuinely recommend it if you've got a few days and aren't sure where to go – I've ended up in Malta, Milan, Marrakech and Rome thanks to this feature and all have been fabulous. Of course, we have the luxury of being based in the UK and therefore just a short hop to lots of lovely European destinations.
Anyway, back to Dublin! In our spontaneity, we booked the flight before actually establishing anywhere to stay but luckily the world wide web could sort that for us too. Jumping over onto booking.com we booked a 4-bed dorm in a hostel in the Temple Bar area – The Oliver St.John Gogarty. (We booked out the whole dorm as a friend was going to join us for part of our trip and we liked the idea of our own bathroom!) Despite its perfect location, it still cost us under £50 each for our 3-night stay – not quite backpacker prices but with breakfast thrown in, I'd say it was worth it!
Day 1
---
Now onto Dublin itself! Admittedly, due to our spontaneous booking, we didn't actually leave ourselves a great deal of planning time so to an extent we went in blind – The St. James' Gate (Guinness) Brewery we knew was a must and that was about it. However, this was no great issue as our hostel was perfectly located for almost all the big sights. Within minutes of disembarking our airport shuttle, we had crossed the Ha'Penny bridge and were strolling through Temple Bar. As it turned out, our hostel was attached to a huge pub and within throwing distance of several more – so we sent out in search of lunch and a pint of the black stuff.
Beef and Guinness pie, and a pint later, we strolled deeper into Temple Bar, passing the famous Temple Bar Pub itself and emerging onto Grafton Street – made famous by Ed Sheeran's 'Galway Girl' it is one of the largest pedestrianised shopping streets in Europe. At one end you'll find Molly Malone from the folk song (with a rather impressive cleavage I must say) and at the other, St Stephen's Green – a park with an impressive history which is wonderfully narrated by signs and interactive points throughout the park.
Wandering the streets of Temple Bar
After strolling around for an hour or so, we decided to get back to our true reason for visiting – having a brew. This time however, we turned to the other famous Irish beverage of choice – Whiskey! Luckily, the Jameson's distillery had a few spaces for a tour that afternoon so we booked and headed over. I would highly recommend this tour to anyone visiting Dublin; it is inexpensive (25 Euros as of 2020), informative and includes a whiskey tasting, and a drink at the 'grog bar' when you finish. If you don't fancy the full tour, it is worth a visit to the Bow St. distillery purely for the spectacle of the Jameson themed bar, which is open to the general public.
To round of our day, we had a quick bite to eat in the hostel kitchen before heading out for the evening. Having been up since 2am to catch our flights, we anticipated a reasonably low key evening with a scope out of the best bars for the next night – but alas we were mistaken. After a quick visit to a £5 comedy club we had passed earlier, we decided to head back to our hostel and have a quick drink in the attached pub before heading to bed. However, after ordering a half to be on the safe side, we were quickly captivated by the incredible atmosphere of the place. A live band were playing a combination of traditional Irish music, old school hits and famous Irish pop songs and the mood was electric. Next thing you know, we've revisited the bar several times and are dragging ourselves up to bed at gone 3am – but oh, what a night!
Day 2
---
Despite the late night, we had a reasonably early rise as our friend was flying in to meet us and we were meeting for breakfast around 10 am. Dublin is absolutely packed with quaint cafes and beautiful bistros so we had no trouble finding a spot for a tasty brunch. Then we set to wandering again, this time around the gardens of Dublin Castle. We had a quick peek inside the castle as well, although history isn't our biggest interest, it was worth a look for the interesting tales of its use as an emergency hospital during WW1. We stopped for a Guinness and then continued our exploration. We stumbled upon 'Dublinia' an interesting museum-like attraction which tells the general history of the Dublin area back to Stone Age times – we whizzed around this fairly quickly as it wasn't particularly our cup of tea but luckily we'd only paid about 5 Euros each as some areas were closed!
On the way back towards Temple Bar we happened across a bar called Street 66, which offered many interesting cocktails, a selection of board games and quirky decor. We whiled away a pleasant hour drinking margaritas and playing catchphrase (not a combination we had ever anticipated). We finished the day with an Irish Stew, squeezed onto a tiny corner table in yet another Temple Bar pub. We found that the general rule for Dublin, particularly in Temple Bar, was that food was generally inexpensive, but drinks are pretty pricey – 7 Euros was pretty standard for a pint of Guinness and 10 Euros for a single spirit and mixer.
We decided tonight was the night we would visit the Temple Bar Pub itself. Unsurprisingly, it was full to bursting but we managed to squeeze in. It is deceptively large with lots of different rooms and areas but after a pint or three from different bars, we finally managed to secure ourselves a seat in the terrace area beneath the famous sign for that photo. All in all, the Temple Bar had a good atmosphere but I wouldn't have said it was one that couldn't be found in many pubs throughout the Temple Bar area.
Day 3
---
Another day of wandering ahead, this time we decided to hop across the Ha'Penny bridge and check out the other side of the river. This part of Dublin is much more modern than Temple Bar and also much busier in terms of traffic. However, there are still a fair share of interesting sights to see. The Dublin spire defies belief when you stand at the bottom gazing up at the tiny point, only to read that, even at its highest point, it still has a diameter of 15 cm. There are also many streets with beautiful and imposing houses which throughout history have been split into rooms for poorer families and back to houses again. We found a lovely green area at the end of one of these streets for a quick picnic lunch before heading to the Guinness Storehouse.
The Guinness Storehouse was a bit of a walk from the rest of the areas we'd visited so we decided to break up the journey by stopping for, you guessed it, a drink, on the way. We stumbled upon a really lovely rooftop terrace bar at The Parnell Heritage which I would thoroughly recommend, especially if the weather is sunny! The Guinness Storehouse itself was a breathtaking experience, purely for the sheer magnitude of the place. The building itself is designed to represent a glass of Guinness, with the 360 degree windowed 'Gravity Bar' on the top floor representing the froth on top of a Guinness. This tour was much more self guided than the Jameson tour and therefore relied much more heavily on your interest in reading about the beer-making process. There was also the nice added touches of pouring your own mini Guinness, a cinema experience of Guinness commercials and of course, a pint in the gravity bar with brilliant views of Dublin. It is a must for a visit to Dublin, if only for that all important picture in front of the gate!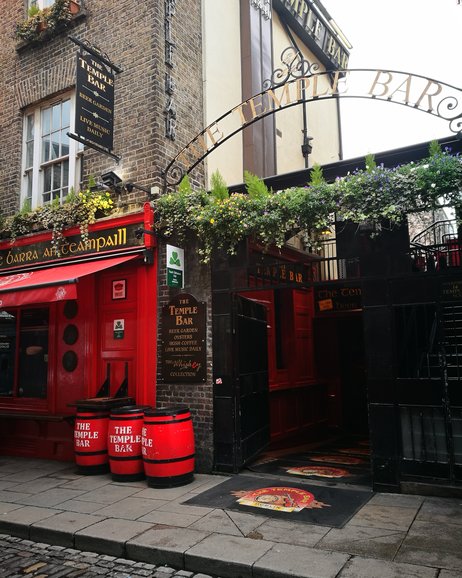 The Temple Bar Pub
We followed this up with probably the best night we had in Dublin. We again had a simple dinner at the hostel before getting ready to head downstairs to the bar below. However, we ended up crossing the street into the bar opposite which was full to bursting. We did however, manage to secure ourselves a spot holding up the bar. And so ensued a night of revelry, with an a Capella, one man band covering EDM music and Irish pop songs alike until the wee hours. Followed by the inevitable late night kebab shop visit and rolling into bed at 4am.
Day 4
---
For our final day in Dublin, we decided to stay around the Temple Bar area and potter around the side streets and shops. We found a quaint tea shop called 'Queen of Tarts' where we had tea and cake for brunch. Shortly after this, we happened upon the 'Icon Walk', a side street filled with pictures, paintings and biographies of Dubliners throughout history, which kept us occupied for a while.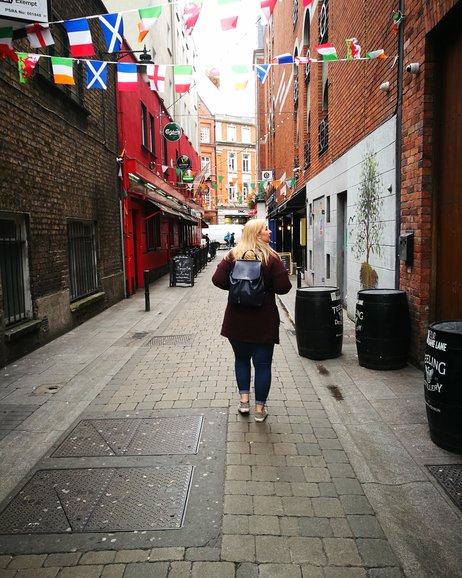 Wandering the streets of Temple Bar
Aware that we needed to be at the airport shuttle bus stop for 4pm, we found a spot to have a late lunch before leaving. Having perhaps overdone it on the Guinness, we finished our trip with a rather more civilised affair of cheese and wine in a restaurant located in a cave beneath the Dublin streets at The Port House.