Before we get into the good stuff, I have one HUGE tip for you on how to really make the most of your trip (of any trip, really): Don't Overbook Yourself.
On your first trip to London, you're going to be overwhelmed. It's a completely new transit system. Escalators are called lifts and elevators are also called lifts and trunks are called boots and Boots is a drugstore and everyone is going to ask you if you're alright (that actually just means "how are you," for the record). Never mind the fact that it takes your body a few days to fully adjust to the new timezone.
You're going to be tired at 2:00 in the afternoon, your feet are going to feel like they might fall off, and the last thing you're going to want to do is have yourself booked down to the minute.
My Recommendation?
Pick three things you want to do or see everyday. Just three. Have a fourth thing you want to do if you're feeling up for it, but make it something you wouldn't mind pushing to the next day if necessary.
And, please, if you're booking things in advance, check the dates and times. Plan on it taking at least forty-five minutes to an hour to get to where you need to go (because you're not going to know the Underground, and you'll probably get on at least one wrong train. I still do it, and I know it like the back of my hand).
Traveling is supposed to be exciting, not stressful! Don't try to be too ambitious.
You'll thank yourself for it later.
DISCLAIMER: The contributions, opinions, and information provided in this post have not been solicited nor have they been paid for by any company or entity. All the thoughts expressed are my own. This post is not an itinerary, nor is it meant to serve as one.
Tower of London
---
What a way to kick off this list. It's one of my favorite spots in London. Some people may call this place boring and expensive. And I'll give them one of the two. At £27.50, it's definitely not the cheapest spot on this list.
However, there is so much history in this place. And, not even lying, some of it is pretty bizarre. Yes, it's home to the crown jewels, which are free to see once you're inside and just as stunning as you'd expect.
But, did you know it also used to be home to the royal menagerie?
I'm talking elephants, polar bears (maybe? They didn't have a word for it back then but it was probably a polar bear), and so many more.
It was also a prison. And a royal residence.
In essence, it was one of the biggest overachievers in history. And I love it.
Ticket: £27.50
What's Nearby: The Tower Bridge is right around the corner and, if the weather is nice, you can never go wrong walking along The Thames.
The London Eye
---
As much as I love taking photos of the London Eye, I actually don't like going on it. If there's one thing you skip on your trip, let it be the long line and short ride.
At £27.00, I would rather spend my money on a nice afternoon tea or a West End show. In my experience, it's crowded and loud and they fit around 25 people in a car.
It slowly brings you up. And then brings you back down.
It's really anti-climactic.
Ticket: £27.00
What's Nearby: The South Bank is a beautiful walk. Or a quick hop across the bridge will bring you right to The Houses of Parliament and Big Ben and Westminster Abbey.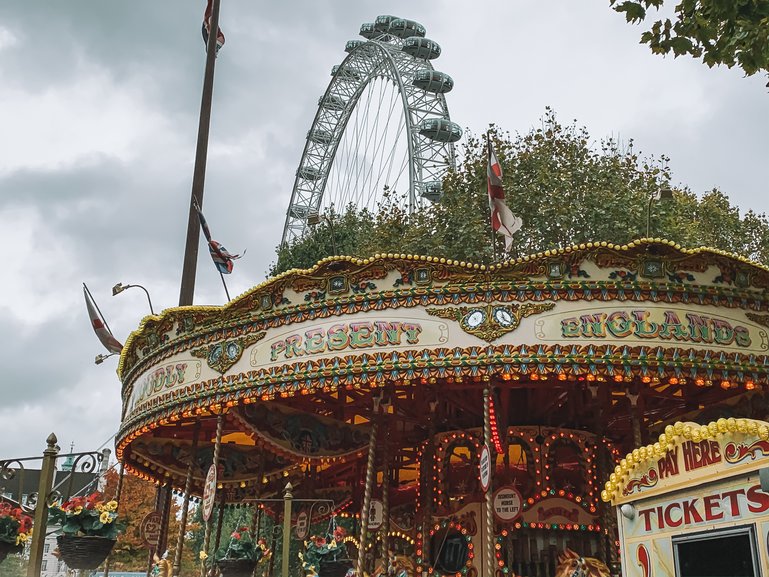 This area is so beautiful!
The Tower Bridge
---
To all of my Spiderman fans out there: Don't worry, they've fixed it.
To all of my non-Spiderman fans out there: Leave. Right now.
I'm kidding, of course. About you having to leave, not about my love of Spiderman.
Going up into the Tower Bridge is just one of those super cool things that I've never done anywhere else. It's a working bridge, which means that there are cars whizzing around (or as close to whizzing as cars can whiz in London) and boats passing underneath you. Typically, none of that would have any bearing on why you should go.
Except that it does.
The Tower Bridge is a working drawbridge, yes (which is incredibly cool); however, it also has glass floors on its observation deck. You can see out, but you can also see down. It's unlike anything I've ever experienced before.
However I will say: if you're afraid of heights, don't try to convince yourself that you'll be okay. You will not be okay. There are plenty of good photo ops from the South Bank and on the bridge itself. You do not need to go up to get a good photo.
Don't push yourself.
Ticket: £9.80
What's Nearby: The Tower of London and the South Bank
Bus Tour (Guided, Hop-On-Hop-Off, or Self-Guided)
---
Is this super cliche? Yes. Will you look like a tourist? Yep. Will you regret it? I sure didn't.
I did a three hour guided bus tour of all the major sites in London with my mom a few years ago, and it was honestly a really great way to see the city. Prices on these types of things can vary, so I went to Groupon and found a voucher there instead of combing through countless websites. The one I used isn't there anymore, but there are still a TON of options.
If you really want to see all of the major sites in London, but you don't want the hassle of running around, then hop on a bus! Let it take you where you want to go.
While I did a guided, more structured tour, there are also your typical hop-on-hop-off bus tours. Or, if you want to take a self-guided bus tour, let me know in the comments below where you want to go and I can help you put together a bus route using London's amazing (and public) double decker busses! It's cheaper, plus you won't feel like as much of a tourist.
Ticket: Varies
What's Nearby: Also varies based on pick-up and drop-off locations, but you'll typically be in Central London near all the major attractions!
Tours of Saint Paul's, Buckingham Palace, Westminster Abbey, etc
---
The options are quite endless. London is full of major historical places and landmarks, and it seems like they all have tours you can go on. The only catch?
They'll all happily let you in for a small fee.
I'm lucky to be surrounded by friends (both in person and online) who have been to London in the past or live there now, and the overall consensus is that, while all these places are beautiful, it might not be worth the £20-30 per ticket to get in. Especially if you're trying to save some money and travel on a budget.
But, as I always say, this is where your preferences come into consideration. Everyone has different priorities when they travel and, if this is yours, then go for it! Own it!
I will say, if you're dead set on going inside Westminster Abbey, an insider tip on how you can save some money is by going to a mass instead of paying to go on a tour! Just keep in mind that it is a place of worship, so please please PLEASE be respectful.
Ticket: Typically around £20-30, but varies attraction to attraction
What's Nearby: All of these destinations are near different things. Saint Paul's is near the Millennium Bridge, Shakespeare's Globe, and the Tate. Westminster Abbey is near the Houses of Parliament and Big Ben (with Buckingham Palace just a short walk away). And Buckingham Palace is right next to Saint James's Park, which is one of the most beautiful parks in London.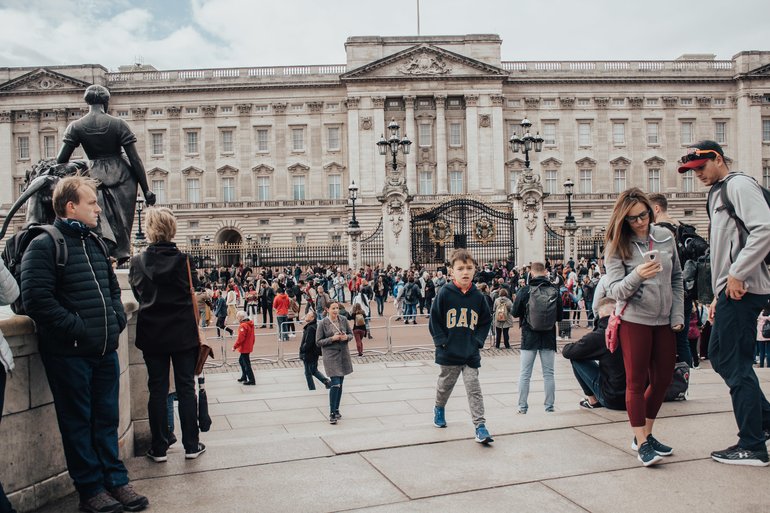 Buckingham Palace crowds are something else!
Go to a Museum
---
The National Gallery, The Natural History Museum, The Victoria and Albert Museum, The Museum of Science...there are so many free museums in London. Like, I'm not even kidding. There are more than 20. If the London weather lives up to its stereotype and rains out one of your days, then don't be afraid to head inside!
I've been to all of these and they are insane! Not only are they huge (I'm not even kidding, it would probably take me a week to see everything in the British Museum), but they cover virtually every facet of history and art and science.
If big museums aren't your thing, then check out some of the smaller niche ones instead! On this most recent trip, I went to the Bank of England Museum and learned all about the history of currency in England.
I also really wanted to go to the London Transport Museum, but just ran out of time (remember what I said about not overbooking yourself?). It's on the top of my list for my next trip though!
Ticket: FREE
What's Nearby: Because these museums are spread all across the city, this answer is also "it varies." However, many of these museums are located in the city proper, meaning you'll almost always be close to something else on your London List!
Sky Garden
---
If you're looking for some of the most stunning views of London but you don't want to drain your wallet to do it, then I know just the place. This is actually my little secret and, even though it's not one of London's top tourist spots, you're going to leave and wonder why the hell not.
The Sky Garden is - well - exactly what it sounds like. It's an indoor garden about 35 stories up, with an outdoor observation deck that's great to snap some photos on during the summertime. The windows inside have awesome little stickers that are designed to help you pick out some of London's most iconic sights from above, and the four different restaurants all provide beautiful views of the city.
The best part about the Sky Garden? Like most of London's major museums, it's free to enter!
Ticket: FREE but be sure to reserve spots online in advance! You can do it as late as the day of if there is still availability.
What's Nearby: Leadenhall Market (or, as my Harry Potter fans may know it, Diagon Alley)
Piccadilly Circus, Carnaby Street, and Regent Street
---
These three places, while super close to one another, have three very distinct vibes to them. The one thing that ties them all together? They're iconic London.
Piccadilly Circus is home to the famous London electronic billboards. It's always bustling with people and performers, teeming with restaurants and souvenir shops, and feels like it might just be the heart of the city. It's right on the edge of the theatre district, too. So obviously it's one of my favorite spots.
Regent Street is posh. Like, I-couldn't-even-afford-to-look-at-most-of-the-stores posh. The light buildings and sidewalks contrast with the dark asphalt of the street and create, visually, one of my favorite photoshoot locations from this most recent trip. It's hard to describe why, but it just feels English.
Carnaby Street couldn't be more different. It's also full of shops and restaurants but the bright lights, colors, and cozy environment are so inviting. The area feels like it's more geared toward the average person with a more reasonable budget. I caught the area right between summertime and Christmas, but I can only imagine how much more vibrant it becomes during those seasons.
Ticket: FREE
What's Nearby: All three destinations are close to each other! Piccadilly Circus is also very close to Leicester Square (the heart of the theatre district) and Chinatown.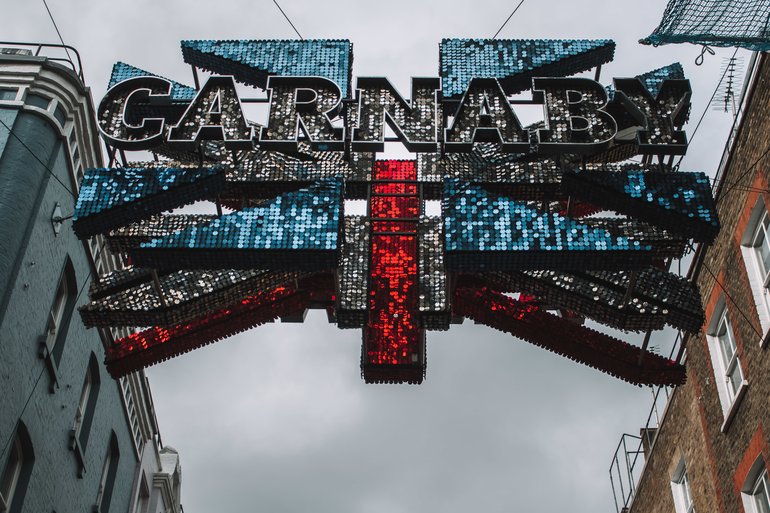 Afternoon Tea
---
What's more English than a spot of afternoon tea? There are countless (and I mean countless) places in London where you can go to grab an afternoon cuppa, typically served with finger sandwiches and cakes.
As an avid lover of tea, I jump at the opportunity to go whenever I visit. I've had afternoon tea in restaurants and museum cafes, and it's always good. I've yet to have a bad afternoon tea, although I don't doubt that they're out there. Whether you're budget conscious or a frivolous Franklin (I don't know where that came from either but once I put it out there, it needed to stay), there's an option to you. From high end hotels to local cafes to the top of The Shard, your options are endless!
Ticket: Varies drastically depending on location. It can be as cheap as £10 and as expensive as £60, depending on where you go
What's Nearby: You can find a nice teatime spot virtually anywhere in London! My biggest recommendation before you book is to check a map and see where it is within the city.
Trafalgar Square
---
Practically the heart of London (although the center of the city is technically on a side street nearby), Trafalgar Square is home to rallies and street performers, tourists and museum goers. Not only is the square beautiful, its location is second to none. Go down one street and you're at Buckingham Palace, another and you're at Westminster Abbey and the Houses of Parliament, another and you're in Leicester Square and the theatre district.
And that's just off the top of my head.
Art lovers will be amazed by the National Gallery, which is right in Trafalgar Square, and the Canadian embassy is also right there (for all my Canadian friends).
Plus, who doesn't love a giant lion statue?
Ticket: FREE
What's Nearby: Buckingham Palace, Westminster Abbey, Big Ben and the Houses of Parliament, National Gallery, Leicester Square and the theatre district
There you have it, folks! If you're going to London for the first time, or if you're looking to hit up some of the most popular spots in the city, then I hope this has pointed you in the right direction. Did I miss one of your favorite spots? Be sure to check back in soon to see my yet-to-be-named Second Timer's Guide to London, or leave a comment down below.
See you across the pond!